February 23, 2010
**Catch Paul's voice over as " Kjeld Playwell"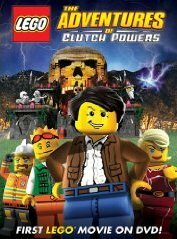 For the first time ever, see the creative world of LEGO® come to life in the all-new feature-length DVD movie. Available February 23, 2010. Trailer

Meet Clutch Powers, the best builder and explorer in the LEGO® universe as he heads off on his most dangerous mission yet. Join Clutch and his team of LEGO® experts as their adventure leads them from LEGO® City to the Space Police prison planet to the medieval world of Ashlar where they must help the rightful heir to the King's throne find the courage to regain the kingdom from the evil wizard Mallock the Malign.

Their brick-building skills will be put to the ultimate test as they face off against Mallock's skeleton army. Get ready for an action-packed adventure like nothing you have ever seen before, The Adventures of Clutch Powers!.

*Trademarks of The LEGO Group. © 2010 The LEGO Group. All rights reserved.
"The Mentalist"
(October 1, 2009)
Episode:The Scarlet Letter
Summary: Jane and the CBI are called in to investigate the death of a young intern working for a state senator.
Paul plays the senator's father.
Numb3rs
(Dec.5, 2008)
Episode 5.09:Conspiracy Theory

When the building that houses the Global Development Organization is bombed, it's time to line up the usual suspects: the CIA, the KKK, the Lone Bomber -- all the usual suspects of the wingnut fringe. Finding the real human being responsible requires a mathematician, not a flake...

Paul Michael Glaser guest starring role as BRET HANSON…
In his late 40s to late 50s, a master of the universe, Hanson is the head of the Global Development Organization, founded in 2000 with "the express notion that you can make the world a better place." A man whose corporate board is a billionaire boy's club, Hanson has been fingered by conspiracy theorists as the evil genius behind everything, from fixing the Super Bowl to hiding Osama Bin Laden, and when Hanson's building is blown to smithereens, everyone's a suspect. A believable, earnest guy who states that his real goal in life is to transform the lives of the desperately poor, Hanson is almost killed in the blast, and the detectives have to pick and choose from among his many enemies. But Hanson is a more slippery figure than his manner indicates, and the motive for the bombing turns out to be a very down-to-earth kind of criminal conspiracy: it was all about some real estate...
Criminal Minds
(November 19, 2008)
Episode: "Masterpiece"
Paul is directing and has a small guest role as Detective Garrity!! (only apprs in the beginning)
Summary:The team must profile a self-confessed serial killer who turns himself in, but sends them on a massive manhunt to find his latest victims before it is too late
"The Closer"
(July 21, 2009)
Paul plays the parent of a murdered girl: When the murderer of the daughter of a wealthy producer is paroled after ten years, her parents initiate a campaign of harassment against the man, now living in a halfway house. When the man turns up dead, Priority Homicide must investigate, with the girl's parents soon their prime suspects. But is the halfway house where the man lived all it seemed to be, or does it keep a secret Brenda and the team must uncover?
'LIVE!' (2007)
Paul has three scenes in this mockumentary film.
Paul Michael Glaser..as Network President
According to various sources, this film is a comedy (?)/drama take off on today's Reality TV shows where a television executive, Katy (Eva Mendes), produces a show called "Live!" in which show contestants play the game of Russian Roulette with a loaded gun!
Katy tries to work her way through the restrictions and challenges of the Federal Communications Commission, her network and network President (Paul) and the advertisers all the while a documentary filmmaker, Rex (David Krumholtz) captures the details of her daily life and all it's glory as well as getting involved in the creation of biographical snippets of the shows contestants. Read more about it here.
Paul stars as "Bailey Hughes" for six episodes!
John Robson (Sean Bean) is a federal prosecutor who, after being brutally beaten, shot in the head, thrown into the river and left for dead, and manages to survive and after immerging from a 3 month coma, he discovers that his family has been murdered, now driven with his old agenda, he assumes a new identity as Eddie Pray. Getting in touch with his inner criminal, Pray goes undercover in order to take down Bailey Hughes (Paul), owner of a huge porn empire. " Read more about it here.
"The Secret Life of Super fans" (2006)
A documentary on people obsessed with pop-culture heroes.
This feature documentary takes an intensive look inside the phenomenon of "Fan-dom." Through interview and observation of both the fans as well as the actors and directors, with a focus on the "Horror, Sci-Fi Fantasy and Super-hero" film genres. The fans interviewed are intense as are the actors/directors. An amazing insight to something that has an affect on every human being... who has ever been a fan of anything.
Paul Michael Glaser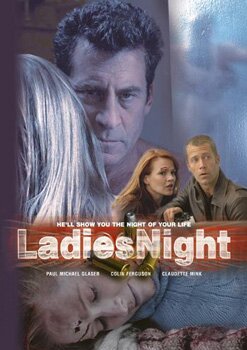 Paul Michael Glaser, handsome,... seductive... charming,... and deadly as Art Kirkland. Guaranteed to give you the night of your life!
Based on a true story, "Ladies Night" aired on USA TV Network February 19th, 2005. A father (Paul) and son team plot to seduce female bank employees, convince them to steal money, kill them, and move on to another victim. The plan works 10 times; it unravels when one of the banks hires an investigator to recover its money and he discovers a link between the murders. Now he must stop the killers before they can lure their eleventh victim to her death. Paul is wickedly wonderful as the villainous charmer! A must for fans.
Directed by Norma Bailey.
Storyline: When insurance investigators Susan Vercillino and Jesse Grant attempt to recover embezzled money for a client, they soon realize this particular case is more dangerous than any they have faced before. Trailing the stolen money, the two intrepid investigators are shocked to discover that a number of female bank employees have been murdered -- and a serial killer is on the loose. Jesse and Susan discover the women have been seduced by one of the killers, convinced to steal money from their employers, then murdered. What they don't at first suspect is that the murderers are a father and son. Having found the link between these murders, Susan and Jesse must stop the killers before they strike again. The cat-and-mouse game that ensues takes the investigators on a wild ride, bringing Jesse and Susan unexpectedly together in the end.
Paul's incredible passion for his craft, his body language, combined with his, handsome, charming and seductive persona; add a new dimension to the phrase "psychotic serial killer". His performance is what made this script work so well that it keeps you on the edge of your cushion! Who wouldn't be attracted to the way Paul portrays the "charming" side of "Art Kirkland". Read more about it here.
An Italian/English DVD is available through Italian websites: InternetBookshop.it or DVD.it
"Sleeping Dogs Lie"
"Blessed and Bewildered"
"No More, Forever"
Storyline Summary: "Third Watch" is a TV drama set at the 55th Precinct Fire and Police Department of NYC. In three episodes, "Sleeping Dogs Lie", "Blessed and Bewildered" and "No More, Forever", Paul plays a recurring guest role as Captain Jack Steeper a veteran firefighter tired of sitting behind a desk , "a by the book" Captain where rules are rules and they will be followed till the last "T" is crossed. He makes his entry at the firehouse as any good Captain would, blending in in the beginning of the first episode. He informs Lt. Doherty that he is being transferred to a more intense rescue unit in Brooklyn effective today and that he, Capt. Steeper is now the Captain of the 55th FD. After their first call to a fire, while sitting at their dinner table in the firehouse, Doc calls the Capt. "Steeper the Reaper" and lets him know that he knows exactly why he is here.. to close down the firehouse. Insisting that he is not, Capt. Steeper and Doc show the early signs of discontent with each other.
The next episode, "Blessed and Bewildered"Capt. Steeper informs Kim, lead paramedic, that the paramedics will be assigned to fixed points outside of the firehouse and will only be able to use the firehouse for changing in and out of uniform. Tensions continue to mount in the house with all the changes he is demanding to get the FD back into a house with rules. As the days progress so does the tension and exasperation.
In the third part, "No More, Forever", meanwhile, Doc is silently suffering from post traumatic stress syndrome from September 11th. Determined to not let Steeper close the fire house, he steals a gun from a police officer at party that he gave the night before. An hour late for work, he shows up in his dress blues, informs Kim that he's not going out on the street today and, as the Capt. approaches him, he shoots him in the abdomen. Held at gun point, none of the crew is able to assist the wounded Captain. Doc wants the Captain to know what 15minutes feels like when you need help. Despite the pleas to assist by the crew, Doc continues to torment Steeper as he lay bleeding out on the floor of the firehouse explaining that "actions have consequences". Steeper try's to explain to Doc that he is not closing the house and that he wanted to get back in the field as he is tired of only doing paper work. When Carlos returns to the station, excitement stirs as he try's to approach the Captain. Doc tells Carlos he has 11 minutes left and pushes Carlos away from the him. Finally, unable to stand it, Carlos risks his life to attend to the Captains needs even as Doc shoots in the air to warn him against it. Kim and the others soon join Carlos in aiding Steeper who is still insisting in a pained, breathless manner that he is not closing. Doc begins to fall apart as he no longer has control of the situation and his plan is now ruined by their aiding the Captain before 15minutes is up. Meanwhile the SWAT team tries to take down Doc through a window when Sully (NYPD) rushes in and warns him. Carlos and Kim are now able to stabilize Capt. Steeper and rush him out into an ambulance. As he is taken to the hospital, Steeper is rambling on about all the funerals he attended after Sept. 11th, families he didn't know because he had been out of the field and that the numbers didn't match. He finally loses consciousness as he is comforted by his own acknowledgement that he "didn't die behind a desk". Fortunately, Steeper will recover. (Maybe next season we will see Capt. Steeper return?)
"The title of episode "No More Forever" is taken from a famous quote by Chief Joseph about the Nez Percé surrender in 1877: "Hear me," he said to the white commander. "I am tired. My heart is sick and sad. Our chiefs are dead; the little children are freezing. My people have no blankets, no food. From where the sun stands, I will fight no more forever." Paul's performance was well worth the wait. He really makes Capt. Steeper stick out as a grumpy, by the books veteran commander. You can feel the tension rise in the firehouse when he arrives and begins implementing his changes for a house that follows the rules at all times. And, Paul, whether emotionally or physically wounded, always gives a marvelously passionate portrayal. It is very moving and tears at your heart and soul. You can't help but feel deeply for his character, even if Capt. Steeper is a bit crusty.
Thanks Paul for a wonderful chance to see you perform in front of the camera again. We anxiously await for more.
Storyline Summary: "Something's Gotta Give" is a delightful romantic comedy. Starring Diane Keaton as the beautiful, self-aware woman and famous play write, Erica Barry. Jack Nicholson plays Harry Sanborn, a 63 year-old rich music executive, incapable of finding a meaningful relationship with women closer to his age. He plans on spending a romantic conquest weekend dating Erica's daughter, 20-something Marin (Amanda Peet) at Erica's summer house when he suffers a heart attack. Paul plays Dave Klein, a play director and Erica's ex-husband and assistant. Complicating matters for Erica is the fact that Dave suddenly remarries a woman younger than their daughter. Paul gives a great supporting cast performance in his albeit too short a role. The film becomes a love triangle between Diane, Jack Nicholson and Keanu Reeves (Julian Mercer, Harry Sanborn's doctor). Mercer, a huge fan of all Erica and her plays, becomes smitten with her while treating Harry in the hospital ( very funny series of scenes, btw). Erica winds up caring for Harry in her home, an adventure that slowly turns into the two of them breaking down their barriers, getting to know each other and discovering their similarities.. all of which, of course leads them to love (the blood pressure scene is hysterical). Harry recuperates and leaves. Six months later, while at dinner with Marin, Dave and his fiance, she sees Harry with a young woman. She cries "this is what heart broken looks like"while grabbing his arms after confronting him outside the restaurant before retreating to her home. Using all this experience, she writes a fabulous play for Dave to direct! (The crying scenes are incredibly sad, heartbreaking, and comical all at the same time. Only Diane Keaton could achieve that!)
Over a period of months Harry realizes that Erica is like no other woman he has ever known. He loves her. He calls on all his ex-young flames who one by one slam the door in his face. Harry finally realizes that there is more to a woman than youthful beauty as he, too, discovers love and real companionship for the first time. He visits Marin, now married and pregnant and is told that Erica is in Paris. Remembering that on Ericia's birthday that she would celebrate in Paris (an old plan to meet him there at a restaurant), he goes there expecting to proclaim his love for her. Matters are complicated though when he arrives and she is being proposed to by Dr. Julian Mercer. Well, she gets all confused, the triangle of love now all in one room. Julian can see the love she still has for Harry and tells her to go see him. In the end, she and Harry have the right chemistry and who can fight that!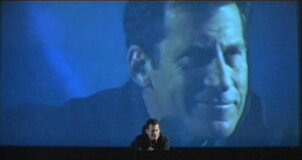 (more stills)
When 16mm meets .45 caliber... Storyline Summary: Gabe, is a clever, smart film school graduate, with strong desires wants to make a movie, except there's just one glitch standing in his way: he lacks funding and  no one wants to grant him any! Gabe bumps into a Laundromat thief Gideon. Suddenly,Gabe knows what he has to do. He and his "film" crew will shoot their movie "live"! They set out to  rob convenience stores, film their own actions and then they explain what has just occurred to the people they've just robbed. Of course, Gideon being the thief that he is, starts keeping the money.  This now makes Gabe and his "crew" wanted felons with the police in permit. Paul plays an older Gabe.
Paul Michael Glaser......Gabriel Ellis (older)
**This independent film was released for film critics review only. It was never released to theaters. "F-STOPS", which won best Thriller at Houston World Fest, Winner of the International Cinematographer's Guild competition and was showcased at Cannes 2004.
Falling For Thomas Capano was her first mistake. Trying to leave him would be her last. This is the true story of a woman's suspicious disappearance after ending an affair with a powerful, married attorney. Capano was convicted in early 1999 of the killing of mistress Anne Marie Fahey. The murderer is popular Delaware attorney, Tom Capano and the victim is the Delaware Governor's Scheduling Secretary, Anne Marie Fahey. Their relationship was a well-kept secret until her disappearance and murder. She tried to leave him but he just wouldn't let her go . He also had a mistress, a wife and four daughters.   Wilmington police detective Frank Gugliatta (Paul Michael Glaser) leads the investigation, which attracts national attention when Gov. Carper asks President Clinton for help. If it weren't for the relentless pursuit by this detective, Capano (Mark Harmon) would have gotten away with a brutal murder. Gugliatta and the rest of the team meticulously paste the case together with predominantly circumstantial evidence including Anne Marie's diary entries, the stories from relatives and friends of Anne Marie and unscrupulous detailed detective work. As evidence mounts, Capano's secret life is revealed and he is arrested in connection with Fahey's murder (her body was never found).Paul's performance was, of course, excellent for which he received wonderful reviews. Mark Harmon was nominated for and won an Emmy for his performance.
Paul Michael Glaser .... Frank Gugliatta.
Ann Rule is a fascinating story teller of true crime. If you want more in depth info on this murder, please read her book. 
Appearing as Himself - filmography
Game Theory (2003) (TV) .... Himself
VH-1 Where Are They Now: TV Hunks (2003) (TV) .... Himself
Miami Vice: The E! True Hollywood Story (2001) (TV) .... Himself
Fiddler on the Roof: 30 Years of Tradition (2001) (TV) (uncredited) .... Himself