| | |
| --- | --- |
| "Criminal Minds" (Nov. 2008) TV Series (episode "Masterpiece") | "Third Watch" (2005) TV Series (episode "Welcome Home") |
| "Las Vegas"( Fall 2007) TV Series (episode "Adventures in the Skin Trade") | "Las Vegas" (2005) TV Series (episode "To Protect and Serve Manicotti") |
| "Raines" (2007) TV Series (episode "Fifth Step") | "Third Watch " (2004) TV Series (episode "Alone Again, Naturally") |
| "Las Vegas" (2006) TV Series (episode "Wines and Misdemeanors") | "Mister Sterling" (2003) TV Series (episode "Final Passage" aka "The Price") |
| "E-Ring" (2006) TV Series (episode "Brothers in Arms" ) | "Robbery Homicide Division" (2002) TV Series (episode "Absolute Perfection") (episode "Had") (episode "In/Famous") |
| "Las Vegas" (2005) TV Series (episode "For Sail by Owner" ) | "The Agency" (2001) TV Series (episode "Doublecrossover") (episode "Son Set") (episode "The Golden Hour") |
| "Las Vegas" (2005) TV Series (episode "Double Down, Triple Threat ") | "Judging Amy" TV Series (episode "Going Down" 2003) (episode "Look Closer" 2001) |
Criminal Minds
(November 19, 2008)
Episode: "Masterpiece"
Paul is directing and has a small guest role as Detective Garrity!! (only apprs in the beginning)
Summary:The team must profile a self-confessed serial killer who turns himself in, but sends them on a massive manhunt to find his latest victims before it is too late
  "Las Vegas"( Fall 2007) TV Series (episode "Adventures in Skin Trade")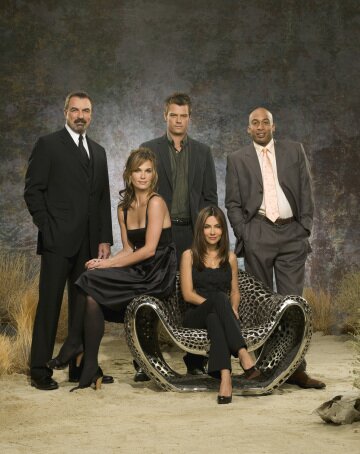 Delinda takes action to improve the treatment of strippers after Danny and Mike witness a club owner abusing one of his employees.
Meanwhile, Piper tries to stop the spread of a racy video with help from Sam, whose cooperation comes with a price.
"Raines" (2007)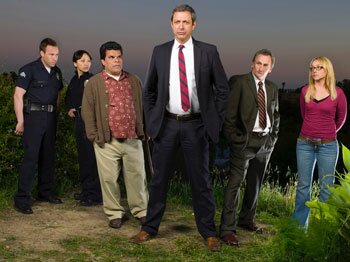 "Fifth Step" (April 13, 2007)
The body of the wife of an old friend of Raines' is discovered. The woman, who was murdered, had an Aryan Nation insignia inscribed on her chest. When everyone thought that the case would be resolved easily, Raines discovers some disturbing lies, cover-ups and misguided good intentions inside the victim's past.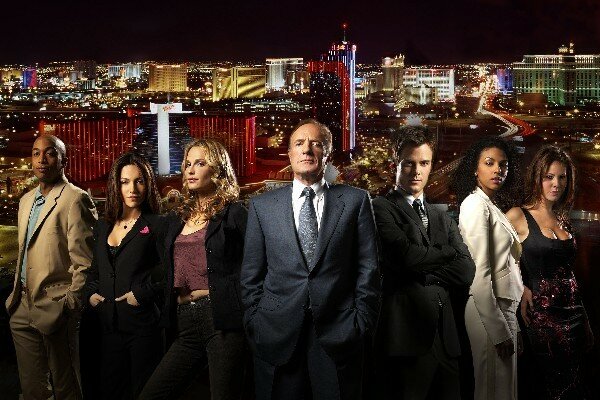 "Las Vegas" (Dec. 15, 2006)
"Wines and Misdemeanors"
An extra wonderfully humorous episode! Danny jealous over Delinda's new toy; Retired ladies having fun and making a statement about age discrimination; A ridiculous price for a "fine, rare wine" and Sam finds the quickest way to get the wading pool evacuated!
A rare bottle of wine is found in the wine cellar of the Montecito by Danny. Ed, after examining the bottle with their new "PR" Wine Expert, decides to sell it in an auction to improve the Montecito image and status. Just after it is sold for one million dollars, they discover that the wine isn't the original even though Ed and the expert confirm that it is with a celebratory toast with the excited buyer. They set out to find out how it was switched before the buyer leaves the Montecito. Also, a group of retired ladies partying at the Montecito and attending a sudoku tournament cause a ruckus and giving Sam a hard time with their different idea of fun. Mike try's to deal with their "fun" and Sam's chocolate bar solution for the group of ladies works only for a moment. Danny is jealous when Delinda starts spending a lot of time with a "new toy". A "smashing" end of the day for Ed!
Some Funny Lines:
Mike: You know what. Why don't I get on this wine thing. You handle the situation at Bella Petto, apparently there's a disturbance...
Danny: That sounds titillating, but I know that you're staying abreast of that situation. You'll be fine. Just don't let your spirits sag.
Mike: Mmm, rich. So you know.

As Mike says to Danny:"Yeah, well OK. Surveillance cameras aren't toys Danny. You should be concerned with the persons inner beauty."

"E-Ring" (2006)
"E-Ring" was canceled before Paul's episode aired.
"Brothers in Arms"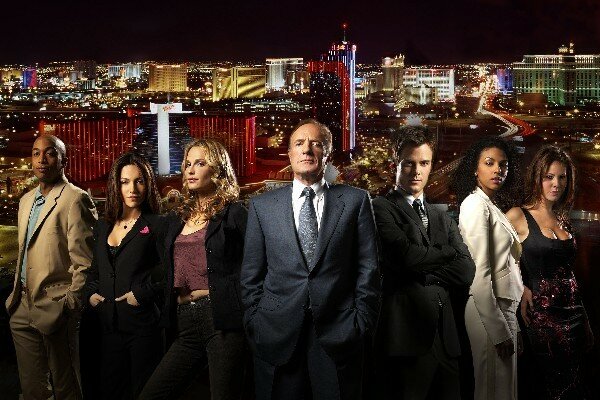 "Las Vegas" (Nov. 28th, 2005)
"For Sail by Owner"
Director: Paul Michael Glaser
A hostile takeover of the Montecito is thwarted by a stunning change of events; when Mike (James Lesure) is mugged by a thug, he leaves Danny (Josh Duhamel) to seek his revenge.
"Las Vegas"
"Double Down, Triple" (Oct. 3, 2005)
Director: Paul Michael Glaser
This episode is sort of a continuing cross over from "Crossing Jordan". In a high-stakes kidnapping scheme, Danny (Josh Duhamel) stays with a blackjack playe, Gabe (Ethan Phillips) whom they notice is wearing a wig and counting cards. He's determined to keep playing until he wins claiming that his daughter has been kidnapped and he must win to pay them off. Not sure that he's really telling the truth, Mike (James Lesure) and Ed (James Caan) are reunite with Dr. Jordan Cavanaugh (Jill Hennessy) to work on his case. Meanwhile, Sam (Vanessa Marcil) and Det. Woody Hoyt (Jerry O'Connell) attempt to figure out how they wound up in bed together the night before. And Mary (Nikki Cox) is still helping Danny take care of his dad's stuff. And finally, a player wins a lot of money, gives it back, then asks for it back only to give it away and ask for it back again!
Guest Stars: Ethan Phillips (Gabe Labrador) , Chris Ufland (wedding ring guy) , Regi Davis (Dealer #2) , Lisa Diane Morgan (Millie) , Shane Blades (Tall Guy) , Mitch Longley (Mitch) , Morann Peri (Marjhan Silani) , Tacey Adams (Dealer #1) , Jill Hennessy (Dr. Jordan Cavannaugh) , Jerry O'Connell (Det. Woody Hoyt) , S. A. Griffin (Detective Jernigan) , Iqbal Theba (Parviz Silani) , Darrell Hammond (Ben Carlson/Ted Waters/Carlos)

"Third Watch" ( April 15th, 2005) 
"Welcome Home"
NYFD Paramedic Holly Levine goes home to visit her mother, played by actress Valerie Perrine, and to introduce her special friend, Paramedic Carlos.
"Las Vegas"
To Protect and Serve Manicotti (Feb. 21,2005)

When a local restaurateur (and mother of a Montecito showgirl) is approached by petty mobsters, Ed (James Caan)enlists the support of a long-time friend, Frank the Repairman (guest star Sylvester Stallone), to squash their extortion attempts. As the two navigate their way through the local mob's hierarchy, Ed discovers that he has a multi-decade-old connection to the ringleader. Elsewhere, Danny (Josh Duhamel) and Mike (James Lesure) feverishly work to reclaim $100,000 stolen from the casino by a cunning thief. Once the thief's identity is revealed, Danny concocts a clever scheme to make good on the money before Ed discovers the truth. Meanwhile, Joe Rogan (as himself, NBC's "Fear Factor") visits the casino in search of a little R & R. Sam (Vanessa Marcil), Delinda (Molly Sims) and Nessa (Holt) who are desperate to be contestants on Joe's show, compete with each other for his attention. Nikki Cox also stars.

"Third Watch" ( Sept. 24,2004) 
"Alone Again, Naturally"   
An infamous criminal, Donald Mann (guest star Gene Simmons), is gunned down on the roof of his building by Yokas (Molly Price) as Detective Cruz (Tia Texada) was preparing to arrest him. Cruz plans a cover up scenerio to protect Yokas from the charges of murder. After her statements about the shooting, a new tough lieutenant (guest star Aidan Quinn, "Legends of the Fall") is assigned to her and makes it clear that she's now under his firm thumb. A ranking Internal Affairs officer, (Charles Haid from "Hill Street Blues") suspects that there is more to the shooting and plants another officer to work at getting the truth. Yokas is traumatized and upset by her partner's shooting and present condition while at the same time, she recieves a divorce notice from her husband Fred (Chris Bauer). On a positrive note for her, Yokas is promoted to detective based her outstanding merit and service. Meanwhile, Officers Davis (Coby Bell) and Monroe (Nia Long) develop a mutual attraction until they clash over the questionable arrest of two teenage girls who murdered an elderly woman. The episode concludes in the hospital room of the still unconscious Bosco, his mother and fellow officers keeping vigil.
"Mister Sterling" (2003 TV)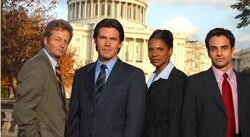 "Final Passage" (aka "The Price)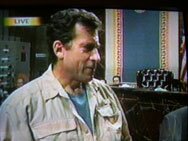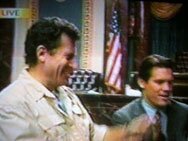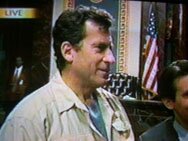 Paul directing Mr. Sterling
Directed by: Paul Michael Glaser
air date.. March 14, 2003
Storyline: Senator Sterling plans to return to California in order to attend a parole hearing and keep a promise to one of his former students.

He must first go to the floor for his chance to speak about his amendment, which would add his prison education program to the bill that has already passed - a bill that can no longer be amended. Sterling soon finds himself in a filibuster; he won't stop talking about his amendment. Tommy prepares Sterling's team for the filibuster, gathering lozenges, lip balm and anything that will help Sterling go the duration. He can't leave the floor or sit down...

The Majority Leader asks Sterling to stop, but he refuses. Jackie and Tommy approach Hardball with a request to let someone from Sterling's team come on as a guest to defend/support Sterling. Lauren Barnes offers to be the person, her name recognition will help and she feels indebted to Sterling for his help with her After School Arts program.

Meanwhile, Tommy asks Senator Garland, a presidential contender, to go on the floor and ask Sterling questions, giving Sterling a chance to rest his voice. Every other Senator has passed, but for Garland this would be a chance to get camera time and support education.

Jackie and Tommy realize that the next day at 10 a.m. is scheduled to be a Debt Ceiling vote. Every year the debt level increases and there is a vote to increase the debt ceiling. If this vote doesn't take place the government closes down. If Sterling can stay with his filibuster until the next day, the Senate may be forced to give him what he is asking for.

Everyone begins to panic as time passes. The Minority Leader realizes that the U.S. credit rating is at risk and decides to pass a concurrent resolution, which means that Sterling gets his amendment, but something else in the bill will have to be taken out because the total cost of the bill can't change. The Minority Leader points out that Lauren Barnes' After School Arts is the only thing that will go without a big fight and Sterling agrees. Lauren is devastated when she learns that she supported Sterling and he took away her funding.

Sterling's student Troy was turned down at his parole hearing, he will have to reapply in two years. Sterling is upset, but realizes that, while he wasn't there for Troy today, he helped a lot of other inmates who are going to benefit from the funding his program just received.
This was the last episode on Mr. Sterling. It was cancelled after only 9 episodes.
Robbery Homicide (2002 TV)

"Absolute Perfection"
"HAD"
"Infamous "
Directed by: Paul Michael Glaser
"Absolute Perfection"
air date.. April 21, 2003
Storyline: RHD investigate the death of an Asian man (Tommy Cheung), who is run over by a bus in Chinatown.
"HAD"
air date... Dec. 7, 2002
Storyline: Cole visits a Death Row inmate to eliminate any possibility of an 11th-hour appeal from the man who murdered his former partner. Cole reluctantly pursues leads that could exonerate the condemned man. With the clock ticking toward a lethal injection, a crucial alibi witness is gunned down, and Cole must hunt for a crew of hired killers.
A reviewer comment about this episode: " Hands down. The episode "Had" is easily one of the finest hour's worth of television I have ever seen. What a nice change to see a show that has intelligent characters, complex stories and inspired direction."
It has been 12 years since the 1990 shooting death of Cole's partner, Vasquez. Cole visits death row determined to see to it that the man convicted and about to be executed for the crime, Scotty Earl Klayman, doesn't get a plea for clemency. Klayman tells Cole that while he does deserve to die for his sins, he did not kill his partner Vasquez. At a public defender's recommendation, Cole backs down and agrees to speak with Pastor Arcaro. He claims that a man in his congregation - who's name the Pastor won't devulge- approached him and said he was with Klayman at the time of Vasquez's death, and that Klayman who's conscience is becoming unbearable, wants the truth to be known. Cole sets out to find the mysterious congregant, and Lu uncovers one Victor Peluso who has quite a criminal record full of his own sins, including working with Klayman. Cole goes to see his old acquaintance, C. Conway Plummer, who's currently running for State Attorney General and who helped put Klayman behind bars. Plummer gets defensive at the mere idea that Klayman might be innocent, and refuses to help. Vasquez's daughter, Nicole, begs Cole to let Klayman die. Cole, Simms and Robbins talk to Peluso, who testified against Klayman, and coerced him into a confession. Arcaro and Klayman were telling the truth; Peluso lied in court because his first wife was having an affiar with Klayman. He names Karl Mitrovic, a former friend who spent the day of the killing with him and Klayman. Against the violent protests of his wife, Lorena, Peluso plans to clear Klayman's name. Lorena takes their child and bails, and Peluso ends up dead. While Barstow and Simms learn that Mitrovic died six years ago, Cole and Robbins question Lorena. She resents her would-be hero of a husband, and now recants his testimony. Lu gets the name and address of the ex-wife, Alicia Eegolf. Plummer blames Cole for Peluso's murder, threatens him if he doesn't close the case, and refuses to hand over sealed documents on Mitrovic and Eegolf. When RHD tries to question Eegolf, she tries to get away, a chase ensues, but the division lose her and instead run into a team of US Marshals.It is then that RHD discovers that Mitrovic is still alive and in the witness protection program. The Marshals refuse to let RHD near him. Lu is able to discover Mitrovic's current name and residence without their help. Cole, Simms and Lu storm Mitrovic's place, only to face to face with guns drawn on them by both Mitrovic and Eegolf. Even though he has blanket immunity, Mitrovic agrees to talk to Cole in private. Cole mocks at his immunity and beats him until he confesses that Klayman is indeed innocent. The team go over Plummer's head, and deliver the evidence to the governor. Cole apologizes to Nicole, who comes to understand she's misplaced her anger. Klayman is released from prison, but when Cole and Simms spot him driving off with Eegolf, a $250,000 trust fund shows up in the Peluso child's name, and everybody leaves town, they realize they've been "had".
"In/Famous"
air date..... Nov. 1, 2002
A party is held at a Hollywood mansion for talent manager Arthur Zoglin, to celebrate his 40 years career in entertainment. The hosts of the party are Greg Caton, his movie-star wife Trisha Keane and their beautiful and famous daughter Jules Azar. Hollywood agent Pete Micelli joins the hosts and Zoglin in a game of billiards, stopping intermittently to take a picture with press photographers.

The next day Cole and his team are called to the mansion. Zoglin is dead. Reporters are stating that Zoglin overdosed and drowned, but gash on his head tells Cole this false. Robbins examines pictures from the party and notices that an Audi TT that was parked in the garage is now gone. Cole visits a beach house that is connected to this famous group, the Audi parked out front. The license plate says Jules Pony; it belongs to Jules Azar.

Barstow and Lu go to the talent agency where Micelli works. Micelli tells them that Caton knew Zoglin was sleeping with his wife. He also says that Trisha's daughter Jules is trouble, into drugs, kicked out of school, caught up in a civil suit settled out of court.

Cole speaks to Jules' friend M'lissa and finds that Jules and Zoglin were having an affair. Cole can't shake a growing attraction he has toward Trisha and his instincts tell him that she likes him too. He tries to stay focused. Cole determines that the murder weapon was a pool cue because the splinter in Zoglin's head was Ash wood, just like the cue. He also finds that Caton's account was charged with buying one Ash pool cue four hours after the party. However, there were six cues at the party pictures and there are six now. Cole confronts Caton. DNA from Zoglin's bed is close to Trisha's, it had to be Jules in bed with Zoglin.

Cole goes back to the beach house to see Trisha. She wants to drink wine and relax with Cole. He tells her he knows she went to Zoglin's room on the night of the murder and found Zoglin with her daughter Jules. He also tells her that he knows, from a paternity test, that Zoglin is Jules' father. This is hard for Cole, he likes Trisha and he understands why she was angry, but he has no choice...he must arrest her for murder.

"The Agency"

"Doublecrossover"
'The Golden Hour'
"Doublecrossover" (air date:Thursday, May 2nd, [email protected] EST. )
The agency joins with the Washington, D.C., police ("The District") department to investigate the murder of a CIA agent. A 2 part episode that began on "The District".
"The Golden Hour"(air date: Thursday, January 31st, 2002 at 10pm EST)
An assassination attempt on Lisa strikes Matt instead and leaves him hospitalized and fighting for his life. While Robert tries to hide the events from the press, Jackson is forced to work with the chief of counterintelligence to determine who ordered the attack on Lisa and how her position at the CIA was uncovered. Eventually, Lex admits to indirectly blowing Lisa's cover to the assassin and, in the process, unknowingly giving him access to information on Lisa. However, Lex soon redeems himself by leading Robert and Jackson to the terrorist organization behind the shooting. As Matt hangs on to his life by a thread, Lisa contemplates a leave of absence from the CIA.
"Judging Amy"

" Look Closer" ( air date: Oct.23,2001 on CBS)
Amy hears the case of two teenagers accused of causing the suicide of a classmate by deliberately posting lies about her sexual activity on their web site.

The long arm of politics reaches out to Maxine and exacts a heavy penalty for her tirade against the lieutenant governor.

Amy gives her support to Bruce's Gun 101 program.

Vincent returns from his weekend trip and tells Donna that he and Carole flew to Las Vegas and eloped. Carole has already moved on to San Francisco, where Vincent will join her in a few days to be with her during her cancer surgery. Unaware that he hasn't mentioned any of this to his family, Donna lets the news slip to Amy. Amy tries, but fails, to reconcile with her brother. Maxine urges Vincent not to turn away from the love and support that his family is offering which will help him get through this crisis. She tells Amy and Vincent to knock it off and end whatever disagreement is causing them to be estranged from each other.
"Going Down" ( air date: Sept. 30, 2003 CBS)
After she's released from the hospital with a clean bill of health, Gillian reveals that she had a near-death experience during Walt's delivery, but can't seem to find anyone who believes her; when Amy claims that she has no time to organize the wedding, Stu volunteers to make all the arrangements; tragedy occurs when Maxine's pleas to the police to publicize the disappearance of a foster child fall on deaf ears; it's apparent that there's no love lost between Stu and David when they end up at the same cocktail party; Kyle and Lily have an intense encounter in a hospital elevator; Amy's frustration with the difference between the criminal and juvenile court systems increases as the Hawkins trial concludes; Kyle is unsuccessful in his attempt to get Lily to change her mind about moving to New York.

Untitled Peppermint Lounge (2000)
Directed by
Paul Michael Glaser
Genre: Feature Film
Producer: Henry Winkler/Mark Lipsky/Steve L. Bernstein
Not released
Director: Paul Michael Glaser
 cast :  
Bruno Kirby  
Chazz Palminteri  
Please use the SITEMAP for complete navigation of this site!
All contents including Video, Audio Recordings, Speeches, Photography, and Poetry are the personal property of
Paul Michael Glaser, paulmichaelglaser.org, and SITMOIA Productions, Inc;
All Rights Reserved; No Usage Authorized.

They are NOT to be copied or posted on other sites or used in any other fashion.
Sharing the journey with Paul Michael Glaser.
Transcripts by Pam.
Last updated: June 12, 2010