LADIES NIGHT REVIEW
Paul?s incredible passion for his craft, his body language combined with his handsome, charming and seductive persona add a new dimension to the phrase ?psychotic serial killer?. His performance is what made this slightly thin script work so well that it keeps you on the edge of your cushion! Who wouldn?t be attracted to the way Paul portrays the ?charming? side of ?Art Kirkland?.
Based on a true story, the film opens with Zach (his son), dressed in a security officer?s uniform, waiting in his car for Carol Ross, Yamamoto Construction Company controller. She exits the bank with her company bag, gets in the car with the Yamamoto Logo on the side panel. They drive off stopping at a gas station where she buys an item under the stores $10 minimum credit card purchasing policy. She sweet talks the clerk into accepting her card, leaves the store to find Zach gone. Panicking, she frantically looks around but no car, no Zach, NO bag! "You almost gave me a heart attck!" To her relief, he returns with a different car, a yellow mustang convertible, and together they drive over to his father?s home where he drops her off.
Carol Ross, married, and self described ?good ol? reliable Carol?, successfully embezzled her employer out of $309,000 for her love interest; charming Art Kirkland. An afternoon of sexual fulfillment and fun in the shower, Carol and Art relax on his backyard terrace toasting their $250,000 profit. Art explains that they are to drop off the money for deposit later that evening at 8pm and by Monday, the money will be deposited into an account for them; Tuesday she?ll be $250,000 richer. ?We?ll be $250,000 richer? she corrects him as they click their Champagne glasses.
They drive out to the drop-off point, Art gets out, heads around to the back of the car for a few moments, ?You scared me? she says as Art suddenly opens her door. He is quick to assure her that ?Go ahead, I?m right here behind you.? She proceeds to the front of the car and turns to face Art who points a gun at her and shoots a very surprised, stunned Carol twice in the head. So cold are the father and son that, while bending over the body and removing a bracelet, Art says ?Did you set the Tivo??
Zach replies ? Of course, do you think I want to miss the Trail Blazers!?
Art:? Well, don?t listen to it on the car radio, we?ll watch it when we get home.?
Zach shines his car lights on Carol?s body and approaches covering her with a canvas tarp. Art departs the scene of the crime leaving the responsibility of removing Carol?s body to Zach. A task which becomes endangered when he has a flat tire and a passing police officer stops to offer assistance. Thanking him and assuring the police officer that he is all set, the officer leaves to check on reports of an incident down the road. Desperate to get rid of the body, Zach throws it over the side off the highway and down the cliff side.
Insurance investigator, Jesse Grant is called in to help Mr. J.P. Yamamoto find Carol and the stolen $309,000.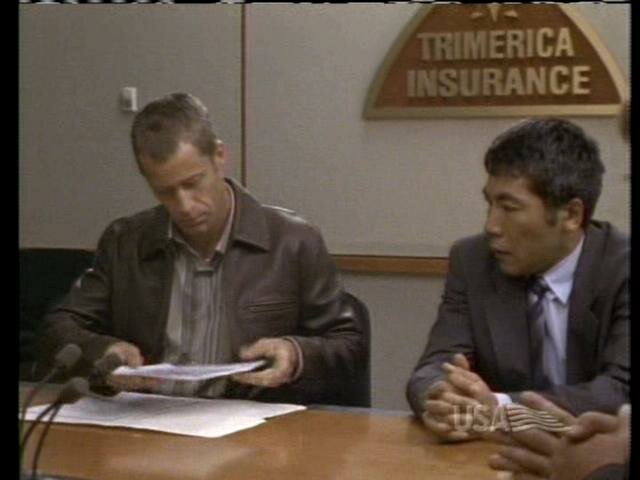 Jesse returns to his office and explains the sticky fingers of Carol and their new case to his co-investigator, Susan. The investigators continue to research Carol?s past few days before her disappearance. Their investigation leads them to a gas station, her last known recorded location. After talking with the attendant, he vividly recalls for them the ?hot? Carol getting into a yellow mustang convertible with a curly dark haired man around 20 years old.
Meanwhile, Art?s next conquest is Emily, another controller whom Art meets at a car wash after she ?dropped? her wallet. (Pick-pocketed by Zach 2 minutes earlier). He hands it back to her with a big smile quick polite conversation and heads out to his car . "it's nice to meet an honest man" she says to him as he heads out to his car. Art makes sure that Emily sees him flash off a tip to the car wash attendant.
In the office of the investigators, Jesse and Susan draw out Carol's scenario on a display board and follow some leads from her cell phone records. Over 80 calls to a prepaid cell phone card direct them to where it was purchased, in cash, leaving no trail. But the clerk, with a seemingly photographical, almost savant like memory, recalls in detail the ?James Bond? type car, a silver Z4 Roadster convertible, a rental with the license plate Oregon 65T 118.
The scene changes to the Zach breaking into Emily?s house where he plants a mini camera in the smoke detector in her bedroom. Going through the house, Zach takes pictures of her personal photo?s and home environment gathering useful information for Art to use. He leaves after making sure everything is all in order.
The investigators show up at the car rental shop and after slipping the car dealer a mere Ben Franklin ($100), he gives them a copy of the license of Arthur Kirkland, 51 of Oregon. Returning to their car, Jesse calls in for information on the license number of Art Kirkland, while Susan comments that Art's "A handsome devil." In a slightly jealous tone, Jesse retorts "You think so?" A phone call from the police informs him that a body matching Carol?s description has just been found.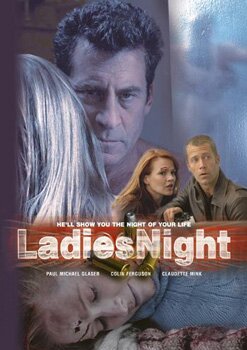 An Italian/English DVD is available through Italian websites: InternetBookshop.it or DVD.it
(about $12.99)