Kazaam (1996)
"The power is in you,.. in your heart"

"It's wonderful, it's heartwarming, it's funny, it's got a wonderful message to it," Paul Michael Glaser.
A film for Jake
Directed by
Paul Michael Glaser
Writing credits (WGA)
Paul Michael Glaser (story)
Christian Ford
StoryLine:
A wrecking ball destroys an old building, releasing a genie from a boom box in the presence of a sweet boy named Max (Capra). Greatful to be released after 5,000 years of being trapped in the boom box, he now owes young Max three wishes. Max does not take Kazaam the genie seriously at all, he turns around and leaves the building with Kazaam following him everywhere trying to make a believer out of him and grant his three wishes. This was quite funny as he try's to prove his skills with various demonstrations all of which never aspire.
The twist is, the genie really likes people, having made no friends in 5,000 years and having spent most of that time cooped up in bottles, lamps, radiators, etc. The other twist is, Max doesn't really trust people. He learns that his father lives near him and desperately wants to meet him and wants acceptance from him even though his father abandoned him and his mother. Kazaam helps Max find his father, only to find out that the father is involved in an illegal music pirating operation. The father is not quite ready to go straight, but after some action sequences involving an evil gang, he realizes his future depends on living up to his son's expectations.
For Kazaam, he soon discovers some of the pleasures of existing in the 20th century. He becomes a rap music superstar, falls in love, and just when Max needs him the most, Kazaam calls upon all the powers at his disposal to help his new friend, achieving the highest level for a genie..he becomes a Gin. Max's last wish is for a second chance with his father. A self-less wish from the heart. It is granted, and Nick vows to start fresh and Max opens his heart too and gives Travis, his future step-father, acceptance.
Kazaam, now a Gin, is free to 'be' as he desires, he chooses his new girlfriend and after she tells him that he's getting a job.. well...he's just elated with that idea! As he is walking off with her, he grants Max an additional wish... hot chocolate! This movie has a lot of hilarious action and adventure.
KAZAAM! stars Shaquille O'Neal along with Francis Capra and Ally Walker who do a terrific job of acting in this Comedy/Fantasy. Watching Shaq rap was perfect. Paul has a small role as Fire Chief. Jake Glaser has a nice, small role as "Max's" friend "Jake". This movie has something for everyone of all ages, fantasy and comedy and action along with a lot of magic.
"Directing and performing in an effects film is incredibly demanding. Shaquille was on a bike mounted on a gimbel, repeating the same action for an entire day. He and director Paul Michael Glaser were terrific," says co-producer Laurel Ladevich
Cast :  
Paul Michael Glaser .... Fire Chief
Jake Glaser (Paul's son) ....  Jake Shaquille O'Neal ....  Kazaam
Francis Capra ....  Maxwell "Max" Connor
Ally Walker ....  Alice Connor
James Acheson ....  Nick
John Costelloe ....  Travis
Marshall Manesh ....  Malik
Fawn Reed ....  Asia Moon
JoAnne Hart ....  Mrs. Duke
Brandon Durand ....  Vasquez
Wade J. Robson ....  Elito
Efren Ramirez ....  Carlos
Jonathan Carrasco ....  Z-Dog
Jesse Perez ....  Vasquez's Sidekick
Todd Sible ....  Engineer
Release date: July 17, 1996
The Air Up There  (1994)

This film is dedicated to Jake.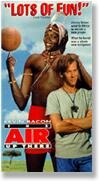 Directed by
Paul Michael Glaser
StoryLine:
Jimmy Dolan (Kevin Bacon) a former college basketball star, (an injury having ended his potential pro-career), is now an assistant coach at St. Joseph University. After costing the school a top recruit, he journeys to the heart of Africa to recruit a young man he spotted playing basketball in the background of a video about the college's missionary work overseas. After taking an unsettling bus ride, being ridiculed by the natives, and finally hitchhiking, Dolan finally reaches Winabi, the hometown of the player he seeks.
The young man, a 6' 10 African Prince, Saleh (Charles Gitonga Maina), turns out to be the son of the tribal chief, who is grooming his son to succeed him. Dolan stays in Winabi to bond with the locals, hoping that he can persuade Chief Uradu (Winston Ntshona) to let his son go to America. He learns about people and gets over his attitude problems as he spends time in the village and becomes part of the tribe. He becomes tangled in Winabi's battle with Mingori, a neighboring village run by a shady businessman named Nyaga (Mabutho "Kid" Sithole) who has been stealing the villagers' cattle in an effort to drive them off their land, which he wants to mine for copper.
The two tribes decide to settle their differences once and for all on the basketball court. If the Winabi win, the Mingori will leave them and their cattle alone, and Saleh will go to St. Joseph's. In order to play for the Winabi team, Dolan must officially join the tribe, which requires him to climb a mountain in a torrential rain and undergo a stomach-lacerating ritual. He succeeds and helps lead the Winabi team to a marvelous victory. A great basketball game concludes this film.  

This film is shot in Kenya and is wonderfully scenic.
Release Date: November 11th, 2003


 The Cutting Edge (1992)
"The King of the Rink is about to meet America's Ice Queen."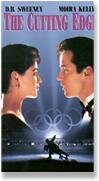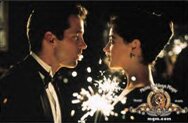 Paul directing "The Cutting Edge"
Directed by
Paul Michael Glaser
Storyline:
What happens when a former hockey player decides to take up couples' figure skating to salvage his Olympic dreams? Lots of laughs and inevitable romance!
D.B. Sweeney plays Doug Dorsey,  a rough and tumble hockey player (with a sweet demeanor!) forced to give up his dreams of Olympic gold in his sport because of an eye injury. Not long after, though, he is visited by a figure skating scout who knows of a female Olympic figure skater who is looking for a new partner. Doug decides this is a way to keep skating and maybe still make it to the Olympics, so he accepts the challenge.
Enter Kate Moseley (Moira Kelly), a world class figure skater ,talented and spoiled ,who also has a chip on her shoulder the size of her family's estate. She can't get along with any of her skating partners, blaming them for her own skating weaknesses and bad temperament. Her wealthy, doting father keeps replacing the hapless guys, determined to see his daughter win the gold medal. Neither of them bargained for Doug Dorsey, though. Kate has finally met her match. He is not about to let her defeat him, in fact, he becomes more and more determined to show her up.
The laughs are abundant as the two start to train together, constantly trading wicked-tongued, barbed comments and refusing to acknowledge that they are really attracted to one another. Kate's snotty English boyfriend Hale provides a barrier between them at first, but soon he is out of the picture, and Kate and Doug can no longer deny their  chemistry as they prepare for the Olympics.The Cutting Edge was released within a few months of the 1992 Winter Olympic Games.The chemistry between Kate and D.B Sweeney is wonderful. The cinematography and choreography is is wonderful, thrilling skating sequences. You'll really love this movie and another must see for Paul fans.Available on DVD and video.
 Cast :  
D.B. Sweeney ....  Doug Dorsey
Moira Kelly  ....  Kate Mosley
Roy Dotrice ....  Anton Pamchenko
Terry O'Quinn ....  Jack Mosley
Dwier Brown ....  Hale
Chris Benson  ....  Walter Dorsey
Kevin Peeks ....  Brian
Barry Flatman ....  Tuttle
Rachelle Ottley ....  Lorie Peckeroffski
Steve Sears ....  Spindler/Skater Duo Nyman & Spindler
Nahanni Johnstone ....  German Girl
Michael Hogan  ....  Doctor
R.D. Reid ....  Calgary Cop
Dick Grant ....  Olympic Commentator
Melanie Miller ....  Olympic Commentator
Please use the SITEMAP for complete navigation of this site!
All contents including Video, Audio Recordings, Speeches, Photography, and Poetry are the personal property of
Paul Michael Glaser, paulmichaelglaser.org, and SITMOIA Productions, Inc;
All Rights Reserved; No Usage Authorized.

They are NOT to be copied or posted on other sites or used in any other fashion.
Sharing the journey with Paul Michael Glaser.
Transcripts by Pam.
Last updated: June 11, 2010