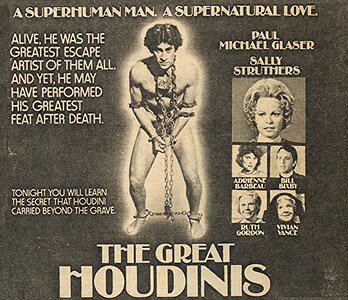 Paul Michael Glaser and Sally Struthers star as the Houdini, with Ruth Gordon as Harry's mother Mrs. Weiss, Peter Cushing as Conan Doyle, Jack Carter as Houdini's brother, Adrienne Barbeau as his mistress, Nina Foch as a medium, and Vivian Vance as the all-around best friend/severest critic, who narrates the film. The Great Houdini first aired on October 8, 1976.This is a great film, one of my favorites.
Storyline Summary: A biography of the renowned master escape artist and magician Harry Houdini, examining his fascination with the occult and his promise to his wife on her deathbed that he would speak from the beyond.
Paul did a fabulous job in this role. Paul stated once "What an intense, intricate man.  I wanted to do this.  I had to do this, reading the script I was immediately into it."  He demonstrates quite easily his range as an actor and the physical strength he possesses in order to do his own stunts. He learned and practiced relentlessly to perform ALL the stunts himself!  In fact, Paul actually had almost suffered a serious injury to himself while performing HH's underwater escape trick.  It seems that a stage-hand missed his cue and Paul recalls (Paul was handcuffed during this scene!)  "I was under water for about 45 seconds and I started getting dizzy and panicked. Then they pulled me out at last!" Made for television, The Great Houdini tells the life story of famed American illusionist/escape-artist Harry Houdini and his wife Bess. Director Mel Shavelson's script for Great Houdini spends a great deal of time on the conflict between Harry's Catholic wife Bess and his Jewish mother (in real life though, Bess and Mrs. Weiss were good friends and the religious conflict was from Bess's Catholic mother). The spiritualism angle so important to the Houdini story allows this 1976 film to recreate Houdini's meetings with "true believer" Sir Arthur Conan Doyle. This film does not end with Houdini's death from peritonitis in 1926; instead, we watch as the widowed Bess desperately tries to make contact with her husband in the "other world," all the while debunking phony mediums, just as her husband had done.
Even though the script for this film was full of inaccuracies about Houdini, Paul really gave a wonderful performance in his portrayal. He easily demonstrated his range of talent with the passion he put into the role from humorous moments to the dark side of this Houdini character and his life. You will enjoy and be amazed at all the stunts that Paul did. Absolutely marvelous. He received wonderful reviews for his performance.
Should you ever visit "The Magic Castle"in Hollywood, CA, you can see many of the authentic props used by Houdini in the "Houdini Room".

Cast :
Paul Michael Glaser;...Harry Houdini (Erich Weiss)
Sally Struthers.... Bess Houdini
Ruth Gordon.... Cecilia Weiss
Vivian Vance.... Minnie (Nurse)
Adrienne Barbeau.... Daisy White
Bill Bixby.... Reverend Arthur Ford
"One liked junk food, the other ate organic stuff"  One wore faded jeans and tennis shoes and drove a fancy shinny car... the other dressed tres-chic and drove a wreck !

Story outline : Starsky and Hutch was about two street wise detectives. They were tough, resourceful and caring. They worked in the neighborhood of Bay City striving to abolish inner-city crime and cleaning up the streets. They were determined to get rid of organized & syndicated crime and this, would ultimately lead to the near death of Starsky at the series unfortunate conclusion.
The opening scene shows a young dark haired man parking with his girlfriend in his candy-apple red torino on a cliff side overlooking Bay city. Two hit man appear and shoot them dead at point blank range. The next morning Starsky drives his torino down an alley near Hutch's gym to get ready for a days work on the streets. Two young, charismatic, hip and handsome detectives protecting Bay city. While cruising around they notice the strange looks people on the streets are giving them. Curious, they stop at a popular bar filled Bay city's lowlife and ask what people know. A note from Fat Rowley "Says we're supposed to be dead" Starsky informs Hutch. Back at headquarters, the other shot out torino arrives and their investigation begins. Our two favorite detectives investigating this double homicide discover that the two people who died weren't mistakenly murdered - it was the female passenger who indeed was the intended target and not the detectives as everyone was led to believe.
The incredible friendship and bond between Paul and David which transcended from them and into their characters is what sold the series. Their incredible chemistry was, and is, truly remarkable. It premiered as the ABC Wednesday Wide World of Mystery Movie of the week aired on April 30th, 1975. and ran prime-time for 4 years (92 episodes). For more detailed info on Starsky & Hutch, please read his biography.
Cast overview:
Paul Michael Glaser.... Det.David Michael Starsky
David Soul.... Det. Ken "Hutch" Hutchinson
Antonio Fargas.... Huggy Bear
Richard Ward .... Captain Dobey
Directed by
Barry Shear Genre: Action / Crime (more)Runtime: USA:90
PROGRAMMING HISTORY 92 Episodes
ABC
September 1975-September 1976
Wednesday 10:00-11:00
September 1976-January 1978 Saturday 9:00-10:00
January 1978-August 1978 Wednesday 10:00-11:00
September 1978-May 1979 Tuesday 10:00-11:00
August 1979 Tuesday 10:00-11:00
Starsky and Hutch Murder at Sea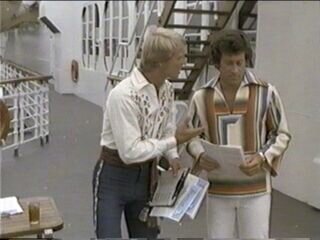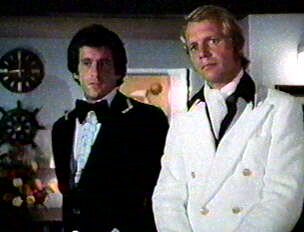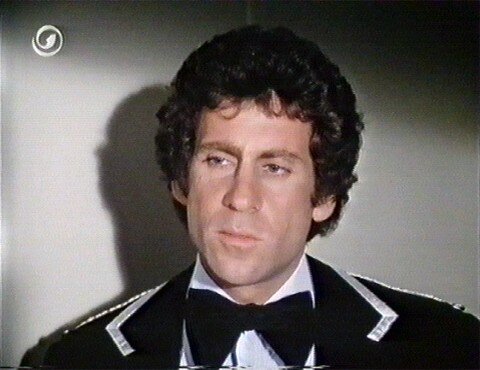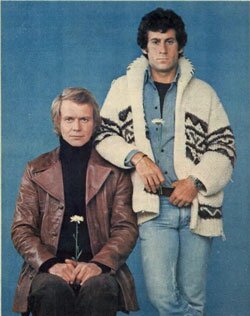 Storyline Summary: Starsky and Hutch was expanded to two hours for this episode titled Murder at Sea. Detectives Dave Starsky (Paul Michael Glaser) and Ken "Hutch" Hutchinson (David Soul) are assigned to solve a double murder. This entails their boarding a luxury liner bound for Acapulco (it's a dirty job, but somebody's got to do it). Starsky and Hutch pose as recreation officers Hack and Zack (totally hilarious!), aboard a cruise ship whose passenger list boasts a number of crime bosses. Surrounded by bikinied lovelies, S and H discover that there's a syndicated drug operation being carried out on board. Elizabeth Glaser had an extra part as a passenger. You can see her beautiful smile several times during the entertainment scenes. Murder at Sea aired as the second-season Starsky and Hutch opener on October 2, 1976. You will really enjoy this episode. It's full of Paul and David fun along with a little attempted murder, bombs and dune bugging racing!

Cast:
Paul Michael Glaser, David Soul, Antonio Fargas, Bernie Hamilton. Special guest star in the cruise ship audience is Elizabeth Meyer Glaser.
(more stills)
Storyline Summary: The Impersonation Murder Case was first telecast April 15, 1975, on the late night movies" The ABC Wednesday Wide World of Mystery". This was a pre-Starsky and Hutch film for Paul. In the opening scene, an intoxicated man rows across a pond and stumbles onto land holding a gun.
Paul plays this mysterious drifter, Gordon Lampert and after a wealthy man has been murdered, Paul is the prime suspect. Evidence suggests that Paul is the dead man's long-lost son - an allegation he hotly denies stating that his name is "Reid Buxton", and understandably so, since this bit of information could well put a noose around his neck. After stumbling across the property of a large mansion, the gun totting drifter enters the house through a garden doorway. There, he encounters an old man reading his newspaper. He startles him by suddenly bursting into a fit of laughter. The older gentleman tries to inquire as to who he (Paul) is and is confused when the drifter shouts, "Who?" The gentleman then demands to know what he wants to which the drifter replies "You know. I want..YOU!" He then pulls the trigger. Overcome with a big belly laugh, the drifter falls backwards onto a nearby crouch as his gun falls to the floor. Later he awakens to find the older man on the floor and in his confusion, he goes over and tries to wake him assuming that he too has had too much to drink. after several attempts to wake him fail, he then eyes the gun on the floor and realizes that he older man is dead. As he picks up the gun, he hears a woman calling from another room, he begins to panic and makes a quick exit back out the garden door. Caught by the gun barrel of a detective, the drifter is then brought back into the house where he denies shooting the old man. Detective Ed Ames does his best to separate fact from fiction in determining who really shot old man Lampert. The film then becomes one of solving the mystery of the true identity of the drifter and who really shot old man Lampert.
Kim Hunter and Arlene Golonka also star in this videotaped 90-minute drama. Paul is the only one who makes this film work and keeps it interesting. Once in a while it does come on TV, so keep your eyes open or check Paul's TV schedule page here on this site on occasion.
Trapped Beneath the Sea (1974) (TV)
Storyline Summary: The inspiration for the made-for-TV movie was an actual event which occurred in June of 1973. A crew of four sinks in a mini sub off the Florida coast. As half the nation (apprised of the disaster by TV and radio) holds its breath, a daring rescue mission is organized. Lee J. Cobb and Martin Balsam are among the rescuers. The sub-marine crew consists of pilot Jack Beech (Paul Michael Glaser), scientist Gordon Gaines (Cliff Potts) and owner Bateman's son-in-law Sam Wallants (Joshua Bryant) with folk singer Jeff Turley (Roger Kern) who all descend into the depths of the ocean on a research expedition. The sub became caught in lines from an old shipwreck and the expedition now becomes one of rescue instead of research. Time is the enemy as the oxygen is fading and pressure in the 2 cabins build.The submarine crew are helpless. The film mostly focuses on the the members of the crew of which only 2 survive, Jack Beech (Paul Michael Glaser) and scientist Gordon Gaines (Cliff Potts). Very little script really, mostly shot in a documentary style. Paul does a good job trying to convey the sense of being cramped into a small space and suffering from the elements associated with the fear of suffocating, increasing depth pressure and lack of oxygen.

Cast:
Paul Michael Glaser..Jack Beech
Directed by
William A. Graham
Butterflies Are Free (1972)
"All Don Baker wants is a place of his own ...
Storyline Summary: Leonard Gershe based his play Butterflies are Free on a real-life blind attorney. A light drama set in San Francisco's Haight-Ashbury area of the early 70's, the film version stars Edward Albert as Don Baker, a self-reliant, sightless young man who becomes the object of affection for kooky Jill (Goldie Hawn-here in one of her more successful &amp effortless roles as an extrovert gregarious actress. ). Spending most of the film in nothing but her underwear, Jill makes love to Don, then tries to help him break free from the smothering influence of his mother, a children's-story writer (Eileen Heckart). Some uncomfortable moments arise when her boyfriend and play director (Paul Michael Glaser) enters the scene. A happy ending ensues when Don comes to realize that it was his mother's famous "Donnie Dark" stories, a series of books about a blind child, which gave him the strength of will that he possesses as an adult. 

Don learns the kind of things from Jill that his mother would never have taught him! And Jill learns from Don what growing up and being free is really all about. There are some wonderful scenes in this movie especially those moments between Heckart (won oscar for her role!)&amp Hawn. Domineering &amp disapproving; Heckart may be, but she is not an ogre rather a contrast in femininity to Jill, the other woman in Don's life. The emotional change as she slowly accepts her son's independence gives the film some substance it would not otherwise have. Wonderful scene when mother &amp girlfriend first meet, in his kitchen, and Jill in her underwear !The chill in the air is palpable but both characters size up the situation without even a hint of discomfort. The mother's silence really adds to the chill. The ending was surprising and very apt, a very touching moment between mother &amp son. While Paul has only one scene, his performance is superb! It is one of the best, funniest scenes in the film. His relationship with Don and Jill as she decides to move in with him is not to be missed. Paul also performed this on stage in NY as the same character Ralph prior to it being made into a film. You can read more about that on the biography page.

cast:
Paul Michael Glaser.... ;Ralph
Goldie Hawn.... Jill
Edward Albert.... Don
Eileen Heckart.... Mrs. Baker
Michael Warren (I).... Roy
Academy Awards, USA Year Result Award Category/Recipient(s) 1973: Eileen Heckart, Won Oscar Best Actress in a Supporting Role
Nominated Oscar Best Cinematography... Charles Lang
Best Sound....Charles T. Knight
Golden Globes, USA Year Result Award Category/Recipient(s) 1973
Arthur Piantadosi...Won Golden Globe Most Promising Newcomer - Male
Nominated Golden Globe Best Motion Picture - Musical/Comedy
Edward Albert Best Motion Picture Actor - Musical/Comedy
Goldie HawnBest Motion Picture Actress - Musical/Comedy
Best Original Song
unknown - For the song "Carry Me".
Writers Guild of America, USA Year Result Award Category/Recipient(s) 1973 Nominated WGA Screen Award Best Comedy Adapted from Another Medium
Leonard Gershe
To Life!
Storyline Summary: A warm, compassionate film  version of the stage musical, based on the stories of Sholom Aleichem. ... The traditional Jewish dad is not very happy with those three sons-in-law in this movie about old world realities. Tevye the Milkman, brilliantly portrayed by Topol with humor and passion, is a Jewish peasant in pre-Revolutionary Russia, coping with the day-to-day problems of `shtetl' life, his Jewish traditions, his family (wife and daughters), and state-sanctioned pogroms. A playful musical blanketing religious and historic conflicts.This is a movie that shows how  we must stop the hate  from ever happening again. Tevye embodies the traditions of his Orthodox Judaism. He always covers his head with a hat, and wears a prayer shall under his outfit. Living in a closed traditional Jewish village, Tevye accepts his social "caste" as a farmer, by trade. He sings, "If I were a rich man...," but his conflict lies not with material or social standing, but with the traditions of ancient Russian-Jewish living. Tradition is the thesis of conflict in this story. Tevye notes that they have traditions that tell them, "how to eat, how to sleep, how to work..." His closely held values are attacked throughout the whole story. First, his daughter Yente fights the matchmaking system of the father choosing a husband for his daughter. For she loves a poor tailor, but Tevye and the matchmaker have an older wealthy butcher eyed up for her. Love is the key. Marriage out of love was not a luxury in their society, as we have today. However, Yente challenges the institutions of Tevye's world . He eventually gives in to her, but not after cursing out loud, "What ever happened to tradition!" As the story moves on, Tevye faces a hardship unlike any other.
His third daughter wishes to marry an outsider- a Russian farmer. They love each other. Tevye is at a crossroads. He won't give in any further, as he has eroded the traditions enough. In a sad moment, Tevye disenfranchises himself from his daughter for her behavior. All the while this is going on, the harsh reality of the Bolshevik Revolution comes into play. The village Constable, a Russian, turns on his old Jewish friends- terrorizing Yente's wedding party. The evident persecution of Jews in East Russia is captured in this story, as Tevye's family must eventually leave their village by an edict from Lenin. A short time after, in real life, Lenin and Stalin murdered and persecuted more Jews than Hitler, a point the story implies."To life, to life, la chayim! "
Paul's performance here is nothing short of passionate and wonderful. His character, Perchik, is a rebel for change. Unafraid of showing people how things can be, he does just that by dancing with Hodel first by the river bank and then again at her sister Yente's, wedding. Before Golde can say anything, Tevye grabs her and dances with her as well once the Rabbi says" it's not actually forbidden" Continuing his fight for change, after asking Hodel to marry him, he heads off protest the offenses occurring against the Jews. He is eventually imprisoned for speaking out. Hodel leaves her home to join him in a very touching scene at the train station with her father. Get the 30th Anniversary DVD. It's wonderful and has Paul singing "Any Day Now" on the matching CD. You will love listening to his beautiful baritone voice. Too bad for Paul fans that it was cut from the movie.

Cast :  
Paul Michael Glaser ....  Perchik
Topol ....  Tevye
Norma Crane ....  Golde
Leonard Frey ....  Motel
Molly Picon ....  Yente
Paul Mann  ....  Lazar Wolf
Rosalind Harris ....  Tzeitel
Michele Marsh  ....  Hodel
Neva Small ....  Chava
Ray Lovelock ....  Fyedka
Elaine Edwards  ....  Shprintze
Candy Bonstein ....  Bielke
Shimen Ruskin ....  Mordcha
Zvee Scooler ....  Rabbi
Louis Zorich ....  Constable
Academy Awards, USA Year Result Award Category/Recipient(s) 1972 Won Oscar Best Cinematography
Oswald Morris Best Music, Scoring Adaptation and Original Song Score
John Williams Best Sound
Gordon K. McCallum Nominated Oscar Best Actor in a Leading Role
Topol Best Actor in a Supporting Role
Leonard Frey Best Art Direction-Set Decoration
Michael Stringer Best Director
Norman Jewison Best Picture
Norman Jewison American Cinema Editors, USA Year Result Award Category/Recipient(s) 1972 Nominated Eddie Best Edited Feature Film
Robert Lawrence British Academy Awards Year Result Award Category/Recipient(s) 1972 Nominated BAFTA Film Award Best Cinematography
Oswald Morris Best Film Editing
Robert Lawrence Best Sound Track
Hidyard, David British Society of Cinematographers Year Result Award Category/Recipient(s) 1971 Won Best Cinematography Award Oswald Morris Golden Globes, USA Year Result Award Category/Recipient(s) 1972 Won Golden Globe Best Motion Picture - Musical/Comedy
Best Motion Picture Actor - Musical/Comedy
Topol Nominated Golden Globe Best Director - Motion Picture
Norman Jewison Best Supporting Actor - Motion Picture
Mann, Paul Writers Guild of America, USA Year Result Award Category/Recipient(s) 1972 Nominated WGA Screen Award Best Comedy Adapted from Another Medium
Joseph Stein Directed by
Norman Jewison Genre: Musical Runtime: USA:181
"Love of Life" (1971) [TV-Series: 1951-1980]
Storyline Summary: Initially set in fictional Barrowsville, New York, this serial tells the classic soap opera story of sibling rivalry between sisters Vanessa and Meg Dale. After the character of Meg was murdered with an axe, the storyline changed to focus on the remaining sister's life, loves with the necessary soap requirements of betrayal, illness, murder, affairs, and the soap goes on...and on... and...on.....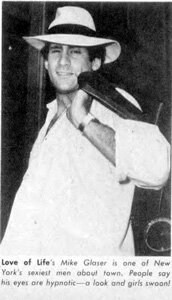 Paul Michael Glaser joined the cast in 1971 for a period of nine months to replace Tony LoBianco as" Dr. Joe Corelli". Paul gave his character a different spin, more of a rebel!
"Love Is a Many Splendored Thing" (1970)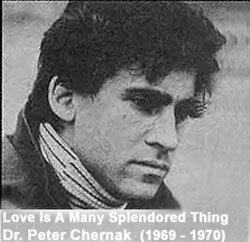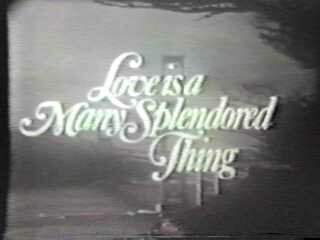 Storyline Summary: A sort of sequel to the 1955 movie and novel, "Love Is a Many Splendored Thing" first involved Mia Elliot, a Korean immigrant who fell in love with Paul Bradley and Dr. Jim Abbott. These interracial relationships stirred trouble for those involved. As time went on, the plot moved away from Mia (with Mia leaving town), and focused on long-suffering Laura Donnelly, a nun who eventually gave up her vows for the love of Mark Elliot. Squashed by CBS, eventually, this series faded from interracial loves and concentrated on young love. Enter Paul as "Dr.Chrenak" of which he says of that character: " Dr. Peter Chernak fought the establishment, slept on a cot in his lab, cooked polish sausages over a Bunsen burner, and seduced the nurses. Not bad! He also had the ability to heal people whenever the writers felt like it."12 This soap only ran for six years on CBS from 1967 to 1973.
Paul Michael Glaser;.... Dr. Peter Chernak #1 (1969-1970)
Lights: The Miracle of Chanukah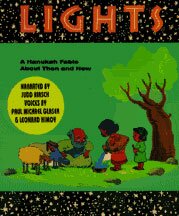 StoryLine:  A charming retelling of the Hanukkah story, the struggle of a people to maintain their religious beliefs and observances in the face of adversity. Also addresses the issue of religious freedom and the right to be different. Narrated by Judd Hirsch and Leonard Nimoy. Lights magically takes you back to an exciting time in Jewish history. This is an enchanting fantasy adventure that delivers a universal message about the right to be different - everyone's inalienable right to stand up for what they believe. Entertaining and enlightening, the Festival of Lights comes to life through rich animation, lush set design, and the powerful narrative of Judd Hirsch (TVs Taxi, Ordinary People). Also featured are the voices of Leonard Nimoy (Star Trek's Mr. Spock) and Paul Michael Glaser. Lights will be enjoyed by the whole family - at Chanukah time and all year long! 24 Minutes, Fully Animated, Color, English. Recommended for children ages 3-11.
Voices by Paul Michael Glaser and Leonard Nimoy. Narrated by Judd Hirsch.

Cast:

Paul Michael Glaser, Judd Hirsch, Leonard Nimoy
"Sweet-spirited, instructive and imaginative. Perhaps the best one ever made about the eight-day Festival of Lights."-Ladies' Home Journal
TELEVISION  GUEST APPEARANCES
ROCKFORD FILES
"Find Me If You Can" (11/1/74)
Storyline: A woman, Barbara Kelbaker, hires Jim to see if he can "find" her. She is on the run from her mob-boss boyfriend Ralph Correll (Paul), and knows that if Rockford can find her, then surely Corell will find find her. Rockford does find her and discovers that she has used an alias name and demands to know what is going on. Continuing on with his detective work, at her request, he finds Correll's office and after getting thrown out once, he sneaks back in through a private elevator. Finding himself alone in the elevator with Correll, he mentions her name which sends Correll into a fit of rage. Rockford realizes his a mob boss and informs his client that he doesn't appreciate being put in danger without fair warning. Later, Rockford is beaten and kidnapped by Correll's boys and brought to a warehouse where he is interrogated by Correll. Finally believing his story, Rockford is released. Rockford discusses the situation over dinner with Ms.Kelbaker and learns that she witnessed Correll committing a murder. Agreeing to help her further, Rockford approaches the Denver DA telling him about his murder witness. Upon his return to the hotel room he discovers that she is missing. Rockford surprises Correll in his bedroom with a choke hold and demands to see his client. Correll takes Rockford to his warehouse to find her scared and beaten. Correll orders his gang out of the building, softens a bit and asks her why she didn't just keep running. He apologizes and surrenders to the police when they arrive. Paul is great as a young, self centered, high on his own ego- mob boss. You really do not like his pitiful character. Great job again, Paul.
Guest stars
Paul Michael Glaser as Ralph Correll
Joan Van Ark as Barbara Kelbaker
Aces Up (1974)
Paul guest starred on this 30min. pilot episode as the "son". This CBS pilot was about the misadventures of Jose and Raul, two spirited Puerto Ricans, and their struggle to run the Ace Moving and Hauling Service, a trucking outfit. Produced and directed by Sheldon Leonard, it aired March 29, 1974.
Cast:
Jose Perex
Raul Julia
Paul Michael Glaser
Ron Steinberg (father)
Carol Bagdarsian (mother)

"Down A Long And Lonely River"
(episode # 1.19) Air date: 3/20/1974
Storyline: In this guest appearance, Paul plays Lou Giordino, a recently paroled man convicted of robbery. While in prison he and his social worker, Lindsey, develop a romantic interest and that's where the story begins. While moving into her apartment, a relative stops by with a gun for him. During his prison term, Lou learned from various sources that he had been set up by his ex-wife, a drug addict having an affair with a mob boss. He was coerced into this robbery by his ex-wife who threatened to kill herself with that gun. A loving, caring husband, he only wanted to help by financing a drug rehab program for her. When his cousin gives him the gun for inspection, he finds out that the firing pin was removed preventing it from working. Lindsey pops her head in the room to say hello and is frightened by what she sees. Filled with anger and despair, Lou is unapproachable and sets off to find the truth about what really happened. He hides in the dressing room of his wife and when she enters, he confronts her about the gun, they argue and just as Lindsey arrives, a shot rings out killing Lou's ex-wife. Lou races out of the dressing room as Lindsey witnesses the shooting. She calls out to him but he continues to run. She calls Kojak, her old intern supervisor for help. After he examines the scene and talks with Lindsey, he is convinced that Lou deserves the second chance that Lindsey is fighting for. It now becomes a race against time to find him before someone else, the real shooter, does Meanwhile, Lou has run to his former partner, Ankrum, and demands information about the mob boss, Dancik. A cry for help from Lou is too much for Ankrum and reluctantly, he agrees to help him set up Dancik. He calls Dancik and asks him to meet him here in his office where Lou is hiding behind a door still carrying the damaged gun in his hand. Dancik arrives and sees through Ankrums plan, forces the door open with the help of his associates and drag Lou off and beat him continuously in front of Ankrum. Kojack and his crew have finally pieced together the clues and arrive just in time as Dancik has given Ankrum the choice of dying or shooting his friend Lou to death instead. As Dancik is arrested, Lou and Lindsey are reunited.I enjoyed this early role for Paul. He gave his character a sweet sense of innocence and at the same time you can understand and feel the pain of his conviction and frustration in wanting to find out about and settle the score.
Paul Michael Glaser......"Lou Giordino"
'The Street'
Paul Michael Glaser..... Jimmy Bellow This series ran for one year in 1973 on ABC Friday nights. The pilot was an ABC movie of the week "Toma". It was based on the real life experiences of Newark New Jersey poilce detective David Toma (Played here by Tony Musante.). Detective Toma was a real hard working dedicated officer. He had a very large arrest record with a 98% conviction rate to match. Toma, though he preferred to work alone and most often did, requested and worked with an African American police officer, his partner for 5 years before working as a detective. He was continuously challenging the system and his supervisor, Inspector Spooner. Toma was a great master of disguise (some of his disguises included a doctor, a priest, a woman, a drunk,etc.) and his unorthodox methods won him national fame as a highly effective undercover cop. His targets were usually crime syndicates, racketeers, etc. He has a wife and two children.. This show had a dark, violent air about it, but it showed real promise as a great series. It ended due to the fact the lead actor, Tony, did not want to continue his role. Interesting trivia is that Robert Blake was asked to continue the role of detective Toma and to which he agreed only if the name was changed..and the show "Baretta" was created! The real Detective Toma, after 21 years, left the NJPD to promote his message: "WAKE UP AMERICA! THE DRUG EPIDEMIC IS DESTROYING US ALL." He spoke in high schools across the country. He also published a book.. "TOMA TELLS IT STRAIGHT – WITH LOVE" in 1981.
"The Air Mail Man"
(episode #2.13) Air date: 12/13/1973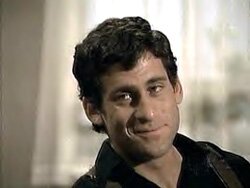 In this wonderful episode, Paul plays the title role of Todd Cooper "The Air Mail Man" Each night Olivia Walton looks up to the sky to wait for and wave to the Air Mail man. It's a daily event that she fancies the mystery of who the air mail man is. Sudden engine failure one evening forces him to land on the Walton property. In usual Walton flare (including that of Grandma Walton's suspicions of a stranger), he is gracious and excitedly invited into their home. With too much damage to repair at that time, Todd stays the night. Todd tells the tales of his flying and his dream of being a daredevil type pilot in shows. While the Walton children and Olivia are enthralled with his stories, Grandma Walton certainly is not and believes that he is hiding something. Olivia is having another birthday and having an identity crisis, she contemplates her life as it has been. Believing that she wants more, she and Todd discuss life while they and everyone else is working to repair his plane. He tells of how it has become a more common thing and that he once taught a girl to fly his plane. Needing something form his bag, Todd asks John Boy to get it for him. After sifting through Todd's bag, john boy finds a picture of todd and his wife. It was labeled "The Flying Coopers". Curious, John Boy and his father can't imagine why he would state that he had no family. Respectfully, they decide not to invade his privacy as he must have his reasons. While John Boy and Grandpa are at the general store, they run into a pregnant Mrs. Todd Cooper and after a brief conversation, they give her a ride to their home where Todd is just finishing the repairs on his plane. John Boy informs Todd that his wife has tracked him down. With an angry scowl on his face, Todd says that he has no intention of being found and then asks John Boy if he has any idea what it feels like to be "tracked down."Sue approaches as John Boy leaves the scene so they can discuss what their life together means and his fear of losing his freedom. Feeling trapped, Todd runs off into the woods. Later during the early evening, Todd sits down with John and inquires as to whether he has ever felt trapped. The conversation is about their lives and all Todd seems to talk about is Sue to which John simply states:"I know most people end up pretty much doing what they wanna do. There's an airplane out there, all ready to go, just waiting for you .... and you're talking about her." Realizing that his life is indeed with her, Todd apologizes to Sue. Olivia has now come to accept her life and all the marvelous things she has done as mother and wife and together with the Coopers they celebrate. Todd gives Olivia, the birthday gift of her dreams..a ride in his airplane. Paul's performance is especially beautiful in this episode. He is so passionate and dedicated in expressing trapped feelings that so many people experience in life when changes come into play. Bravo! The Walton's DVD's are out and season 2 will out sometime this year. Don't miss your chance to see another terrific performance by Paul.
Paul Michael Glaser......"Todd Cooper" in episode: "The Air Mail Man" Paul is credited as "Michael Glaser" here.
"The Sixth Sense" (1972)
"Candle, Candle Burning Bright"
(episode # 2.22) Air date: 11/25/1972
Credited as: "Michael Glaser"... David Hall
(episode also known as "And Scream by the Light of the Moon, the Moon")
"The Streets of San Francisco" (1972)
"Bitter Wine" (episode # 1.12)
The episode begins with Jason (Paul) looking back at gates with a big smile on his face and waving good by to non-receptive guards. He is being release from prison after serving a 12 year sentence for the death of 2 children in a hit and run accident. Jason finds himself outside his family restaurant hesitant to enter. Finally he does though to less than receptive greetings. The doorman don't know that his the owner's middle son but Jason clearly understands that he now has a less than honorable position in the family and is not welcome by his father. Jason is greeted by his older brother Dimitri, successful and family heir in his father's eyes. Dimitri tells Jason to come back later as he is busy with an important business deal. Knowing his brother, Jason asks Dimitri if he is in trouble. Jason admits that things are iffy as he hands over his car keys for Jason to use to get to his house. Jason needs to know if Dimitri has explained things to their father: "Does papa know about me? Did you tell him?" but Dimitri dismisses his plea explaining that he needs to get back to his meeting and that he go for now. Jason does and while trying to get into the car, he is confronted by restaurant employees who think that he is stealing the car. Tempers flare and a fight begins..all witnessed by SOF Police Officer Mike Stone and his partner. Jason reaches around to slug Mike and is promptly arrested only hours after being released. Jason's angry father, his attorney and the restaurant employee from the fight arrive at the station to say it was all a misunderstanding and that no charges would be pressed. Mike being a sensitive, sympathetic cop knows the cultural customs of the Greek family and agrees to release Jason to his father. To let Jason and the police know that its a family matter and he will be dealt with, the father slaps Jason and pointing a finger at him states:
"I told this man (pointing to Officer Stone) that if he sets you free I will deal with you. I want you both to know how."
Jason is obviously shamed and a little shocked by this action as are Mike and Steve. Despite his father ignoring him, Jason continues to seek forgiveness, love and for the truth to be known. In a scene from the vineyard, Jason asks his father for forgiveness as the state of California has done with his debt to society being paid through his sentence. His father's pain is constant in the reminder that those two children are dead and that they may not have been if only Jason had stopped to help. Dimitri walks in as his father is blaming the birth of Jason is the cause of the tragedy. Hearing this from his father stabs at him and he cries out to Dimitri to come forward with the truth. (Paul's performance here is incredible, his look and body language tear at your heart.) Dimitri does not come clear with the facts and Jason is over come with emotion. It is here that we learn that it was Dimitri driving the car and Jason was just being the good son and brother by claiming responsibility. A deal between two brothers with the understanding that dimitri would tell his father the truth before his prison release. After all, Dimitri went to college and has the businesses sense, and as the eldest son, Dimitri would help build up the family restaurant and vineyards instead of going to jail. Wanting to return to the way it was, Jason visits his old family home while waiting for his sister and a younger brother whom he doesn't really know,(he was only 6 when Jason went to prison.) Thanos and Thanya are not content with the way Jason is being treated by their father and the way the family is kept together. After a wonderful family hug, Jason, Thanya and Thanos head off to breakfast. While dining, they are met by Mike Stone and Steve Keller. They are pleased to see that he is keeping out of trouble and impressed now with his pleasant, friendly attitude. Needing a helping hand to start a new life, Jason asks Dimitri for some money. Dimitri is consumed with the his bad investments and loss of money. The family business is failing fast as a result and out of desperation, he asks Jason if he knows of any arsonists that he may have met in prison. Disgusted with Dimitri, Jason leaves when Dimitri tells him that he wants the insurance money to pay back some debt. Dimitri pours gasoline around the restaurant and lights it unaware that an employee, an old long time friend of his father's, is in the basement. Arson has now turned into a murder. Stone and Keller investigate the scene and question the family at their estate. The father is outraged at the police for insinuating that the fire was started deliberately. Dimitri tries to blame Jason because they had a fight about money that day. Thanya comes to defend Jason and is visibly angry at her father and Dimitri for assuming that he is responsible. Meanwhile, Jason is at the old boarded up family home when Thanya comes speeding up to tell him about the restaurant and accusations. Fearing that he will be held responsible again for Dimitri's crimes, he runs off when Stone and Keller arrive. After Steve Keller tries and fails to catch up with Jason, he and Stone question Thanya about their conversation and the hit and run 12 years ago. They learn that the car involved was Dimitri's new car and that he was extremely upset whereas Jason was very calm and trying to console his brother. It's at this point that Stone and Keller figure out what really happened and that it must have been Dimitri who set the fire.In a powerful scene, Jason now filled with anger and pain arrives at his family's estate to confront his brother. Listening to Dimitri continue to excuse his way out of his crime, Jason can stand no more and a fight between the two of them erupts. Stone and Keller arrive with Thanya and the father and Dimitri yells out that Jason is trying to kill him. The father has now changed his attitude towards Jason and rushes to his side and embraces him crying " you were always the strongest one". In Jason's loving fashion though, he has already forgiven him and absorbs his father's love and acceptance. Jason too has forgiven Dimitri and comes to his aide.
The ending scene is full of sunshine as we see Jason and his younger brother Thanos, working side by side in the family's vineyard. Father and son's are all united and family honor begins anew..with forgiveness and love through and through. Mike Stone and Steve Keller visit the family and together they all go off to visit Dimitri who is now serving his prison sentence.
Paul's performance is yet another example of the perfection and depth of his craft. You really feel the heart ache that fills Jason's soul. His love and ability to forgive is something to behold. It will make you very teary eyed for sure. Another must for Paul fans.
"Nobody beats the house"
Cannon receives a phone call from a friend, Cathy Hauser. Her husband is in debt of $200,000 to Ben Logan, a broker who runs a local illegal gaming operation. They have threatened to do Cathy harm if he doesn't come up with the money. Cannon tries to offer Logan $25,000 and the rest in installments but this is quickly rejected. Appearing on the scene is Jason Logan, he run's his own amateur gambling operation and competes to get out from his father's shadow. Tobey decides to take one last shot at a poker game at Jason's house. Cannon also shows up undercover as Billy Thompson, a business owner and a guy who likes to gamble. Tobey gets $35,000 ahead of the house before finally, In one big hand at the end Toby loses everything and decides to turn himself in to Ben Logan.
Cannon meanwhile sets a trap after studying how Jason's operation differs from his father's. The next day (as Billy), he bets about $20,000 on the horses at Jason's place. He loses $12,000. That night Jason demands the money. Cannon says he'll pay in a couple of days. Jason replies "I'll come after you if you don't pay. I know where you live." Cannon says "Go ahead."

Jason shows up at Cannon's penthouse. Jason fires a shot, Cannon ambushes him throwing him to the floor knocking the gun away from Jason. Cannon calls Ben Logan and says he'll have Jason arrested and put behind bars for 5 years unless Ben let's Toby out of his debt. Ben agrees but plans on killing Cannon when Cannon shows up to deliver Jason.In a brief conversation on the phone, Logan tells Jason to run when he arrives at the exchange point. Logan's ambush is foiled by Cannon, and the cops arrive during the gun battle to arrest father and son. Toby is off the hook.
Paul's role as Jason is small, but as always, he makes the show. Paul Michael Glaser... Jason Logan