"Third Watch" (2004)
"Sleeping Dogs Lie"

Paul plays a recurring guest role as Captain Jack Steeper a veteran firefighter tired of sitting behind a desk , "a by the book" Captain where rules are rules and they will be followed till the last "T" is crossed. He makes his entry at the firehouse as any good Captain would, blending in in the beginning of the first episode. He informs Lt. Doherty that he is being transferred to a more intense rescue unit in Brooklyn effective today and that he, Capt. Steeper is now the Captain of the 55th FD. After their first call to a fire, while sitting at their dinner table in the firehouse, Doc calls the Capt. "Steeper the Reaper" and lets him know that he knows exactly why he is here.. to close down the firehouse. Insisting that he is not, Capt. Steeper and Doc show the early signs of discontent with each other.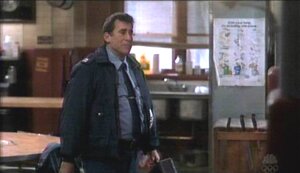 "Blessed and Bewildered"
Capt. Steeper informs Kim, lead paramedic, that the paramedics will be assigned to fixed points outside of the firehouse and will only be able to use the firehouse for changing in and out of uniform. Tensions continue to mount in the house with all the changes he is demanding to get the FD back into a house with rules. As the days progress so does the tension and exasperation.
"No More, Forever"...
Meanwhile, Doc is silently suffering from post traumatic stress syndrome from September 11th. Determined to not let Steeper close the fire house, he steals a gun from a police officer at party that he gave the night before. An hour late for work, he shows up in his dress blues, informs Kim that he's not going out on the street today and, as the Capt. approaches him, he shoots him in the abdomen. Held at gun point, none of the crew is able to assist the wounded Captain. Doc wants the Captain to know what 15minutes feels like when you need help. Despite the pleas to assist by the crew, Doc continues to torment Steeper as he lay bleeding out on the floor of the firehouse explaining that "actions have consequences". Steeper try's to explain to Doc that he is not closing the house and that he wanted to get back in the field as he is tired of only doing paper work. When Carlos returns to the station, excitement stirs as he try's to approach the Captain. Doc tells Carlos he has 11 minutes left and pushes Carlos away from the him. Finally, unable to stand it, Carlos risks his life to attend to the Captains needs even as Doc shoots in the air to warn him against it. Kim and the others soon join Carlos in aiding Steeper who is still insisting in a pained, breathless manner that he is not closing. Doc begins to fall apart as he no longer has control of the situation and his plan is now ruined by their aiding the Captain before 15minutes is up. Meanwhile the SWAT team tries to take down Doc through a window when Sully (NYPD) rushes in and warns him. Carlos and Kim are now able to stabilize Capt. Steeper and rush him out into an ambulance. As he is taken to the hospital, Steeper is rambling on about all the funerals he attended after Sept. 11th, families he didn't know because he had been out of the field and that the numbers didn't match. He finally loses consciousness as he is comforted by his own acknowledgement that he "didn't die behind a desk". Fortunately, Steeper will recover. (Maybe next season we will see Capt. Steeper return?)
"The title of episode "No More Forever" is taken from a famous quote by Chief Joseph about the Nez Percé surrender in 1877: "Hear me," he said to the white commander. "I am tired. My heart is sick and sad. Our chiefs are dead; the little children are freezing. My people have no blankets, no food. From where the sun stands, I will fight no more forever." Paul's performance was well worth the wait. He really makes Capt. Steeper stick out as a grumpy, by the books veteran commander. You can feel the tension rise in the firehouse when he arrives and begins implementing his changes for a house that follows the rules at all times. And, Paul, whether emotionally or physically wounded, always gives a marvelously passionate portrayal. It is very moving and tears at your heart and soul. You can't help but feel deeply for his character, even if he is a bit crusty.
Thanks Paul for a wonderful chance to see you perform in front of the camera again. We anxiously await for more.