Last updated: December 14, 2009
WELCOME TO MY BOOK CLUB!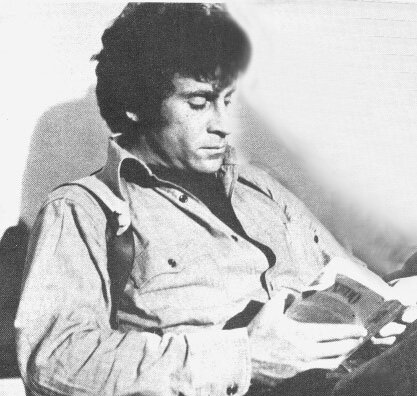 "In the Absence of Angels"

by Elizabeth Glaser. A true heroine in every sense of the word, Elizabeth gives a powerful and heart gripping account of the Glaser family's struggle with AIDS. In 1985, it was discovered that Ariel, Elizabeth and Jake were HIV positive resulting from a blood transfusion Elizabeth received after Ariel's birth in 1981. Only Paul was HIV negative. Elizabeth writes:"She (Ariel) taught me to love when all I wanted to do was hate...she taught me to help others when all I wanted to do was help myself". After Ariel's death in 1988, Elizabeth triumphed through her tragedy by going public (albeit forced to by Tabloids) with her family's illness. Her book is an amazing detail of her personal feelings and anguish, her family's struggle, of how she single handedly lobbied Washington for federal funds to help battle HIV / AIDS to the development of the Pediatric AIDS Foundation (renamed in her honor to Elizabeth Glaser Pediatric AIDS Foundation). Elizabeth was an incredible warrior against all odds. Courageous and inspirational. I hope that you will read her incredible journey. It's a incredible gift of the human spirit, wonderful and passionate chronicle of courage, love and hope from her struggle of desperation and sorrow to a call to action for the fight against AIDS.~ Pam
"Santa's Gift"by Jeffrey Comment

.....Since the mid-1990s, Helzberg Diamonds CEO Jeffrey Comment has been dressing up as Santa each holiday season and visiting pediatric hospitals to give gifts and provide hope to desperately sick children. Out of this experience has come Comment's strong belief that philanthropy is a wonderful thing, both for the recipient and for the giver. For Santa's Gift, he has enlisted an impressive group of contributors--among them Elton John, Norman Lear, and Warren Buffett--to share their experiences of how philanthropy has enriched their lives as well as those of the people they've helped. (All profits from this book will be donated to the Elizabeth Glaser Pediatric AIDS Foundation.) A wonderful book of tender encounters by Jeffrey Comment. 100% of all proceeds are donated to EGPAF. Order your copy today.
"Embers"
By Sándor Márai. A tale of friendship, betrayal and forgiveness.
"Friendship is the noblest relationship that can exist between human beings."
Embers, set in an old Hungarian castle in the late 1940's, at the dinning table, which is set up with a dinner display exactly as it was 41 years ago, and then in front of a cozy living room fire place, reunites two old men after a 41-year break in their friendship. The older one, a General, does most of the story telling in a slow, casual manner retracing their friendship of long ago. The other, sits nearly silent and simply listens. It is the story of one man's long suffering grievance and final acceptance of their relationship... the betrayal and loss by his closest friend.
"Friendship is the most powerful bond in life and the consequently, the rarest."
Insight Meditation
Joseph Goldstien, Sharon Saltzberg.  "It's an 'eclectic' journey...PMG"..
Join Sharon Salzberg and Joseph Goldstein -- two of America's most respected instructors -- for a step-by-step course in Insight Meditation. Learn at home, at your own pace, with this complete curriculum. The course includes -A 240-page Insight Meditation workbook: This workbook is designed as a complete self-guided curriculum. Organized into nine lessons, your workbook features more than 75 step-by-step mindfulness exercises, question-and-answer sections, glossaries, and photographs illustrating correct meditation postures. -Two 70-minute compact discs: Six meditations teach you these cornerstone practices in the Insight tradition.
-Twelve Insight study cards: Reinforce your practice with these daily reminders of the fundamentals of meditation in a convenient, portable form
'Cloudstreet' by Tim Winton
....Hailed as a classic, Tim Winton's masterful family saga is both a paean to working-class Australians and an unflinching examination of the human heart's capacity for sorrow, joy, and endless gradations in between. An award-winning work, Cloudstreet exemplifies the brilliant ability of fiction to captivate and inspire. Struggling to rebuild their lives after being touched by disaster, the Pickle family, who've inherited a big house called Cloudstreet in a suburb of Perth , take in the God-fearing Lambs as tenants. The Lambs have suffered their own catastrophes, and determined to survive, they open up a grocery on the ground floor. From 1944 to 1964, the shared experiences of the two overpopulated clans -- running the gamut from drunkenness, adultery, and death to resurrection, marriage, and birth -- bond them to each other and to the bustling, haunted house in ways no one could have anticipated.
'Hunchback of Notre Dame'.
....Set in medieval Paris, Victor Hugo's powerful historical romance The Hunchback of Notre-Dame has resonated with succeeding generations ever since its publication in 1837. It tells the story of the beautiful gypsy Esmeralda, condemned as a witch by the tormented archdeacon Claude Frollo, who lusts after her. Quasimodo, the deformed bell ringer of Notre-Dame Cathedral, having fallen in love with the kindhearted Esmeralda, tries to save her by hiding her in the cathedral's tower. When a crowd of Parisian peasants, misunderstanding Quasimodo's motives, attacks the church in an attempt to liberate her, the story ends in tragedy.
' The Green Accordion' (Accordian Crimes)
......E. Annie Proulx's Accordion Crimes is a masterpiece of storytelling that spans a century and a continent. Proulx brings the immigrant experience in America to life through the eyes of the descendants of Mexicans, Poles, Africans, Irish-Scots, Franco-Canadians and many others, all linked by their successive ownership of a simple green accordion. The music they make is their last link with the past -- voice for their fantasies, sorrows and exuberance. Proulx's prodigious knowledge, unforgettable characters and radiant language make Accordion Crimes a stunning novel, exhilarating in its scope and originality.
'Many Minds Many Masters' (Many Lives Many Masters).
.. As a traditional psychotherapist, Dr. Brian Weiss was astonished and skeptical when one of his patients began recalling past-life traumas that seemed to hold the key to her recurring nightmares and anxiety attacks. His skepticism was eroded, however, when she began to channel messages from "the space between lives," which contained remarkable revelations about Dr. Weiss's family and his dead son. Using past-life therapy, he was able to cure the patient and embark on a new, more meaningful phase of his own career. scope and originality.
"Conversations with God: An Uncommon Dialogue "
By Neale Donald Walsch, a matter-fact, in-your-face wisdom on how to get by in life while remaining true to yourself and your spirituality.

'The Old Testament'
'The Aquarian Gospel of Jesus the Christ'...by Levi H. Dowling ....This unique classic book, practically a complete record of the words and works of Jesus of Nazareth, from his birth in Bethlehem to his ascension from the Mount of Olives.
Anything by Charles Dickens
"Will in The World"
- A biography of William Shakespeare

'Interview with a Vampire' by Anne Rice
..is a novel that evokes the brilliance, the decadence, the horror of The Vampire's world - as he pours out the erotically charged confessions of his first two hundred years as one of the living dead. It is the first of the famous "Chronicles of the Vampires".
'Dune'.. by Frank Herbert..
. After facing masses of rejection letters, Frank Herbert finally published Dune in 1965. More than thirty years later, his magnificent Dune chronicles have sold more copies than any other science fiction novels in history. This first book is set on the desert planet Arrakis, a world drawn as vividly and terrifyingly as any in literature. Dune begins the story of the man known as Maud'dib, a hero who will guide his great family in their ambition to bring about humankind's most ancient and unattainable dream to found the perfect society. Perhaps only J.R.R. Tolkien's Lord of the Rings has as loyal a following as Frank Herbert's masterpiece. But no work of science fiction has had as profound an imaginative influence.
'Stranger in a Strange Land' by Robert A. Heinlein
... winner of the 1962 Hugo Award, is the story of Valentine Michael Smith, born during, and the only survivor of, the first manned mission to Mars. Michael is raised by Martians, and he arrives on Earth as a true innocent: he has never seen a woman and has no knowledge of Earth's cultures or religions. But he brings turmoil with him, as he is the legal heir to an enormous financial empire, not to mention de facto owner of the planet Mars. With the irascible popular author Jubal Harshaw to protect him, Michael explores human morality and the meanings of love. He founds his own church, preaching free love and disseminating the psychic talents taught him by the Martians. Ultimately, he confronts the fate reserved for all messiahs.
The Agony and the Ecstasy' by Irving Stone.
..Fictional depiction of Michelangelo. Includes bibliography, glossary and a list of the artist's works.
'Stones in the River' by Ursula Hegi.
Stones from the River clamors for comparisons to Gunter Grass's The Tin Drum; her protagonist Trudi Montag--like the unforgettable Oskar Mazerath--is a dwarf living in Germany during the two World Wars. To its credit, Stones does not wilt from the comparison. Hegi's book has a distinctive, appealing flavor of its own. Stone's characters are off-center enough to hold your attention despite the inevitable dominance of the setting: There's Trudi's mother, who slowly goes insane living in an "earth nest" beneath the family house; Trudi's best friend Georg, whose parents dress him as the girl they always wanted; and, of course, Trudi herself, whose condition dooms her to long for an impossible normalcy. Futhermore, the reader's inevitable sympathy for Trudi, the dwarf, heightens the true grotesqueness of Nazi Germany. Stones from the River is a nightmare journey with an unforgettable guide.
' Uncle Remus'
Italiano: Auf Deutsch: En Française



Please use the SITEMAP for complete navigation of this site!
All contents including Video, Audio Recordings, Speeches, Photography, and Poetry are the personal property of
Paul Michael Glaser, paulmichaelglaser.org, and SITMOIA Productions, Inc;
All Rights Reserved; No Usage Authorized.
All materials on this site are used for informational purposes only! This website is created only for the personal enjoyment of the fans of Paul Michael Glaser, the Internet public and anyone else interested in sharing the journey withPaul Michael Glaser.
They are NOT to be copied and posted on other sites or used in any other fashion.
Transcripts by Pam.