The Running Man(1987)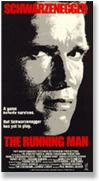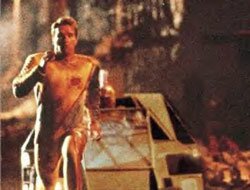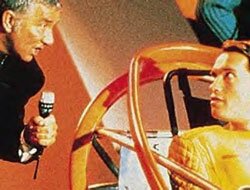 Directed by
Paul Michael Glaser
Tagline: A game nobody survives. But Schwarzenegger has yet to play.
Storyline:
It's another bleak future in Los Angeles, and Arnold plays an accused mass murderer who can go free if he can make it through a death-dealing obstacle course.
The story is based on a Stephen King (as Richard Bachman) story about a wrongly-convicted killer who is put into a game show in order to win back his freedom. The film takes place in a version of future America that has been militarized and desensitized. Ben Richards (Arnold Schwarzenegger is a Los Angeles cop, that refuses to carry out an order to fire upon rioters from his patrol copter. After the rest of his crew detains him and carries out the act, he is falsely accused of it himself, and put into a prison camp. He escapes, but eventually thanks to Amber Mendex (Maria Conchita Alonso), is caught again while trying to leave the country, only this time he is offered a chance for a pardon by Damon Killian (Richard Dawson), the host of an extremely violent TV program called "The Running Man". The remainder of the film is the game show itself, and how Richards  is able to tap into government computers and prove his innocence by exposing the people behind the show, along with the government, for what they really are. Richard Dawson does an awesome job as game show host!The object of the game for Richards and Mendez: obtain freedom by staying alive against a gauntlet of skillful assassins like "Subzero" (Professor Toru Tanaka) and "Captain Freedom" (Jesse Ventura), each armed with unique weapons like razor-sharp hockey sticks and chainsaws.
Richard Dawson probably stands out as the best character in the movie, and as Dawson in real life is just as flamboyant as Killian personality-wise, there's no wondering why. Richard won a Best Supporting Actor award from "Saturn Awards". Arnold plays the good guy role as well as always does. (Something that will be missed now that he's Governor). Schwarzenegger 's character is tough as nails when he needs to be, with that added dose of wit thrown in.
Paul came on as director 2 weeks into production and did a great job. Get the 30th Anniversary DVD so you can listen to Paul commentating on the film as it plays. You'll really enjoy it. A must for any Paul fan.

Cast :  
Arnold Schwarzenegger ....  Ben Richards
Maria Conchita Alonso ....  Amber Mendez
Yaphet Kotto ....  Laughlin
Jim Brown ....  Fireball
Jesse Ventura ....  Captain Freedom
Erland Van Lindth ....  Dynamo
Marvin J. McIntyre ....  Weiss
Gus Rethwisch ....  Buzzsaw
Professor Toru Tanaka ....  Subzero
Mick Fleetwood ....  Mic
Dweezil Zappa ....  Stevie
Richard Dawson  ....  Damon Killian
Karen Leigh Hopkins ....  Brenda
Sven-Ole Thorsen ....  Sven
Edward Bunker ....  Lenny


 Band of the Hand (1986)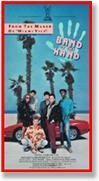 Directed by
Paul Michael Glaser
Storyline:
As the result of a court order, a gang of witless street toughs are sent into the depths of the Florida Everglades in the charge of Joe Tiger, an American Indian social worker Vietnam vet. With his exceptional skills, Joe quickly "learns 'em to act right."
Six delinquent juveniles, from various detention facilities, must overcome their petty hatred and scarred lives to work their way from the prison cell back to humanity. They are brought to the Florida Everglades to fend for themselves with the mentoring of an ex-Vietnam American Indian, Steven Lang. His main job in this movies is to teach these six young delinquents how to work as a team through hard times and bad times. After realizing the true value of life and the necessity of earning their keep, they are sent to downtown Miami to rebuild a torn neighborhood. All is working fine until the head pimp/pusher Nestor, decides he wants them out. Lauren Holly plays the reluctant mistress of a drug lord and Larry Fishburne is Holly's"protector". After some para-military training, the movie turns into a shoot-out thriller that will remind you of the "Red Dawn" theme. These kids manage to take down a major drug ring in south Florida by the end.
For many of the actors, this was their first movie role. The soundtrack features some of the best of Bob Dylan.
Cast :
Stephen Lang .... Joe
Michael Carmine .... Ruben
Lauren Holly .... Nikki
John Cameron Mitchell .... J.L.
Danny Quinn .... Carlos
Leon .... Moss
Al Shannon .... Dorcey
Danton Stone .... Aldo
Paul Calderon .... Tito
Laurence Fishburne .... Cream
James Remar .... Nestor
Tony Bolano .... Felix
Frank Gilbert .... Antoine
Erla Julmiste .... Celeste
Deborah King .... Yvette

"Amazing Stories" (1985)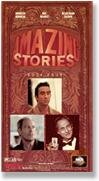 "Blue Man Down"
Directed by
Paul Michael Glaser
Donald Petrie
Martin Scorsese
Graham Baker
Bob Balaban

StoryLine: "Blue Man Down" is a great action piece with supernatural overtones. Max Gail stars as a traumatized, guilt-ridden cop who blames himself when his young partner is murdered during a robbery. Plagued by defeated confidence and excessive hypertension, the suffering hero attempts to hide within the lesser duties of traffic detail, only to find himself partnered with a compassionate, attractive female officer (Kate McNeil) who helps him get back on his feet and builds his confidence towards returning to full duty again. The problem is.......... that no one else is able to see her.
Paul Michael Glaser does some of his best behind-the-camera work on this show. A must for fans.
Available on DVD.
Cast
Sam Waterston, Max Gail, Kate McNeil, Chris Nash, Sid Caesar, Leo Rossi
Written by Spielberg.
"Other World" (1985, TV)


Episode #5 "Village Of The Motor Pigs", 23 Feb, 1985
Storyline:
A family, thrown into another dimension, must keep ahead of autocratic Stae Zone Troopers while searching for a way home. The series starred, amongst others, Wayne Alexander, Jonathan Banks, Gretchen Corbett and Sam Groom. Paul directed the fifth episode called "Village of the Motorpigs", The episode opens with the Sterling's travelling through the Forbidden Zone on board a rackety old bus owned by Velcrows Widley - a retired Zone Trooper. After being stopped by Zone Troopers, the bus is searched and the Sterling's are discovered.They flee to a region where a crazed ruler has outlawed families. While wandering in the Seplicer Mountains deep in the Forbidden Zone, the Sterlings are captured by a wild motorcycle gangcalled the Motorpigs. Hal must challenge the leader to a motor duel in order to escape.

Original airdate: February 23, 1985

Directed by: Paul Michael Glaser
Guest stars: Vincent Schiavelli, Jeff East, Charles Lane, Marjoe Gortner
Synopsis: While attempting to evade Zone Troopers,
cast:
Sam Groom .... Hal Sterling
Gretchen Corbett .... June Sterling
Tony O'Dell .... Trace Sterling
Jonna Lee ... Gina Sterling
Brandon Crane .... Smith Sterling (episodes 1 & 5)
Chris Hebert .... Smith Sterling (episodes 2-4 & 6-8)
Jonathan Banks .... Kommander Nuveen Kroll
(This series only lasted 8 episodes, airing from January, 1985 till MArch, 1985)
Miami Vice - (1985)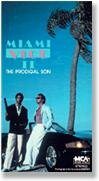 "Smuggler's Blues"
Directed by:
Paul Michael Glaser
He was nominated for an Emmy for this episode.
"Smuggler's Blues"
Crockett & Tubbs are recruited by DEA to pose as drug smugglers in an effort to expose someone in law enforcement who is murdering drug dealers and their families.
[TV-Series: 1984-1989]
Air date....February 1, 1985
Miami Vice -(1984)
"Calderone's Demise (2)"
Directed by:
Paul Michael Glaser
"Calderone's Demise (2)"
While on the trail of Calderone in Bimini, Tubbs falls in love with a woman who forces him to consider his loyalties.
[TV-Series: 1984-1989]
Air date....October 26, 1984

"Miami Vice" (1984)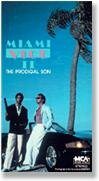 "The Prodical Son"
Director: Paul Michael Glaser
"The Prodical Son"
Detectives Crockett (Don Johnson) and Tubbs (Philip Michael Thomas) follow crooks (a cocaine operation run by wealthy Columbian nationals) north to New York in this full-length TV movie that served as the premiere episode of Miami Vice's second season
cast:
Don Johnson .... Det. James "Sonny" Crockett
Philip Michael Thomas .... Det. Ricardo Tubbs
Edward James Olmos .... Sgt. Martin Castillo

Also Known As:
"Miami Unworthiness" (1984)

Amazons (1984) (TV)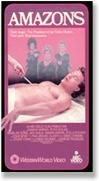 Directed by
Paul Michael Glaser
Genre: Thriller
Storyline:
A secret organization of beautiful women on the verge of hatching a sinister plot to seize control of the United States. All that's needed is to get rid of the President-elect. Wonder Women take over the world!
In one of her earliest roles, Madeleine Stowe plays Dr. Sharon Fields, who stumbles upon a secret plot by a covert organization of women to take over the world and execute all the men. The veteran cast of includes cult favorites Stella Stevens, Tamara Dobson, and William Schallert, as well as more mainstream performers such as Peter Scolari, Nicholas Pryor, and Jennifer Warren
Cast :
Tamara Dobson .... Rosalund Joseph
Jack Scalia .... Lieutenant Tony Monaco
Stella Stevens .... Kathryn Lundquist
Madeleine Stowe .... Dr. Sharon Fields
Jennifer Warren .... Dr. Diane Cosgrove
William Schallert .... Congressman Stanford Barstow
Nicholas Pryor .... Doctor Thompson
Peter Scolari .... Dr. Jerry Menzies
Leslie Bevis .... Vivian Todd
Jordan Charney .... Congressman Harris Stowe
Greg Monaghan .... James
Stephen Shellen .... Kevin
Hansford Rowe .... Governor Price
Jessie Lawrence Ferguson .... Baker
Suzanne Kent .... Nurse Franklin
Please use the SITEMAP for complete navigation of this site!
All contents including Video, Audio Recordings, Speeches, Photography, and Poetry are the personal property of
Paul Michael Glaser, paulmichaelglaser.org, and SITMOIA Productions, Inc;
All Rights Reserved; No Usage Authorized.

They are NOT to be copied or posted on other sites or used in any other fashion.
Sharing the journey with Paul Michael Glaser.
Transcripts by Pam.
Last updated: June 11, 2010