TELEVISION and FILM
Nominated for an Emmy for Outstanding Director in a Drama Series for 'Miami Vice', 1985
Recipient of two People's Choice Awards for Starsky & Hutch('76 & '77)
People's Choice Awards-1975 for Favorite Dramatic Show

Tons of applause and happy faces as Paul and David go up on stage together
DS:"Looks like a tear drop!"

PMG: Ah,it's beautiful! This is incredible. On behalf of Arron Spelling, Leonard Goldberg, Joseph Naar, our wonderful crew and writers and all of you who made this possible, Thank you! (Paul is a little overcome with emotion and steps back)

DS:"Speaking to the audience, that,um, watch our show and I'd like to speak as an audience for a moment. Looking around this room at the dozens of people that brought me so much joy for so many years as an audience, Thank you too!." (Lots of applause. They leave the stage side by side with huge smiles)
People's Choice Awards-Favorite Dramatic Show"
Marlo Thomas presents the award
Paul and David head onto the stage with big grins.
DS:(leaning over to kiss Marlo Thomas) I always wanted to do that,.. kiss the girl. (his shy adorable smile appears) This is really lovely....
PMG: Certainly is.
DS: "I guess, ah, I just want to say that I think the American people have seen this show Paul, I think, ah, in a way that maybe is not played too much press wise and I think they see a relationship between two men who could be anything and I think in accepting that,ah,ah, and then giving us this award makes me feel really good about it because I don't think that there are many relationships that are exposed that way. (David looks suddenly shy as Paul, with a big smile, reaches up and touches David's cheek)

DS:You know what I mean (DS with anervous giggle, looking suddenly shy). I mean that (alot of applause.) PMG:I'm trying to get my heart from going too fast here (he wipes a tear away). I always say to myself... if it happens, I'm gonna get up here and talk real slow and take a look around and see the people.

DS: It's hard.
PMG: Ah, ya, it's hard (DS laughs shyly). I'd like to say ah,ah, I agree with you whole heartedly and to the people, our thanks for voting this award, um, I think its also a nice time to say that with people like Arron Spelling, Leonard Goldberg, and Joseph Naar our producer, Michael Fisher our writer and our crew, all of it wouldn't be possible. They have to put up with our insanity. (Paul looks at David) There is one person (DS laughs) of course,ah, that I'd like to thank, tremendously for all the support and all the, ah, strength and being there when I needed him and (Paul points to David) thats this blonde turkey on my right. (Paul turns to shake his hand). Thank you Dave.
DS:(shaking hands with a wonderful tender smile)Thank you.

DS:(turns to audience) Thank you, very much.
Photoplay Award- 6/18/1977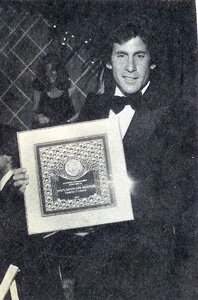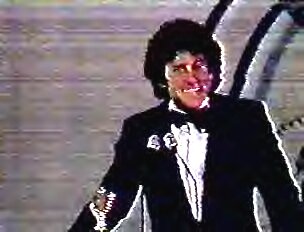 Favorite Male Star
HOSTESS: Presenting the award for ?Favorite TV Star? is a former Photoplay winner herself, as ?New Comer of the Year?. After one of the most spectacular singing careers in history, she?s now one of Hollywood?s finest young film actresses. Ladies and gentlemen, Michelle Philips!
Michelle: Thank you. There are almost 9000 hours in the year and multiply that by the number of television channels in the country and then by the number of different actors who play in those and you?ll come up with an outstanding number of choices for any television award. This year?s award for ?Favorite Male Television Star? wasn?t chosen accidentally. He?s clearly and definitely a winner. Paul Michael Glaser.
(Paul gets up to receive his award from Michelle)
Paul: Thank you. Thank you very much. I?ve been trying to think of ah, what to say and refusing to write it down before hand and I still don?t know what to say?.
(Michelle leans in close to him)
Michelle: I told you, just be humble!
Paul: (big smile) That?s right, that?s right. I, I, this is a great honor for me and I really appreciate it very much. I?d like to thank the ah, Photoplay participants who voted me this award and ah, I?d also like to know, I share this with a lot of people who make sharing my work with you possible, which is, ah, our producers, Leonard Goldberg, Arron Spelling, our crew, my co-star David Soul and ah, the whole industry who works very hard. This is terrific! And I thank you very much. I?m still here, you?re still there, I like the combination and thank you!
Photoplay Award-11/21/1978-
Favorite Male Star & Favorite Show
Presenters: For ?Favorite Male Actor?.. Lee Majors, David Soul, Paul Michael Glaser?
And this year the Gold Medal goes to Paul Michael Glaser!
Paul gets up on stage, big smile. Rubs his hands and looks at award.)
Paul: Are we still running long? I?d like to know how much time I?m gonna have to just kinda slow down and breathe! (He takes a deep breath). Ah, Daisy kinda put in very good words; there are an awful lot of people responsible for any one or group of us being delivered to you on the screen, on the stage, on television. And those people are very important. You know without them, the whole thing wouldn?t happen. So I?d like to thank all the people, Spelling, Goldberg, who are responsible and gave me this opportunity and I would like to thank my partner David and I would like to thank my lady, Elizabeth, who just mentioned that this is the first award I?ve ever won on my own. (Cheers and applause from the audience)
Thank you, thank you. Ah, so there?s a lot more I?d like to say, but I don?t think we?re running that long! Dad, Happy Father?s Day! (Cheers, laughs and applause from the audience)
Paul returns to stage for award for Favorite Dramatic Show 1978
Minutes Later??? Paul returns to the stage for ?Starsky and Hutch?
Presenters and the award for ?Favorite Dramatic Show? goes to ?Starsky and Hutch?
Announcer: Accepting for ?Starsky and Hutch?, Paul Michael Glaser!
Paul: (holding both awards, thousand watt smile) OK, now, what I?d really like to say (laughs) HUH! This is great, one in each hand. On behalf of, on behalf of Spelling, Leonard Goldberg, Arron Spelling, on behalf of ABC, on behalf of my partner, David Soul, ?.. people are always asking me ?Where the hell is Hutch? (laughs, huge audience laughter as Paul smirks and brings his finger to his mouth) Oh, did I just swear? And ah, I don?t know where he is, but on behalf of David, we thank you, the public, very much! (holds his awards up and looks sincerely into camera)
Other Awards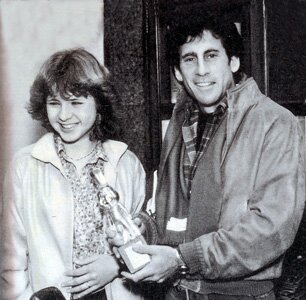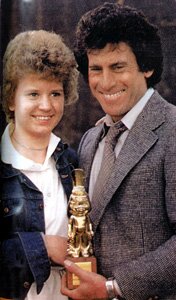 He, David and the "Starsky & Hutch " show also won numerous foreign awards including Britain's "Sun Tv Award" for "Outstanding New Drama". In Germany he received several Gold and Silver Bravo Magazine "Otto"awards - it was among the first of the "viewer's" choice awards, as well as the Gold "POP" "Hammer" award for his portrayal as Starsky; In the newspaper "POP", August 1978, Paul is quoted as saying "Hello everybody! This is Paul Michael Glaser and I am very, very happy to receive this award from you and very, very happy to be a "Golden Hammer". And now I'm gonna have a lesson in German: Das ist ein hammer dass ich den Goldenen Hammer gewonnen habe. Auf Weidersehen!" ........... And in Spain, "Starsky & Hutch" won the 1978 "TP de Oro" award for "Best Foreign Series".

Paul receiving Germany's Bravo Magazine's Silver "Otto" award, 1979.
Paul receives Germany's Bravo Magazine's Gold "Otto" Award.