Dolly Parton's song was the inspiration for this by-the-numbers comedy-drama of people pursuing neon-lit fantasies in a local pickup joint.
Storyline Summary: Another Friday night in a small town and the single women and single men are headed to Bandini's for drinks, dancing and sometimes for something more. SINGLE BARS, SINGLE WOMEN looks beyond the loud music, low lighting and awkward pickup lines to show us the lonely, vulnerable and always hopeful human beings who've stopped in that night. Tony Danza and Christine Lahti headline an all-star ensemble cast in a film that follows the touching, inspiring, bittersweet stories of a few of Bandini's patrons - who they go home with and why they come back. The story of shallow young people who gather at single's bars looking for action. In this film, they often find it.
Frankie (Shelley Hack) and Gabe (Paul Michael Glaser) have been in a relationship which has now ended because of an infidelity. There's a great laugh line between Frankie and Gabe, where he asks her `You think you know what's going on inside my head?' and she replies `You don't have anything going on inside your head. That's not where it's happening with you'.
Paul Michael Glaser.... Gabe
RUNNING TIME: 120 Minutes NETWORK AIRED: ABC ORIGINAL AIRDATE: 1984
| | | |
| --- | --- | --- |
| | | |
| | | |
| | | (more stills) |
Storyline Summary: Attack on Fear was based on a Pulitzer Prize-winning series of newspaper articles by Dave and Cathy Mitchell of the "The Point Reyes Light" . Paul Michael Glaser and Linda Kelsey play the Mitchell's, who labor away at a tiny California daily. Upon hearing of iniquities at the famed Santa Monica drug-rehab center Synanon, the Mitchell's begin publishing their evidence. Despite legal pressure from Synanon and bizarre anonymously mailed threats, the Mitchell's' story results in a major investigation of the revered institution. Paul gave a wonderful, realistic performance of the real Dave Mitchell.
Cast : Paul Michael Glaser.... Dave Mitchell
Linda Kelsey.... Cathy Mitchell
Alan Fudge.... Art Disterhoft
Genre: Crime / Drama Also Known As: The Light On Synanon (1984) (TV)
This made-for-TV drama is made up of three vignettes dealing with the green-eyed monster - jealousy. Storyline Summary: Angie Dickinson stars in three separate vignettes as a woman whose life is dramatically affected by the emotion that gives the film its name. Jealousy is a somewhat dark vignette involving paranoia intertwined with emotional and psychological confusion. The background music, lighting and film angles add a great deal to the storyline combined with that the fact that it's not clear to whom Daniel (Paul) is married to. Daniel, Georgia, and her daughter live together in a seemingly happy household. Daniel is so in love with Georgia's daughter, that he often displays his affection for her in clear view of Georgia , and thanks her for having such a beautiful daughter. This only adds to Georgia's jealousy and confusion of the attention he gives to her. Georgia is constantly thinking of and staring at Daniel, studying, with growing concern and fear, his behavior with her daughter. She is jealous resulting in the unthinkable! This is an interesting little vignette. Thanks to Paul's continued impeccable performance, you really aren't sure until the end as to what the relationships are between the three main characters. The ending is very surprising! Another must see for Paul fans. His performance was flawless, not to mention the way the director kept him "oiled up" and in a speedo for a good portion of two scenes.
Cast : Paul Michael Glaser.... Daniel
Angie Dickinson.... Georgia
Storyline Summary: The lovely Daisy is the daughter of a Russian prince and an American actress. She moves to America to pursue her own way and using contacts, lands an adverting job. Her employer is Frederick North (Paul Michael Glaser), an arrogant director of commercials and adverting campaigns. At first their working union is a bit rough., but as she adjusts to his directness, she actually starts to to trust and have faith in him as a friend. North also comes to appreciate her talents and her character and promotes her to producer. While filming a commercial in Europe, Daisy falls for North and eventually spends a romantic evening with him only to be disappointed the next day as she learns that he just moves from one woman to another. She is truly hurt by this but eventually accepts it as who North is and remains a friendship level of intimacy instead. (Something North eventually wishes were more!) Patrick Shannon (Robert Urich) hires North to lead an adverting campaign for his new make-up line. Shannon chooses Daisy as his model instead of the one chosen by North. After she negotiates for a $1million fee, the commercial is shot at an English countryside Castle. North insists that Shannon isn't right for her and tries to convince her not to accept. Of course, she does, North directs it and Shannon and Daisy live happily ever after!
Paul is wonderful in this role. He truly gives a realistic portrayal as an arrogant, yet charming womanizer, and he makes you believe that North is ok with his own need to find himself by being this Casanova type of man. North really does fall for Daisy in the end as she tells him that she was very hurt by his moving on to the next girl the morning after, but she reminds him that she's always loved him and that they will remain good friends. This film is filled with passion, love, betrayal and forgiveness...all the wonderful components for a nice romance movie! "Stay as sweet as you are" a great slow dance number for a romantic evening, a favorite scene!

Cast : Paul Michael Glaser.... North
Robert Urich ... Patrick Shanon
Merete Van Kamp.... Princess Daisy Valenski/ Dannie Valenski
This is a 1983 made-for-television movie starring Paul Michael Glaser and Dee Wallace. In short it's about a macho husband, Bob Peters, (Paul) who takes care of the house and the kids during the summer, while his wife, Pat, (Dee Wallace) takes on a temporary job to give new meaning to her life. Seems she's tired of just being "Bob Peters' wife" and takes a job as a clerk at the local high school where her husband coaches. Bob feels that all his wife needs are a few lessons in household management and scheduling of her tasks. He makes a bet with her that he can show her how it should be done and still have time her own needs.

Based on a true story, this is an excellent adaptation and it works thanks to Paul Michael Glaser's portrayal of the macho coach, "Man of the Year," who suddenly finds himself polishing tables, wiping counters and making beds while discovering that her job is not as easy as he thought. He even goes to the trouble of preparing breakfast for the family ahead of time at 5:30 in the morning.  This is a great film, one of PMG's best, I think! It's full of wonderful humor and a great chemistry between cast members. There are many humorous scenes, for example when Paul  prepares the daily lunch of hamburgers which the kids soon tire of, or when the kids, one of them played by a very young Joey Lawrence, becomes a total brat at the kitchen table resulting in "Bob" pouring milk all over his son. This is a delightful comedy.
The story begins with Pat always being refereed to as "You're Bob's wife, right",At an awards dinner for Bob, who receives"Coach of the Year" award, the school principal asks Pat if she would like a summer job while his secretary goes out on maternity leave. Really feeling the need to be a part of a work environment, and more importantly, the need for her own personal identity (not to mention having another adult to talk with) Pat tells him that she will talk to Bob about it before she accepts. Bob assures her that she doesn't need to work outside of the home as that is already an important job for her and she needs is to learn how to schedule her time of chores.
When Bob is informed that his summer job of driving lessons is cancelled, Pat stands up for herself and takes the job. Bob then decides to prove to her and makes a be,t that it's an easy job with plenty of time for yourself when you stick to a schedule. Throwing himself completely into the role or household diva, Bob sets out for the task at hand. He keeps ahead of everything for a few days but eventually finds himself tiring easily and finding the hours of the day vanishing before he achieves half of his household and family care duties. A funny scene is when, after not having any adult contact, the washing machine breaks and he hovers over the repair man, offering him lunch and trying to make conversation. Pat, in the meanwhile, is loving her job and beginning to socialize with her office friends after work, missing a nicely prepared candlelight dinner that Bob has setup. Tired, he goes to bed.
Summer has finally passed and it's now Bob's birthday. Pat comes home from work, ready to take Bob out to celebrate when the youngest son, after smudging mud of Bob's freshly cleaned window, falls onto Bob's clean pants as he opens the glass doors. Having enough, Bob storms out of the house and disappears. After several calls to his friends, Pat finally receives a call from their local TV station to turn it on. There, Bob makes a public apology on air and comments about how hard it is to be a homemaker. After Bob leaves the station he marches down his street with the HS marching band behind him all in salute of Pat, his wife.
This is a great film, one of PMG's best, I think! It's full of wonderful humor and a great chemistry between cast members. There are many humorous scenes, for example when Paul  prepares the daily lunch of hamburgers which the kids soon tire of, or when the kids, one of them played by a very young Joey Lawrence, becomes a total brat at the kitchen table resulting in "Bob" pouring milk all over his son. This is a delightful comedy. Another must for Paul fans. His performance was wonderful, full of humor and all the right emotions and expressions.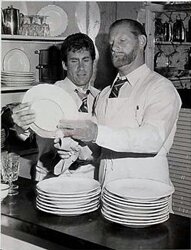 Paul and the real Bob Peters
Cast :
Paul Michael Glaser.... Bob Peters
Dee Wallace-Stone.... Pat Peters
Joey Lawrence.... Chris Peters
Storyline Summary: A patient, a jilted lover, or even their doctor could be the killer in this tale of things gone-awry at an exclusive phobia treatment center.This is a dark, grim horror movie, addressing the inner  fear  in us all. Stars Paul Michael Glaser, in a role that was hard for me to see him portray because of the ending. He plays a doctor on a grant program trying his own "shock method" to cure their "Phobia's". This is a good guy, bad guy movie that slowly sees each one of the doctors patients murdered in ways that reflect their deepest fears. In the end he (Paul) loses his grant program, and the police suspect that he is killing his patients, but with each, the Dr. (Paul) has an alibi. When the doctor is found by his girlfriend, with his last patient, dead. The story begins to unfold. The end is shocking/disturbing. Suspense filled. Paul was excellent in this role. He did his best with an average script and it's too bad it did not do well at the box office.

cast :
Paul Michael Glaser...Dr. Peter Ross
Directed by
John Huston Genre: Horror