THEATRE
Abanazar (Abanazaahhharrr!) in Aladdin (2008 – 2009)…UK Panto Production
Captain Hook (Mr.Darling) in Peter Pan! (2007-2008)..UK Panto Production
The Lady Cries Murder (1981)
Butterflies are Free (1968)
Man in a Glass Booth (1968 - 1969)
Rock Hamlet (1964)
Boston University Theatre (1967) Escurial - director
Henry IV
Richard III
Tulane Theatre (1961 - 1966)
Comedy of Errors
Major Barbara
Uncle Vanya
Clarembard
Juno and the Paycock
Twelve Angry Men
The Queen and the Rebels
SUMMER STOCK
Crime and Punishment - as "Raskalnikov"
The Ladies Not for Burning - as "Thomas"
The Emperor (1960's)
Amahl and the Night Visitors (1957)
ALADDIN! (2008)
Abanazaahhharrr!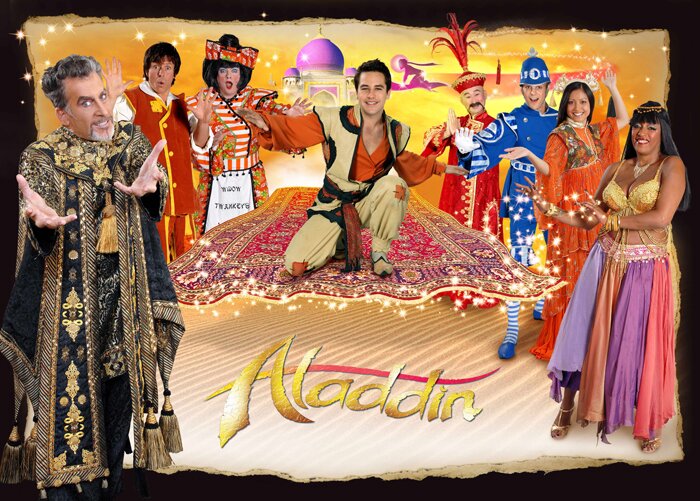 Starring as 'Capt. Hook'(and Mr. Darling) in the Bromley, UK Panto Stageversion of 'Peter Pan' at the Churchill theater (Nov. 30th -Jan 13th, 2008)

 
 
 

"The Lady Cries Murder" (1981)

Paul as Detective Philip Diamond

"Of the men, Paul Michael Glaser (lately of "Starsky and Hutch") is a sharp deadpan, nearsighted Diamond in the rough, though the early joke about his refusal to wear glasses is mysteriously abandoned by the writer about halfway through the show."

We move into a hilarious 1938 world of sexy women, hard liquor, missing persons, pretzel-plot twists, guns andgumshoes and funny lines. (A sampler; He was shot 790 times… The officer who investigated said it was a suicide.)

Production values are impeccable. The action unfolds on a gray all-purpose set excellently devised and lit by Gerry Harriton and Vicki Baral who have proved their worth to this theater more than once. Charles Berliner has designed wonderful "30's" costumes in every combination of black and white to give us the feel of pre-war detective flicks. And the hero , of course, as Philip Diamond, the nearsighted dick who's hired in the play within a play, to unravel the disappearance of – well, several people. No sense giving away the plot, particularly since it would be hard to do. Suffice it to say that the show becomes densely populated by cops, robbers, butlers (all played by Ray Stewart), one dowager, a secretary (well, two), libidinous forsaken wives, and Shanghai Sue, who can't pronounce her "r's and whose last name is Spivak.

Charming nonsense, all of it, with our hero spouting such lines as, "Call it a hunch, call it plot expediency….."' Read the complete review.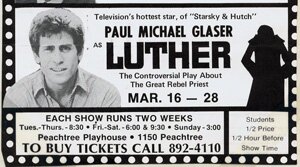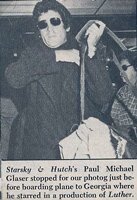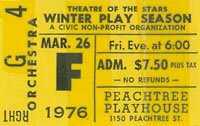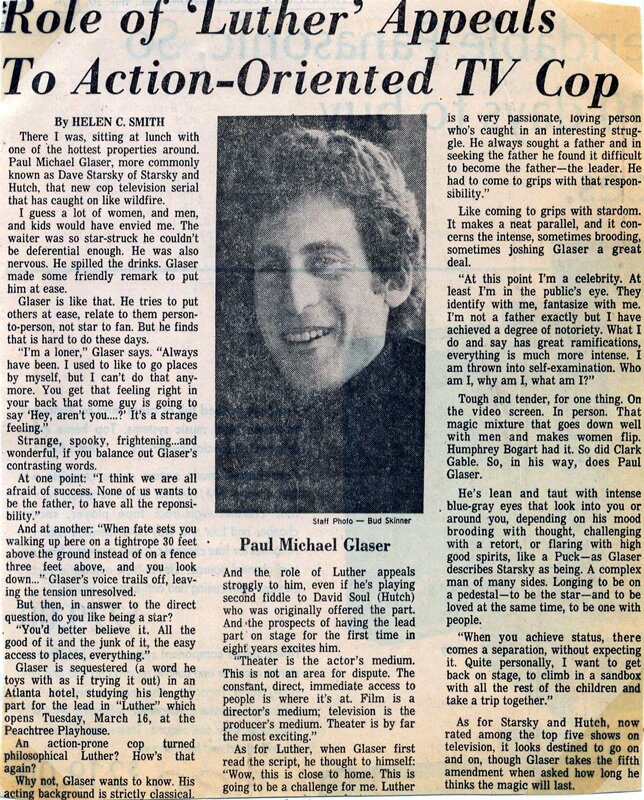 The Man in The Glass Booth (1968)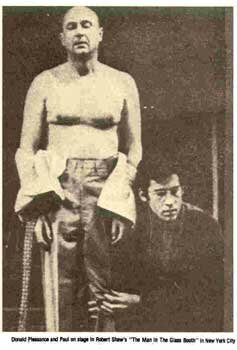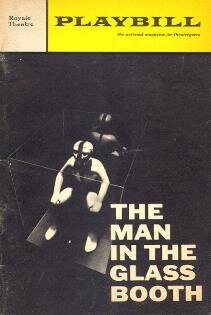 Paul was credited as "Paul Manfred" here.
Storyline Summary: A paranoid New York tycoon put on trial in Israel, accused, like an Eichmann, of inhuman crimes against Jewry.

The piece begins as stealthly as a Pinter play, as visually beautiful and dramatically mysterious as a Graham ballet. It is dimly lit, a robed figure prays at an alter, the air like incense, and around the walls strange cloud shapes are clustered. Suddenly the walls---which are louvered---turn outward to reveal the familiar New York skyline. The priestlike figure moves to his desk, puts on a jacket and is at once the multimillionaire financier and property tycoon, prince of Manhattan, creator of a whole empire of steel-veined palaces.
It is a superb opening, and from then on Mr. Shaw, Mr. Pinter and Mr. Pleasence surefootedly build the structure of the play. Mystery is piled on mystery, and yet while the purpose is still veiled, that there is to be a purpose appears clear. Arthur Goldman, 52 years old, Jewish refugee, widower, has in 20 years created a world. Eccentric, childlike, and yet with sharp shrewdness, Goldman is courted by his parasites, pampered by the acolytes of his religious millions. Whimsical and arrogantly sure of himself, he nevertheless has a fear. People are watching him. Forces are closing in.
He is arrested by Israeli secret agents. Instead of Arthur Goldman, he is, it is charged, Adolf Dorff---an S.S. colonel, torturer and killer. Goldman does not deny the claim. He lets himself be abducted to Israel (although an American citizen) and stands trial. Rather than denying the crimes he glories in them. He deliberately offends the slumbering conscience of a world by insisting on wearing an S.S. uniform and from a bullet-proof glass box in an Israeli courtroom haranguing the court and the world with childish boasts of atrocity and paranoid filth about racism and Hitler. But the Israelis have the wrong man. He is a Jew. He is Goldman. And he wants to be a martyr---like a Christ killed for the benefit of mankind.
The difficulty is that the play never once convinced me of its basic premises. The solution is all too simple. How could the Israelis have made such a mistake? How could the court accept, so meekly, without a shred of supporting evidence the solitary statement of one woman who says she knew the accused? And such questions are not trifling, for they are what finally cuts Mr. Shaw's play down to size.
Engrossing the play certainly is. But it has nothing to say about any of the subjects it hints it is going to illuminate. For its pretensions are based on totally false premises---what it says happened could not and would not have happened. We are in the lurid world of melodrama. A world filled with clever-looking and clever-sounding props (an obviously fake Rembrandt or an account of Y.A. Tittle's last game with the Giants---and the latter from an English playwright who I suspect knows as much about American football as I do myself) and yet a world in which reality can cast no true dramatic shadows.
The play will, justifiably, be talked about. And much of the conversation will, also justifiably, be of Donald Pleasence and his remarkable performance as the paranoiac Jew. When I saw the play in London a year or so ago, I was vastly impressed with Mr. Pleasence. And now I am lost in admiration. The portrayal has the intensity of madness, it convinces against one's intellect, and it thrills with its sheer, remorseless virtuosity.
Mr. Pleasence starts slowly, marking with a studied jocularity the mild eccentricities of the rich. The Jewish jokes (which incidentally have been excellently conceived by Mr. Shaw) are given with a convincingly deprecating bitterness, and the growing signs of paranoia are sketched in with a lovingly clinical skill.
Then Mr. Pleasence takes off in flight. As the play, imperceptively at first, loses touch with life, so then does Mr. Pleasence. Now he is a monster, now the acting is melodramatic, but wonderfully melodramatic. A year ago Mr. Pleasence had difficulty with his accent---now this is perfect, and the change is typical of the honing process that the whole role has undergone. So that toward the end when the eyes glitter beadily in a tight-skinned skull, or, right at the conclusion, beaten like an old monkey yet still stubbornly defending his madness, Mr. Pleasence shows more than a touch of genius. But then so does Mr. Pinter. He has directed the play with just the right regard for shifts of emotion that Hitchcock shows in the movies. It reminded me of what a fine movie The Man in the Glass Booth might very well become..."one of the ten best stage performances I have ever seen."...Tom Prideaux of LIFE MAGAZINE
This production opened at the Royale Theatre in New York on September 26, 1968.
It closed on May 17, 1969 after 269 performances.
Paul Manfred.......Steiger
Butterflies are Free Stage version (1968)
Paul as Director, Ralph Stanton
Boston University Theatre (1967)  
Henry IV
Richard III
Tulane Theatre (1961 - 1966)
Rashomon (1964)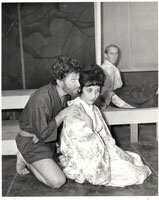 Paul as "The Bandit"
Rashomon is an ingenious investigation into the philosophy of justice. It demonstrates how an individual's self-perception allows them to recount events, from their own p.o.v, so that they remain, in their mind, true to who they are. In this case, Rashomon is a story, presented as flashbacks, narrated by the four characters, each with their own different versions of how a wife is raped while her husband watches and is then (the husband) murdered. In the story, a samurai, Takehiro (Denny Blodget) is escorting his wife Masako (Sheila Goldman) through a forest. They encounter the bandit Tajomaru (Paul), who lusts after the wife and intends to take her for himself. The only thing that is certain is that Takehiro winds up dead—Tajomaru, Masako, Takehiro (through a medium), and the woodcutter (who was a "witness" to the event) will recount the events as they believe they happened for the court. Seeking shelter from a rain storm, the woodcutter, with the help of a priest, quizzically ponders over what really happened, and what the implications of such a crime says about human nature. It is the audience that must determine what really happen.. whose version is correct?
Comedy of Errors
Major Barbara
Uncle Vanya
Clarembard
Juno and the Paycock
Twelve Angry Men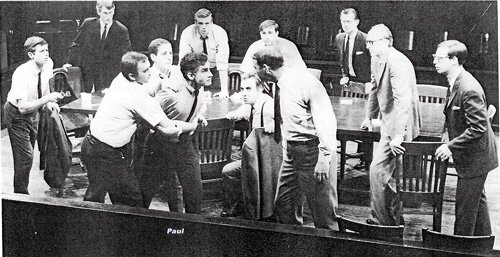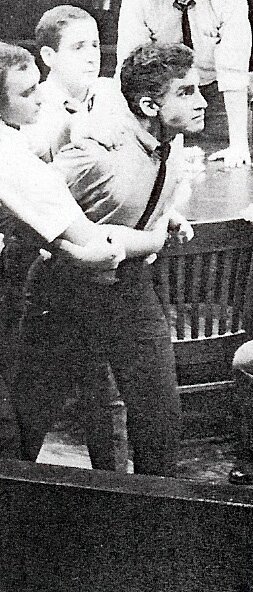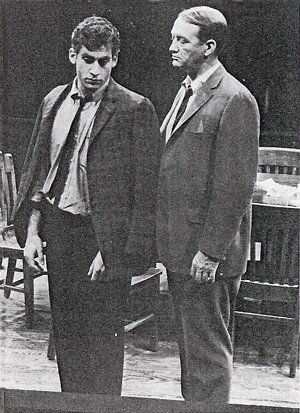 The Queen and the Rebels
SUMMER STOCK
Crime and Punishment - as "Raskalnikov"
The Ladies Not for Burning - as "Thomas"
The Emperor (1960)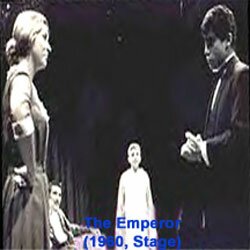 Please use the SITEMAP for complete navigation of this site!
All contents including Video, Audio Recordings, Speeches, Photography, and Poetry are the personal property of
Paul Michael Glaser, paulmichaelglaser.org, and SITMOIA Productions, Inc;
All Rights Reserved; No Usage Authorized.

They are NOT to be copied or posted on other sites or used in any other fashion.
Sharing the journey with Paul Michael Glaser.
Transcripts by Pam.
Last updated: February 16, 2010