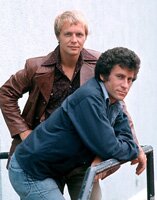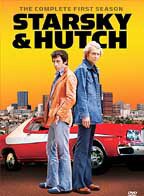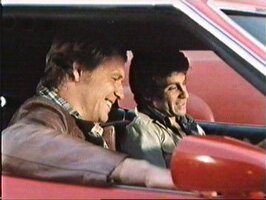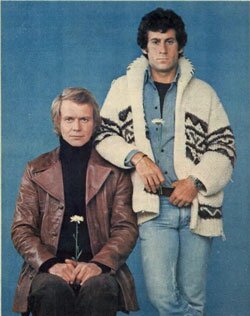 "Starsky and Hutch" is the wonderful creation of William Blinn, already a successful writer, William Blinn first conceived the idea of these 2 freshly unique detectives in the early seventies. Originally titled "Night Side", it was about these two dedicated cops, Starsky and Hutch, who only worked nights. Studio executives liked the premise, and after doing the budget analysis for it, they decided it would cost to much produce if shooting only at night. The script was then shelved for 2 years before someone at ABC wanted to go with it if Blinn could shorten the script to 90minutes and film it mostly during the day. Changes were made and the long search for the right actors with the perfect chemistry began. David Soul was chosen by Aaron Spelling to play Hutch. He had seen him in "Magnum Force" and sent him the script to read. David liked the script and agreed to do it with the exception that he wanted to play Starsky.
In an interview in 2002, David says: "Hutch was this..gee, he was this boring, kind of white-bread, you know, morning-after kind of taste in your mouth. And Starsky had all this zip and did the funny lines and da-da-da-da-da, you know. And I thought, 'No, I want to play Starsky."
He was quickly told, "No, you'll play Hutch". The search for Starsky soon began and over 150 wanna be actors lined up for the role and because production was going to start filming immediately, screen testing could not be done. Paul's instant chemistry with David made the decision easy. "Paul was the best," Naar recalls."His reading simply blew us out of the room. He was amazing . . . He was head and shoulders above the rest. So we took them together and that was the magic.They liked each other and they complemented each other enormously. The rest is history." 17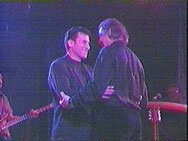 "David and I are very close," says Paul Michael. "We've known each other for years. We met actually, eight - and - a half years ago in New York. We were both up for the talent program for Columbia - Screen Gems. Davey got in, and I didn't. Since then our paths have crossed, but we became like brothers on Starsky And Hutch. Very fortunate for both of us, we have a very simpatico relationship, the right chemistry. We both want to do a good job, we both want to communicate with each other. With those objectives you become very, very close. We really care about each other."Photoplay Film Monthly October 1976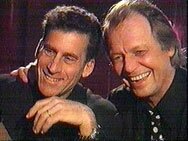 In 1999 at a reunion interview in the UK, Paul says "I had known David,.. our paths had crossed over the years. I thought that would be interesting. When we saw each other again, there was a...you know, there was an affinity, a chemistry. I think between David's and my chemistry and the notion of a buddy show, which I think, if I'm not mistaken, was the first of its kind on television...we had "Butch Cassidy and the Sundance Kid" as a feature, but we hadn't seen that kind of pairing,... male bonding,.. whatever you want to call it in television. So this was kind of a first."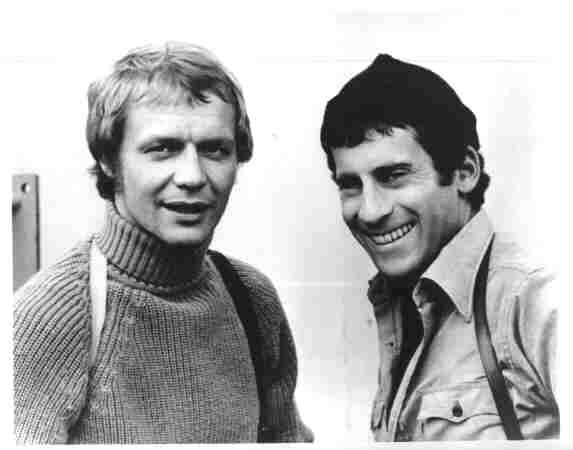 This ABC movie of the week was centered on the relationship of these two young detectives, one was dark haired, charming, handsome, lively and humorous. Incredibly streetwise and temperamental, he loved his jeans and leather jackets, junk food, built model ships and loved train sets. He drove a flashy white striped, candy-apple red supped up Ford Torino. The other, blonde, gentle, soft spoken, handsome, upper crust, well educated and more refined. He was athletic, into organic health food, yoga, maintaining his plants and drove an old beat up Ford LTD. Opposites in many facets of their persona, but it was, in fact, their unique differences that united them as one, a perfectly balanced team, they were committed to upholding the law and protecting the community in which they served. Two souls united in a deep bond of friendship, brotherly love and trust. "Me and Thee". So close, that they could communicate without even speaking a word. And though their tactics may have seemed a bit unorthodox, they had the reputation of being cops you could trust.
Paul's audition and subsequent meeting with David in the study office was "magical." When the producers witnessed the immediately visible chemistry between them, Paul was cast as "Starsky" on a Wednesday, signed the contract Thursday morning and "Starsky and Hutch" was off and rolling the following Monday. Paul and David were a perfect match. Opposites in many ways, Paul, dark curly haired, handsome, left-handed, slightly shorter and more muscular build in contrast to David's blonde hair, taller, average build and right-handed. Their instant bond and chemistry in their interview process would blossom into a deep bond of friendship off and on screen. Right from the beginning, Paul and David showed their incredible passion for their craft. After the contracts had been signed, Paul and David met to work on the backgrounds, the "life" of their own character in specific detailed fashion. Starsky's full name was David Michael Starsky, Ken (no middle name), each had their own birth date, place of birth, home town for example. A multi-page study of each character developed and would be used throughout the series.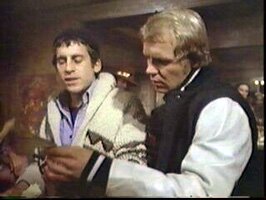 In the pilot, which aired April 30th, 1975, a shooting in which two teenage lovers are killed by professional hit men, it is assumed that the intended target was actually Detectives Starsky, because the car the victims were in turns out to match Starsky's. While driving around the city the next day, Starsky tells Hutch that he's starting to feel like "salt in a sugar bowl" because people are staring at them and acting strangely when they see them. When a known pick pocket shows up in town again and another criminal Rowley, disappears quickly into a bar, they follow him. Telling all the bar patrons to write anonymously on paper "what's so special about today", Starsky and Hutch quickly find out that Starsky was supposed to be dead. All indications point to a local crime-lord who is awaiting trial being behind the (intended) murders, but when he flatly denies their claims, Starsky and Hutch set out to hunt down the real culprits. The pilot is full of action, drama and humorous antidotes. Also, Paul and David did most of their own stunts. A classic, well enjoyed scene is the way Paul ran down 7 flights of stairs in those boots and poor David jumps down onto the hood of his car and injuries his back.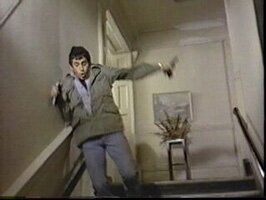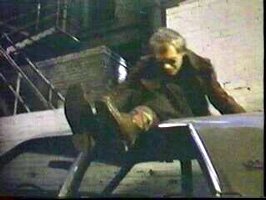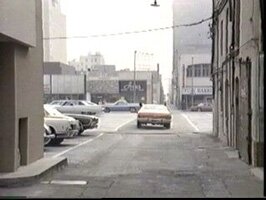 Paul and David often ad-libbed lines into their scenes, giving it their unique personal touch. An example from the pilot is the scene where "Starsky and Hutch" are hiding out in the bushes of the pool area at an apartment complex. It's pouring rain as they wait for a drug deal to go down. A woman walks out with her Great Dane for his evening duties and as she approaches Hutch's position, he radioed Starsky saying: "He found his favorite tree, and guess what? It's me!" Starsky replies " Aren't you glad she sold the pony?"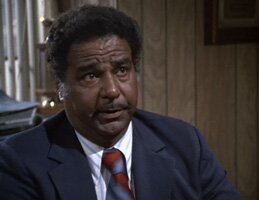 The Captain in the pilot was played by Richard Ward, who portrayed him as a tough, hard nosed, no nonsense cop, unable to continue the role of Capt., he was replaced for the series by Bernie Hamilton (pictured) who was the perfect choice for the by the book Capt. who happened to have a soft spot for his two favorite detectives. His character was softened and Bernie brought a lot of humor, good heart and was a Capt. who loved to eat. Capt. Dobey was frequently a target of Starsky's pranks.

Starsky and Hutch's streetwise accomplice was a multi-entrepreneur named "Huggy Bear". Trusted by people living

in the streets and by Starsky and Hutch. His character provided vital information in times of need as well as a source of "nourishment", fun and games at his various restaurants and establishments. Most famous being "The Pits" at 4th and Main.. Antonio Fargas' chemistry with Paul and David was obvious from the start and his character quickly became a show favorite. Originally a small role, Joseph Naar asked him to stay as a main character. The team of four was now complete. Antonio says of his Huggy Bear character "I didn't play the role to be cool - I looked at it as a guy who's trying to survive in a hostile world and a black man in America had to do certain kinds of things to survive."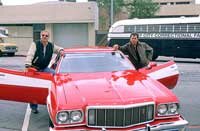 Of course, then there's "the car"! At first, William Blinn wanted a bright yellow camero, but, the studios had a contract with Ford and so a supped up, mag wheeled Ford Gran Torino was sent to the set. It became a star in its own right. It was in such demand by fans, that Ford actually created a 1000 LTD Edition versions of it. Almost all are still enjoyed and sold amongst fans today. In a 1999 interview, Paul says: "Aaron Spelling put his arm around my shoulder and walked David and I outside of his office into the parking lot and said, "Have I got a surprise for you," and pointed at this red and white car. To which I replied, "It looks like a striped tomato." And then later I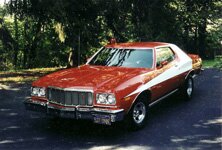 vowed secretly to David that I was going to do everything in my power to destroy that car. I mean, it looked great and people really loved it, and a lot of people still really do like it. And we had a lot of fun with it. But it really was the worst of all American cars. It had a terrible suspension system. It took us a year to get them to put bucket seats in it so David wouldn't slide all over the place whenever I took a corner. We had to finally get a new rear end put in it so that at zero to 60 it had some pop. It was a real workhorse, you know. And the doors were big and heavy, so that's why I ended up jumping through the windows a lot. And the crew used to take bets where I'd end up when I had to make a sudden stop someplace. "
Photo courtesy of Terry Fitzpatrick
After the success of the pilot, the studio quickly scrambled to turn it into a series for the fall. Shooting began in July of 1975. The show "Starsky & Hutch" took to the airways on ABC television on September 10th, 1975. It rapidly climbed in the Nielsen Ratings to maintain the #15 spot for the entire year. They were the first police drama to focus on paired officers who happened to be best friends. Filled with humor, bonding friendship, drama and great action, "Starsky and Hutch" are as strong now, 30 years later, as they were during their TV run. The "Starsky and Hutch" scripts tackled many topics that no other show had ever done, from rape, to homosexuality of a high ranking, respected fellow officer, to drug addiction to child abuse and discrimination. This, in addition to the excessive use of guns, was one of the reasons (by 1970 standards) that the show was considered too violent resulting in a softening of the characters and the scripts and a touch more of that natural humor! "THE FIX" episode, wasn't even allowed to air in the UK. Church groups and the PTA's were determined in getting the violence off the air. In Cult magazine, Paul is quoted saying "I remember there was one show- they rolled the camera, they called action and I stepped out with one of these riffles on either hip and big banana clips and emptied both guns, just standing there -bam bam bam. The director said "Cut, we can't use that!" I said Why not, you love violence so much. You're exploiting it."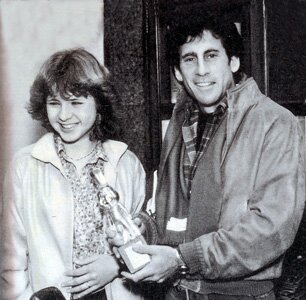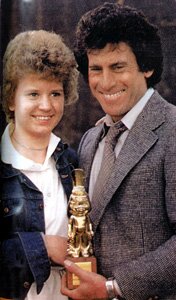 The series itself won several awards. Paul was voted "TV's Favorite Male Actor" two years in a row by Photoplay Monthly in 1977 and 1978 for which he received the Photoplay Film Monthly award.He was voted the "Coolest of the Cool" in Seventeen magazine. He, David and the "Starsky & Hutch " show also won numerous foreign awards including Britain's "Sun Tv Award" for "Outstanding New Drama". In Germany he received several Gold and Silver Bravo Magazine "Otto"awards - it was among the first of the "viewer's" choice awards, as well as the Gold "POP" "Hammer" award for his portrayal as Starsky; In the newspaper "POP", August 1978, Paul is quoted as saying "Hello everybody! This is Paul Michael Glaser and I am very, very happy to receive this award from you and very, very happy to be a "Golden Hammer". And now I'm gonna have a lesson in German: Das ist ein hammer dass ich den Goldenen Hammer gewonnen habe. Auf Weidersehen!".........And in Spain, "Starsky & Hutch" won the 1978 "TP de Oro" award for "Best Foreign Series".

Paul receiving Germany's Bravo Magazine's Silver "Otto" award, 1979.
Paul receives Germany's Bravo Magazine's Gold "Otto" Award.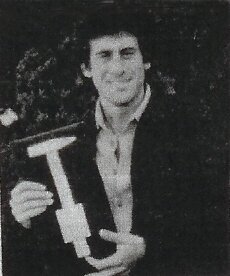 Paul receives the Gold Hammer Award, 1978
Humor and good times were frequent on the set. Both Paul and David would often break into two part harmonies between scenes or when one of them would make a blooper. Pranks were plentiful. As with all filming, not every time goes smoothly and not every line is perfectly delivered. Paul and David often helped each other get through it. Their incredible chemistry was/ is special indeed. A bond that is rarely seen or experienced. The constant personal touches, changes and ad-libbed lines added extra depth and "real" personality to the characters, and as such, it was what made the series the special jewel that it was and still is today.
Four years of working together, changes in people and atmosphere on the set, writers and the unstoppable adage that time moves on, Paul and David wanted to call it quits. As Paul had said in the "He's Starsky, I'm Hutch" 2004 documentary...."they were tired of us and we were tired of them....and I think to a certain extent, David and I were tired of each other." The final show of the series, "Sweet Revenge", was directed by Paul M. Glaser. Originally written as a death story for Starsky, it was found to be too depressing and so the end was rewritten. A fitting end with "Starsky, Hutch, Huggy and Dobey" together in Starsky's hospital room celebrating with Champagne in "lantern" style lighting over veal and antipasto! The scene ends with the fire sprinkler going off due to the lantern being hung from it. Behind the scenes, a hose was hooked up to the make shift sprinkler and turned on at full power by the film crew, flooding the set, Paul, David, Bernie and Antonio! On February 16, 1979, the last episode, directed by Paul Michael Glaser, "Sweet Revenge" was filmed. Their wrap up party was held on February 18th. It was a sad day for fans everywhere.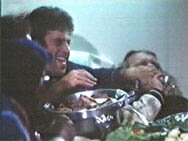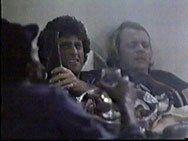 Panned by critics, adored by fans, "Starsky and Hutch" will always remain a tribute to friendship, loyalty and dedication. All over the world there are "Starsky and Hutch" clubs, gatherings and internet groups. And, as Ms. Anderson of "Starsky and Hutch Monthly" once stated. "What began with a simple handshake and a spark between them.. eventually touched the lives of millions of people and may, in a not-so-small way, have changed the world for the better."
Today, Paul and David remain the best of friends.
In Movie World Magazine dated December 1977, David says "Paul's probably my one real male friend these days. Part of it is because I don't really have much time for relationships with all this work, but part of' it is because I really love and care about him a lot."
Paul adds: "David has taught me a lot! He's understanding, intelligent and a fabulous human being. He has his weaknesses but so do I. Frankly, I love him. It's the kind of' relationship I've never had in my entire life..... What we have between us is a very special chemistry, both on the set and off it."


Why is the series so well loved today as it was then? It is, without a doubt, because of the incredible friendship and love that both "Starsky and Hutch" and Paul and David have for each other. An inseparable bond.
On Deborah Norville interview, in 2004 Paul and David refer to Starsky & Hutch this way:
PAUL: "The show was about friendship. That's why. It was about friendship. After all is said and done, that's really what it was about. And to whatever extent that David and I were playing cops and tried to give cops a more humanistic portrayal than they had received up to that point, you know, that we filled that world with as much humanity as we could. But it was about friendship. It was about...

DAVID: "Yes, very much so."

PAUL: ... how we cared about each other."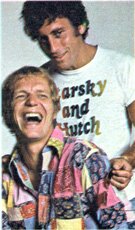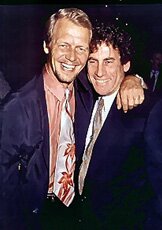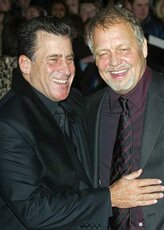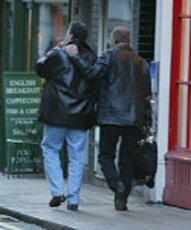 On the Graham Norton Show (BBC) in 2004, he asked Paul and David: " Do you just accept it or do you just kinda sit back and think ?Why is it that that show of all the shows has survived so well and you?re still so popular??

Paul commented : "Well, that?s always a puzzle, that?s always a puzzle. I don?t know (turning to David). Have you ever thought about that?"

David added : "Once in a while I do and I think that, ah,.. I, a lot of it has to do with the era in which it was first done and we ah, it was, um, it was a real support system for a how like ours and it also took off in this weird and fast kind of way and I think underneath all of it, the red car and the cardigan, those kind of devises, there was a real friendship that people could see there was a magic and there was a friendship?"

Graham continued: "And also it was good and I mean it still is. It kinda holds on.."

DAVID: Yes, it was, I owe it all to Paul ( with a big smile as he puts his hand on Paul?s arm).

PAUL: He does (huge laughter)

Paul continues his work in writing, directing and activism in the fight against Pediatric AIDS. David continues his acting career, mostly in theatre and BBC television. He is also working on his autobiography and on cutting a new album. Currently, David is starring as "Jerry Springer" in Jerry Springer" in London. Antonio has been busy with his stage work and occasional guest appearances on TV...and watching his son play football. He will be starring in the reality series "I'm a Celebrity..Get me out of here!" in Dec. 2004. Bernie Hamilton is enjoying his retirement!