Captain Hook!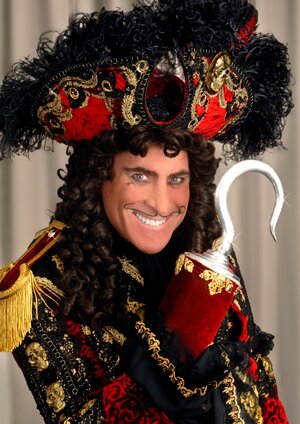 Paul stars as Capt. Hook in the Bromley, UK Panto Stage version of 'Peter Pan' at the Churchill theater!
Nov. 30th till Jan 13th, 2008!
**Tickets are selling out fast! Don't miss your opportunity to see Paul LIVE ON STAGE!!!**
See his recent messages here!
Read Official Website Review of Peter Pan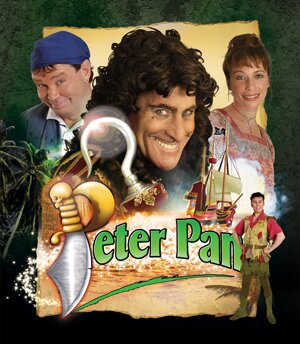 Short interview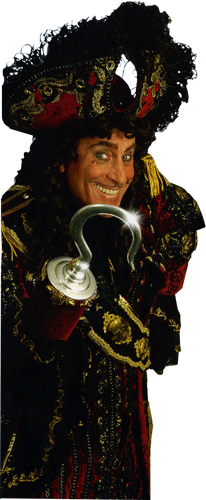 Capt. Hook himself!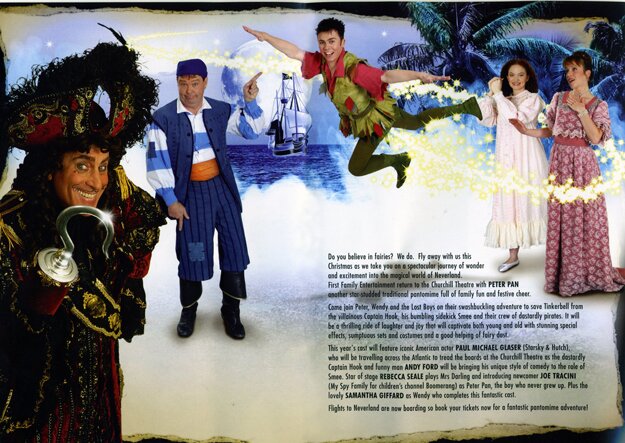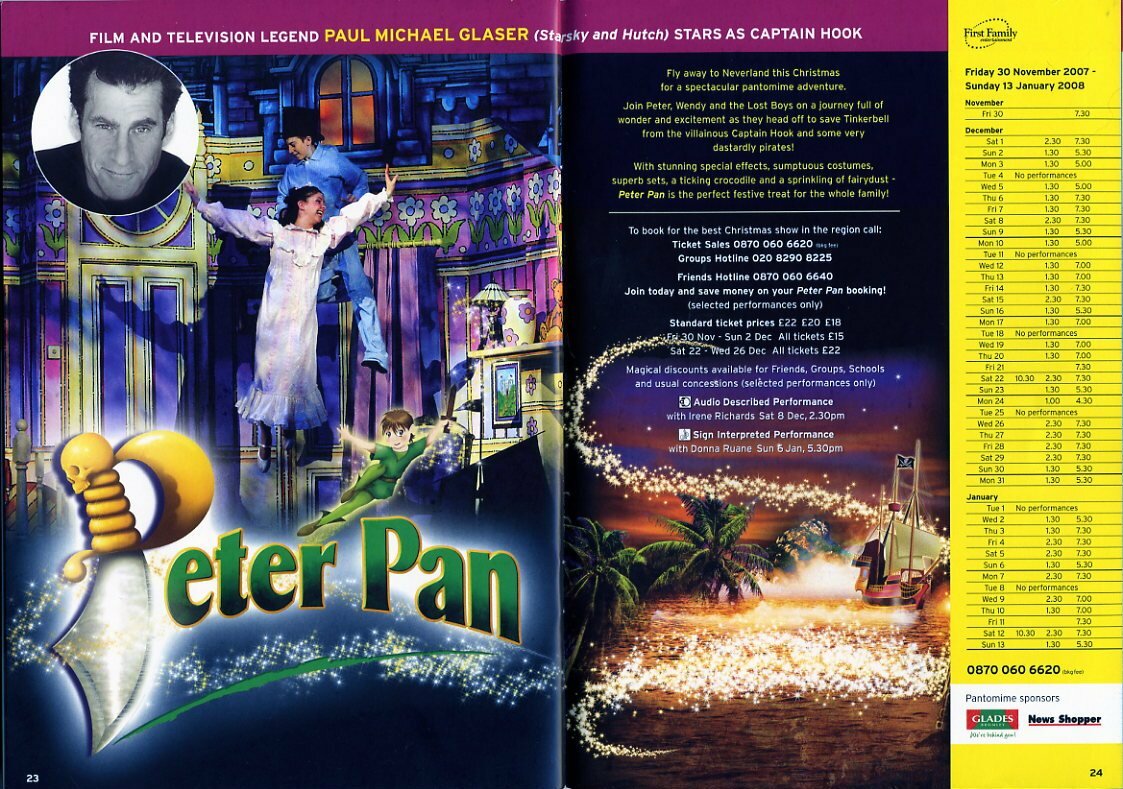 On Sept. 29th, The Ambassador Group at the Churchill Theater presented a meet the cast tea, including an exclusive recorded message from PAUL MICHAEL GLASER!
Comments by the Cast!
"When the producers asked me if I wanted to come over and miss the LA sunshine I said yes I would because I can think of no better place to come, than to do my Christmas shopping at the Glades. So come see Peter Pan with wonderful music, wonderful sets and lots of dancing and singing and me being very bad, bad, bad!" Paul Michael Glaser recorded on the video portion of Meet the Cast!
"Panto is a combination of fairy tale and music and slapstick; and comedy is probably the most important ingredient as far as I'm concerned. You've got to have a laugh!" says Andy Ford
"It's nice to do a new part. It's a quite a 'mumsy' part - a leap forward in the age which is great!" Says Rebecca Seale
The Director of the Churchill Theatre welcomed the audience to The Churchill's Group Launch for this year's pantomime adventure Peter Pan. He is also directing the play and was clearly thrilled by the prospect of Paul's portrayal of Captain Hook. He said that Paul was at the forefront of American film stars coming to the UK to star in Pantomime. He promised a sumptuous feast for the eyes with the set and costumes, and lots of songs, action and laughter throughout.
We were introduced to four of the cast - Wendy, Mrs Darling, Peter Pan and Smee. Unusually, the role of Peter Pan is to be taken by a boy (Joe Tracini) - really.... (for the uninitiated, traditionally the 'principal boy' is usually played by a young woman, and pantomime dames by men in drag - it's a British thing!!)
Joe is the son of Joe Pasquale, for those who know of him, and as well as having inherited his father's comedic talents, he has a great singing voice. Another British comic, Andy Ford, will be Smee and with his style of humour will undoubtedly have the kids rolling in the aisles.
Finally, Paul made his appearance via TV screen. With this first glimpse 'in character' as Captain Hook, there is no doubt the audience will have a wonderful villain to hiss and boo!
The recording continued with Paul - as Paul - answering a few questions. He stated that he was looking forward to taking part in Pantomime, having been told that it was interactive and lively. The interviewer asked him whether he preferred acting or directing. Paul replied that each was a different ride, that stage was an actor's medium and he enjoyed them all. As to his take on being the villain in Peter Pan, Paul chuckled when he said it was always fun being a 'baddie' - asking back "Why is that?"!!
Mentioning that David and Antonio had played theatres in the UK, the interviewer asked Paul if they kept in touch, and had given him any tips. Paul said they hadn't but that they did keep in touch, though less often with Tony.
The interview was over all too quickly, and the Director thanked everyone for being there.
So everyone must start practicing to be in fine voice for your interaction with - - - 'He's behind you' ... ('Oh no he isn't' ).... 'Oh yes he is...' "

Review written by Jools
Check back often for uptodate news!
Official Press Release from First Family Entertainment!
First Family Entertainment is delighted to announce that American actor PAUL MICHAEL GLASER will be appearing in their production of PETER PAN this Christmas at the CHURCHILL THEATRE in BROMLEY.
Paul is best known to English audiences as Starsky from cult 70's show Starsky & Hutch, but this Christmas he will be leaving his Starsky cardigans and good cop guise behind as he takes on the role of Captain Hook, Peter Pan's nemesis.
Captain Hook will mark Paul's first appearance in British pantomime. Paul comments: 'I feel so privileged to be asked to play the part of Captain Hook – what a great character! I also hear that pantomime is a lot of fun and as we don't have it here in the U.S. I can't wait to come over to the UK at Christmas and experience this great theatrical tradition'.
Paul is not the first American actor who has discovered the appeal of British pantomime. He follows in the footsteps of fellow American stars Henry Winkler and Patrick Duffy who both made their pantomime debuts last year for First Family Entertainment.
Peter Pan runs from 30 th November 2007 – 13 th January 2008.
Tickets: £18 - £22.
Order online.... or call
Box Office:
Groups hotline 10+:
For more information call Jenny Keeling at the Churchill Theatre on .
Or Laura Taylor at First Family Entertainment on .
From the USA dial 01!
Tickets are selling out fast! Don't miss your opportunity to see Paul LIVE ON STAGE!!!
British pantomime (affectionately called 'Panto') is a popular form of theatre, that incorporates singing, dance, slapstick, in-jokes, and thrives on audience participation . Be prepared to boo, hiss and cheer for our favorite villian.. 'Capt. Hook'!
"Pantomime" (all mime or all imitating) comes from the Greek word "Pantómîmos ", a form of expressive dancing which was characterized by a non-speaking performer who told his story through gestures, movements, and attitudes. It has its roots as far back as the documented dance performer 'Telestes' of 467 B.C.1 Pantomime Theater performances were common in ancient Greece festivals. It split into drama and comedy venues as performances used more props, scenery and other embellishing crafts to express their stories. It wasn't until the 16 th century that British performers began their own version of Pantomime Theater. In 1566, the Greek tragedy, " Giocasta, ' by Lodovico Dolce, from ' Euripides Phoenissae', was translated into English and was the first Pantomime performance In London.
In England, these stage performances were commonly known as ' harlequinades'. As the popularity of Pantomime grew, performing artists, while maintaining the original character roles, would improvise on the way their stories were told. These constantly changing performances became the strength needed for the survival of the Pantomime Theater. Most of the stories are derived from well-known fairy-tales, folk-lore and other sources of good 'tales' and the scripts continue to evolve and update as time moves on!
THE ORIGINS AND DEVELOPMENT OF THE ART OF MIME by Annette Lust