Auctions and Fundraisers for The Elizabeth Glaser Pediatric AIDS Foundation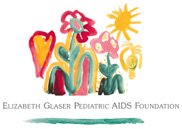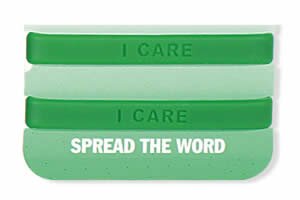 The EGPAF is selling Cause Bands to raise money for the foundation. They raise more money buy selling in bulk packages. Each package of Cause Bands comes with two rubber bracelets, so sport one proudly and give the other to a friend! What?s more, $1 per package directly benefits the Foundation?s lifesaving programs.
Pricing:
5 packages (10 bracelets) = $14.95
10 packages (20 bracelets) = $29.90
25 packages (40 bracelets) = $74.75
50 packages (100 bracelets) = $149.50
Shipping is $3.25 for any quantity.
Don?t delay! Call to order your Cause Bands today.
COMING UP NEXT!
**ONline CRAFTS FAIR by the fans for the Fans! Stay Tuned for Late Spring Opening! Have a craft you'd like to share and donate? for more information on how YOU can participate in this fundraiser!
March 31, 2005 - UNTIL There's a CURE Bracelet Fundraiser. Thanks to everyone who participated in these fundraiser's for EGPAF, total raised was $1000!
Gift Wrapping Fundraiser at Barnes & Nobles in Burlington MA....Dec. 2004
UPDATE: Total raised $1120 plus $450 in Tribute Cards
Special THANK YOU'S to Debbie, Karen, Ruta, Susan, Paola and Linda for all their hours and dedication! And to Barnes & Noble for the gift of the fundraiser and allll that coffee and to Officer AL, for directing everyone our way!
Please stop by the Barnes & Nobles Bookstore in Burlington, MA on Middlesex Turnpike (across from Burlington Mall) on Dec. 4th 9AM -- 11PM. Dec.15th, 5PM-11PM and Dec.22nd 9AM-11PM. Volunteers will be there to gift wrap your purchases with 100% of wrapping charge to go directly to the EGPAF. If you would like to volunteer, please for more information.
"Don?t Be a Grinch: Support the EGPAFoundation This Holiday Season"
All the Hoos down in Hoo-ville can Support the Foundation by Buying The Grinch Away with the Tree
?On Sale Now Nationwide!
Enliven your Christmas tree with the face of Dr. Seuss? The Grinch. . . and grow your heart three sizes by supporting the Elizabeth Glaser Pediatric AIDS Foundation! Crafted by Lenox, the Gift Company, The Grinch Away with the Tree depicts the grumpy Dr. Seuss character stealing away with a Christmas tree in his sack. Hand-painted with 24-karat gold accents, this elegant china ornament makes a wonderful keepsake. And it?s in keeping with the holiday spirit of giving: As part of its Holiday Spirit Ornament program, Lenox will donate all proceeds from the sale of The Grinch Away with the Tree to the Elizabeth Glaser Pediatric AIDS Foundation.
The Grinch Away with the Tree ornament costs $29.95. Click here to purchase the ornament online, call 800-63-LENOX or visit a fine department store nationwide.
Until Bracelets
Update: Nov.30, 2004 Thank you to everyone who participated. This event raised over $500.
Fundraiser in which the proceeds will be donated to the EGPAF. The bracelets sold here are very nice and you may bring them to an engraver for personalization. Please read below for the mission statement and pics. Prices of the bracelets range from $10(jellies) to $400 (14K gold). There is also a dog tag available. If you can't see the pictures please email me and I will send them to you. Thank you for your support with fundraisers for EGPAF and for helping to bring awareness to the pandemic of HIV/AIDS.
Mission Statement
Until There's A Cure is a national organization dedicated to eradicating HIV/AIDS by raising awareness and funds to combat this pandemic. Our dream is that no one else will become infected with HIV. For those who are HIV positive, we are dedicated on their behalf to educating all people about the virus and the overwhelming need for love and compassion in fighting this pandemic. Our goal is to fund prevention education, care services, and vaccine development using the Bracelet? as the tool. The Bracelet will serve not only as a bridge to unite people to fight HIV/AIDS, but to help people to recognize that anyone?man, woman, or child?can be infected and that everyone should be compassionate, understanding, and responsible.
Until There?s A Cure is committed to:
Funding innovative programs which promote AIDS awareness and prevention education for our generation of young Americans. Providing financial support for care and services for those living with AIDS. Actively supporting AIDS vaccine development which offers the best hope for reducing the spread of the HIV virus.
The REAL Starsky & Hutch T-shirt Fundraiser
Total raised $1600. Thanks to all who participated. And THANK YOU Paul for autographing the shirts auctioned on ebay.
Check back to se other auction / fundraiser events. Visit EGPAF for their current auctions and ways YOU can help!
QUILT AUCTION
Double Irish Chain Lap Quilt $250