30th Anniversary of "Fiddler on the Roof"
Turner Classic Movie Channel
ROBERT OSBORNE: ( TCM Host): Hi. I'm Robert
Robert: Welcome. Thanks for joining us. Thirty years ago today, a real movie event occurred: the highly anticipated world premiere of "Fiddler on the Roof." The film adaptation of a beloved stage musical that soon went on to become a beloved movie musical around the world. And to celebrate that fact, we're going to show "Fiddler on the Roof" in one hour. But before we get to that, we have for you a brand-new documentary about the making of the film. It's called "Fiddler on the Roof: 30 Years of Tradition." And it's an in-depth look at the film through the eyes of some of the men who made it, like Norman Jewison, who produced and directed the film. You'll also see and hear from Chaim Topol, the Israeli actor who plays the film's central character, Tevye, and Paul Michael Glaser, who made his film debut in "Fiddler" playing the character Perchik, and composer John Williams, who won an Academy Award for his adaptation of the musical score.
(A conversation about Jewison's decision to cast Topol for the part of Tevye starts off the interview)
PAUL MICHAEL GLASER: I always thought it was very interesting that when Topol played Tevye, he played it from an Israeli point of view. Which is to say that while a Mostel or any of the others that have played the role in the more Eastern European Jewish tradition, they'd go (looking up), 'Why? Why?' And the Israeli would go, 'Why?' (laughing) He'd demand an answer.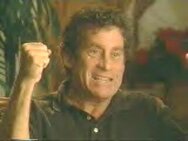 (Another conversation about Norman Jewison's career)
PAUL: Oh, he's wonderful. He's got a wonderful curiosity. And he's got a great sense of humor and a great laughter. I know I must have made Norman absolutely nuts during that production because I was so driven and so serious and wanting so badly to do the right thing.
When you're starting out, it's your first movie, and here you have a director who's at the top of his game, and he's dealing with all the politics, all the drama, all the stuff that goes into making a movie, which is huge. It takes so many different talents to try to accomplish all of them and keep your eye on what you're doing--that he was kind of like out here and I was over here. So I don't know if I can say more than how much I respect Norman and the job he did and how much I liked him and still like him.
(Here they begin a political conversation of the aspects of filming "Fiddler on the Roof " in the 1970s Soviet Union )
PAUL: We got stopped for speeding-they had traps along the way-speed traps. So this man gets out of-the driver, who looks like Nikita Kruschev, gets out of the car, goes to the back of the car, starts talking to the cop, and then he cracks the trunk and opens the trunk. A couple of moments later Topol says, 'I'll be right back,' and he gets out of the car and walks back there. And after a few minutes, this trunk slams shut, Topol gets into the car, the driver gets into the car, and I said, 'What was that about?' And Topol says, 'Well, it appears that, you know, we were going to get a speeding ticket, but we didn't because our friend here is an officer in the Secret Service, aren't you?' And he nailed him. And the man smiled because the man understood English perfectly. So he had been spying on us. I'll never forget that.
BARRY (Narrator): Unlike theater, the camera can bring the audience very close to the actors. This presented some very unusual requests.
PAUL: Norman got it in his head that there weren't a prevalence of blue-eyed Jews. So he asked if I wouldn't mind wearing contact lenses to change the color of my eyes. What did I know? So I said, 'Sure, I'll do that.' So,...in those days, you know, a contact lens was akin to a glass eye.
(They begin to talk about the wonderful music in the movie)
PAUL: I will at first say that my favorite song in the musical never went into the musical. I had to say that, Norman . It was a lovely song that I may not have done the best job in the world pre-recording. And the very first thing I said to Norman when I showed up on location was, 'You know, we should redo that. We should go into a studio and redo that. We can do it. We can just fly back to London and do it. Or maybe they have a studio here and we can do it here. We can do it anywhere. Budapest,... we can go to Budapest . We can do a better job than this. Poor Norman. So... and then I proceeded to spend days,... every day I'd put this thing on in this cassette recorder in my room and I'd listen and I'd play it and I'd act it and I'd sing it and I'd work it, da-da da da. And ultimately it never made it into the movie. It was supposed to happen right after Perchik proposes to Hodel. (Paul sings a little) 'For the dust and decay will be swept away….'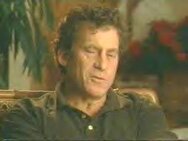 (A little bit of Paul's recording of "Any Day Now" is played here... Get the CD, you'll love it)
(A conversation of the continuous appeal of "Fiddler on the Roof " and its portrayal of Jewish traditions)
PAUL: I mean, it speaks to the enduring will and faith and curiosity of human nature, and that's... that's a lot.
Barry: While having such a universal appeal, the film can't help but have a unique impact on those who share a common bond with the Jewish aspects of the story.
PAUL: And I related to it in an intense way. I mean I was raised in a Jewish family. My father's father was a very religious man. He'd started a,... was one of the founders of a synagogue in Boston . And my father was,...towards the end of his life was more and more religious. My mother was agnostic. But I felt a very strong sense of Judaism as a historical and social and emotional phenomenon. Not so much as a religious or spiritual phenomenon. Although, my interests or my focuses are more spiritual or not,... if you come from that heritage, you can't help but to have an emotional connection through the plight of the Jews in Europe at that time and persecution at any level. And here was this character and I was playing and he was enamored of a whole new way of thinking and, you know, a new way of seeing things and wanting to break that social order. Of course, that's a universal theme that happens to all young people. You know, you reach a point and you say, 'Why does it have to be this way? Why can't it be that way?'
(A conversation about the ever present mass appeal of "Fiddler on the Roof ")
PAUL: Well, it's hard to find classics in our day and age. We consume and spit out so much stuff so quickly every day, that to find something that has the ability to transcend age, race, language…

Robert: If you enjoyed the little snippet of Paul Michael Glaser singing "Any Day Now," you're really in luck, because the complete recording of the song has been included on a 30th anniversary edition of the . It's a brand-new CD that's in stores right now and includes four previously unreleased numbers from the film's score. All 19 of the tracks on the CD have been digitally re-mastered, so they really sound great, too.
Transcribed by Pam