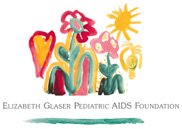 "Children Deserve Treatment Too"
Our recent communications efforts have focused on making sure that the unique HIV/AIDS treatment needs of children are not overlooked in the global debate on care and treatment. In an effort to gain support for this critical issue, we developed a "Dear Colleague" letter from the Foundation's president and CEO Kate Carr and are urging leading researchers, scientists, and others who support children and families to "sign-on."

We would greatly appreciate if you would sign on and could encourage other key audiences to do the same. Thank you in advance!

Click here to support HIV-positive children around the world.

Feel free to copy and paste and forward to as many associates as possible. The global agenda does not provide for the innocent children living with HIV/AIDS..
If you want to list a corporation (not necessary) feel free to use paulmichaelglaser.org or Call to Action Quilts for Children www.calltoactionquilt.org

Thank you for your support,
Pam

Please take a moment to lend your support to the EGPAF.
Thank you for taking the time to read the following information. The future belongs to our children and you can help.

An excerpt From their site:
"Ensuring equal access for children requires swift and deliberate action from governments, foundations, scientists, The Global Fund, pharmaceutical companies, developing nations, health care workers, advocates, parents and communities.

We must act now if we want to save lives. Every delay and barrier to access costs lives of children and adults. Each day, more than 8,200 people die of AIDS, most as a result of inadequate care and treatment. Of those, 1,400 are children. In the time we are in Bangkok, discussing access to HIV/AIDS treatment, 8,400 children will die from the disease. Unless we act aggressively now, by the next World AIDS Conference in July 2006, over one million children will die because medications and services are not available for them.

The resources and talent directed at stemming the epidemic are growing at an unprecedented pace. Programs are in place, health workers are ready to treat, and leaders are committed to the cause. This is the time to seriously address children's place in the global epidemic. Until children have equal access to high-quality, low-cost AIDS drugs and AIDS care specific to them, the fight against HIV/AIDS is far from complete.

Take action today by adding your name to this important cause! This open statement is intended to underscore the global consensus around the importance of addressing the unique treatment of children with HIV/AIDS. With your support, we can begin to give children living with HIV in the developing world a chance for a real future."
Support the Elizabeth Glaser Pediatric AIDS Foundation