VH1 AIDS Special, 2003
Pres. Clinton: I would invest more money in the battle against AIDS.
Narrator: During the 1992 DNC, Bill Clinton gave the floor to Elizabeth Glaser, wife of TV star, Paul Michael Glaser.
(Clip)
Elizabeth Glaser: (Clip from her address at the DNC) "Today I am here because it's a matter of life and death."
(Picture of Elizabeth and Ariel)
Narrator: Elizabeth had contracted HIV through a blood transfusion and unknowingly passed it on to her two children. And when her daughter died, the Glaser's founded the foundation Elizabeth Glaser Pediatric AIDS Foundation. elizabeth then used every platform she had to urge the world to pay attention to AIDS.
Elizabeth Glaser: (Clip from the DNC) "I am here because my son and I may not survive four more years of leaders who say they care but do nothing."
Paul: The ability to be able to focus on an issue with her enormous energy and her talents and her ability and her intelligence, gave her a feeling of accomplishing something in the face of her mortality.
Elizabeth Glaser: (Clip from the DNC) "America, wake up! We are in a struggle between life and death."
Narrator: By the time Elizabeth's speech had reach into millions of living rooms through television, the disease had already claimed the lives of hundred's of thousand's across the nation. Nothing visual communicated to the world the magnitude and loss more than a giant patchwork of memories.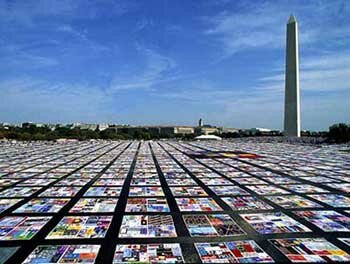 (end of interview)
All contents copyright of PaulMichaelGlaser.org
All materials on this site are used for informational purposes only! This website is created only for the personal enjoyment of the fans of Paul Michael Glaser, the Internet public and anyone else interested in sharing the journey of Paul Michael Glaser. Photos and multimedia samples were taken from various sources like TV , Mags, newspapers, media interviews, etc . No copyright infringement is intended, nor are any profits being made from their use. Transcripts by Pam.