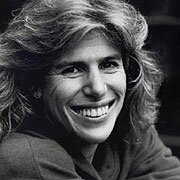 November 11, 1947 - December 3rd, 1994
"If we can share our wisdom, our light, our love in the smallest ways - I know the world will be a better place. If we are not afraid to touch each other's lives, hope will be our strength and love our prize." Elizabeth Glaser
Elizabeth Meyer Glaser, a champion, lover of life, a warrior, the true essence of a legendary heroine. As Paul stated in a 1996 interview with Entertainment Tonight, " The tragedy met with its match in Elizabeth, because she did what she had to do, she did what she thought she could do. And she even pursued things she thought she couldn't do, and that's what she was about."
In 1981, when she was six months pregnant, Paul's wife of one year, Elizabeth, began bleeding and was rushed to the Cedars-Sinai Hospital. She was diagnosed with having placenta previa. After six days, Elizabeth was now strong enough to return home and told to stay in bed until delivery. For Paul and Elizabeth, be her own accord "All we could do was pray that I would stop bleeding, because my child was probably too small to live outside my body. I lay there, day after day, with Paul by my side, waiting." (excerpt from In The Absence Of Angels) It was on August 4th, 1981, after she began bleeding again, that Ariel Glaser (This name has two meanings for Paul and Elizabeth.."the spirit who guides the ships through the storms"..from Shakespeare's The Tempest and in Hebrew it means "Lion of God") was delivered successfully by caesarean section; three weeks early and weighing only 5 pounds, two ounces. Relief and joy at the birth of their perfect, beautiful baby daughter, Paul gave Ariel her first bath.
| | | | |
| --- | --- | --- | --- |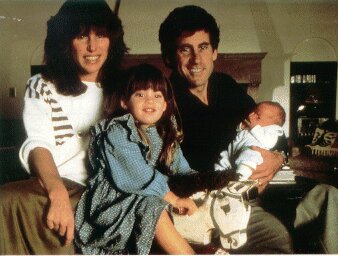 Immediately after the birth, Elizabeth began hemorrhaging. She was transfused with seven pints of blood and packed with cotton (an old and rarely used procedure). It would be hours before Elizabeth would finally become stable and able to hold Ariel for the first time. The next day, she would breast feed Ariel as life would be back to normal with Elizabeth a new mother, Paul a new father and performing on stage in "The Lady Cries Murder". In 1983, they would move to a nice Mediterranean style house in Santa Monica where on October 25th,1984 Jake Glaser was born.
It was May of 1986 that Ariel became ill with persistent stomach pains. After several months and numerous blood tests and illnesses being ruled out, it became necessary to test Ariel for HIV. With the shocking news that her test was confirmed positive, the entire family would also be tested for the AIDS virus. Elizabeth tested positive and it was found that she had passed the virus to her daughter through breast milk and had also unknowingly given the virus in-utero to her son, Jake. Paul was the only family member who remained unaffected. With this devastating diagnosis of Elizabeth, Ariel and Jake, it was then recommended by their doctor to not share this information with anyone. "The world is not ready for your family" he explained. Confiding in only a few friends, Paul and Elizabeth quietly began their journey together. "It would be nine months before the Surgeon General would appear on television to say flat out that you can't get AIDS from saliva or kissing. And with that information, our lives slowly regained some normalcy." 15a
Elizabeth recalled that "After we found out that my family was HIV-positive, it was clear that I would have to grow as a person more than I had ever imagined in order to find a way to cope. I wanted to let America see how painful it is to be a family battling AIDS and how hard it is to deal with the isolation and discrimination that comes through ignorance"
In 1987, after two weeks into the production of "The Running Man" with Arnold Schwarzenegger, Paul was asked to take over on directing the film. Working on this film would take him to Pomona, CA and an abandoned steel mill in . It would be an escape, albeit a temporary one, from the private sufferings of his home life. Paul's nephew David, a film producer living in NY, came out to be his assistant and "Running Man" would be released into theaters in November of that year.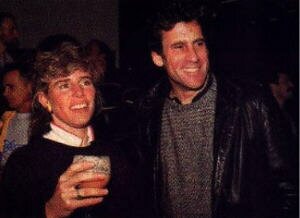 Paul and Elizabeth at LA premier of "Running Man", 1987
During this time, in 1987, AZT(zidovudine) was the only drug therapy that seemed to have any effect on AIDS. As Ariel started to fail, Elizabeth asked her physicians for AZT for her daughter. But AZT was not ready for children and would not be for several months. It had not even been approved for use in children. It would not be until Christmas of 1987 that Ariel would finally be given a treatment of AZT. 1988 would begin Elizabeth's incredibly journeyand one of her greatest contributions to her family, to her heart and to people around the world. Her and Paul's efforts would be the start of positive changes in the fight against HIV / AIDS. By January, their were still no positive effects and she became weaker and now was unable to walk or talk. That March Ariel developed pneumonia and atrophy of the brain, her respiration was poor and Elizabeth and Paul were told that she was expected to live only about 48hrs. As Elizabeth sat with a friend, she said " No one cares if we all die from AIDS. Something is very wrong. I have to get to the President." "It was in that moment of honest desperation that I realized I could no longer sit quietly in Santa Monica. A mother's job is to save her child: it's a basic animal instinct. But I was failing. I had to do more."
Ariel did indeed recover from her pneumonia and when they brought her home from the hospital, Elizabeth expressed her desire to take a more active role in the fight against AIDS to Paul. " Paul was silent for a long time and then with great gentleness he said "I'll support you in whatever you have to do." I gave my husband a big hug and felt a smile spreading across my face. I knew this was the moment when I was taking that hard first step. I didn't know it at the time, but it was the step that has kept me in motion ever since."
" When you cry for help and no one listens, you start to lose your hope. I began to lose faith in America. I felt my country was letting me down, and it was. This is not the America I was raised to be proud of. I was raised to believe that others' problems were my problems as well. But when I tell most people about HIV in hopes that they will help and care, I see the look in their eyes. It's not my problem, they're thinking. Well, it's everyone's problem." (an excerpt from her DNC address.
With incredible will, compassion and tenacity, Elizabeth began educating herself about HIV/AIDS. She met with physicians, politicians and rallied her closest friends to assist in arming her with a plan of positive approach to get the policymakers in the government to make federal funds available for pediatric AIDS research. In May of 1988, Elizabeth visited Washington, D.C. meeting with officials of both parties. It was there that she also met with Dr. Phil Pizzo, chief of pediatrics at the National Cancer Institute (now Vice Chairman of EGPAF/GPRN and Dean Stanford University School of Medicine Stanford, California). After he learned that Ariel had been given AZT orally, he recommended that it be given intravenously. A decision that had tremendous effects on Ariel, even if it was a little to late. When Elizabeth returned home she continued her quest for Ariel and before the end of May, 1988, Ariel received AZT intravenously. Three weeks after Ariel started her IV therapy, Elizabeth upon walking into her bedroom, was greeted by Ariel with "Good morning, Mom. I love you." Elizabeth recalls "I could hardly believe it. Ari was back! The sky had opened up. I had to find Paul. Maybe miracles did happen. Maybe one was going to happen in our house."
Over the next six weeks, Ariel continued to improve and in June, friends of Elizabeth had arranged a private meeting with then President Reagan at the White House. Her meeting with the Reagan's didn't get her the policy results she had hoped for and the more she learned about the governments lack of attention to pediatric issues, the more fight and determination she gained. It was now clear that she needed to start her own private foundation to raise funds for pediatric AIDS research.
In July, Ariel was readmitted to UCLA. With her white blood cell too low, her intravenous AZT had to be discontinued. She celebrated her seventh birthday in her hospital room and although her care had become more intense, Elizabeth still carried hope that Ariel would be coming home.
On August 12th, 1988, Paul and Elizabeth were packing up her belongings and preparing to take her home. She and Ariel debated on whether Ariel would walk home (Ariel's preference) or use the stroller. "Paul and I continued getting her things together. It was not until the last 10 minutes of her life that I knew she was dying. And then very quickly she was gone. She was never supposed to die. It was too short a time to have had her. Paul wept and I cried, "Noooo!"
At the age of seven plus eight days, on August 12th, Ariel Glaser, with Paul and Elizabeth by her side, passed away. That Sunday, a private memorial service was held in her home and Ariel was laid to rest beside her grandfather, Samuel Glaser on Tuesday, August 16th, 1988.
Grief over Ariel's death isolated Paul and Elizabeth. They struggled to handle their individual pain. The privacy of their grief would be interrupted by the tabloid press. In 1989 the Glaser's received a phone call threatening to make public their very private family ordeal and after pleading with them failed, in fear of the risk of acknowledging their story and in desperation for the truth to be told, they called the LA Times. The tabloid's invasion helped to bring them back together. Another test of courage would result in overwhelming support and love of friends, the Hollywood community and the public. You can read their story here as published in the LA times.
After the LA Times article came out, media calls flooded in. TV's "60 Minutes" called to do a spot.They followed and filmed all aspects of Paul and Elizabeth's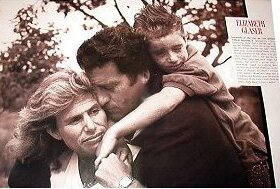 day as well as all the efforts of the PAF for months -from the kitchen table office to the new office- to Washington and back again. "In one 15minute shot, fifty million people would learn that children were dying from AIDS and that almost nothing was being done. The Pediatric AIDS Foundation would be known nationally overnight. The office was excited." Being out in the open, sharing their story would bring much needed positive reinforcement. Many people,.. friends, volunteers, wanted to help. The miserable burden about keeping their family secret had been lifted. Ed Bradley's intimate and frank interview about living with HIV/AIDS with Paul and Elizabeth was outstanding. Their personal struggle from being diagnosed to personal anguish, hopelessness, keeping the secret and just day to day survival would bring the issue of the severity of this disease out into the public eye. Their incredible courage, strength and hope for the future would inspire millions of people everywhere. It aired February 4th, 1990. You can read the transcript here.
In, Elizabeth says "What became apparent immediately was that there was nothing out there for children. And as a mother, that was just unacceptable." Determined to get better drug treatments for Jake and for other children with HIV / AIDS,Elizabeth became more public as she continued with renewed strength in the fight against AIDS. Sitting around her kitchen table, she and her friends Susie and Susan, with full support and added strength from Paul, the Pediatric AIDS Foundation was formed. And with a $500,000 loan from Paul's aunt, Vera List, this wonderful foundation was official. Their mission: to create a future of hope for children and families worldwide by eradicating pediatric AIDS, providing care and treatment to people with HIV/AIDS, and accelerating the discovery of new treatments for other serious and life-threatening pediatric illnesses. Pretty soon the foundation that once started at Elizabeth's kitchen table was relocated to a rent free office on Wilshire Blvd big enough for eight tables and a few computers.
Elizabeth, Susan and Susie
A fundraiser event at the film premier of "Immediate Family" in October of 1989 would sell out raising $250,00. Paul and Elizabeth, being co-chairs, had to speak prior to the showing of the film. After opening remarks Paul was introduced. Addressing a room filled with friends and colleagues"his voice cracked. Paul's pain and anguish that is usually so private, reverberated through the room. As I listened to Paul's words I felt proud of his courage and blessed by his love. Ari and Jake could have no finer dad."
Paul: "From the day when AIDS changed our lives, it seems that we have experienced the gamut of emotions-along with just about every kind of fear imaginable. However, the greatest fear, the most debilitating, was that of feeling impotent. Impotent in the act of life; powerless in the face of death. It's a common fear Mine came from a perception that I had no choice-that this was my lot.
I struggled with this fear for a long time. Then I realized that I did indeed have a choice. I could run and hide, or I could stay and fight. And in having and making a choice, I was, in fact, empowering myself. It It rendered me potent. In the face of all my fears, I had the power to choose. Then I had to act on that choice. That I couldn't do by myself. I couldn't have done it without you.
To those friends whom we see often, to those friends whom we see only occasionally, and to the industry that, I believe, always knew in part, sometimes only as a rumor, some version of our story and chose to honor our privacy and now have rallied around us, and as evidenced by tonight, chooses to continue to support the issue of pediatric AIDS, to all of you, my deepest thanks."
After Paul regained his composure, he introduced Elizabeth saying " I have learned more from her than any person I have ever met."
After all the applause and Elizabeth composed herself she addressed the audience of supporters:
"Some causes are so easy to embrace - rain forests, our bay, clean air. Then, there are some that are harder - and we don't really care about them until we are directly affected.
Until tonight, some of you may not have even known there was such a thing as pediatric AIDS. well, there is, and Paul and I know too much about it....
Two years ago, when Ariel Started to fail, there was no hope, no drugs, no therapies, only questions. Now, two years later, we are fighting to write a different story for our son and all the other children and families battling AIDS...."
The evening was a complete success from fundraising efforts to the outpouring of love from their community.
In the months that followed, the PAF would raise over $4million with 80% of these funds going directly to pediatric AIDS research. Since then,renamed on World AIDS Day, Dec. 1st, 1997, the Elizabeth Glaser Pediatric AIDS Foundation has raised more than $130 million and is now the leading national non-profit organization dedicated to identifying, funding and conducting critical pediatric AIDS research. In addition, it also funds programs in 13 developing nations to prevent mother-to-child transmission of HIV through simple, affordable preventive interventions. At Stanford University's 2004 Commencement, Paul says ?What Elizabeth and her co-founders were able to create was the realization that an effective, grass-roots organization can make a difference. In this world, in this country, we are experiencing more and more disenfranchisement, less hope, more apathy as people feel that they have no ability to impact the lives and futures of their children. The foundation has become a beacon of hope ? a reminder that we can make that difference.?
Efforts to raise more funds and more awareness continued. All the while, Elizabeth was beginning to experience toxic reactions to her AZT therapy. Convinced something was wrong, she approached her physician who, after a blood test determined that she was having a toxic reaction to her AZT, switched her from AZT to DDI (another powerful antiviral medication). Elizabeth kept working her body to strengthen in between her work efforts for the PAF. Along with her getting back to good health, in mid-October all the efforts of PAF team were rewarded with 10 million dollars for pediatric AIDS research.
Elizabeth and Paul returned to Washington on March 13th, 1990 to present their testimony and request more funding for research before the House Budget Subcommittee on Health Issues. Elizabeth and Susan were interviewed on "Good Morning America". At Capital Hill they were surrounded by cameras, reporters, and TV crews. Once again, the vital importance of the AIDS epidemic had the national spotlight. I remember watching it on CNN. It was hard to watch one of America's families talk about their incredible suffering, and yet the courage displayed by Paul and Elizabeth was moving, inspirational. By October of 1990, an additional $10million was given to pediatric AIDS research bringing the total from their incredible efforts to $20million.
With federal funding slow to arrive, the PAF continued moving forward and more creative and unique fundraising events were planned to raise funds from private donations. In June of 1990, the first annual "Target Time for Heroes" celebrity carnival was held. Celebrities, with the help of volunteers, manned booths for the friends and supporters of the PAF; games, face paintings, pictures with your favorite celebrity, stories and all the gourmet food you could eat! Totally underwritten, his event raised almost $1 million and today it continues to shine as one of the main, most loved fundraiser's. In 1993, "Kids for Kids", another celebrity carnival held in New York would begin. It too would become an annual event. In 2004, this 15th annual "Time for Heroes" Carnival event raised over $1.3 million! In the New York chapter of EGPAF, "Kids for Kids" runs every spring and in April of 2004, that event raised over $1.3 million as well. Jake Glaser spoke at both events about his mother's commitment in addition to thanking everyone for their continued support. Today, there are many exciting fundraising events, golf tournaments, Celebrity Poker, Walk for Hope AIDS walk in Africa, to name just a few. Check out their website to see how you can get involved, you can even plan your own event.
Since 1989, the EGPAF has made an incredible effort into providing funds for research in not only pediatric AIDS but other childhood illnesses as well. They have and continue to reach out to not only the people of the United States but to all people around the world.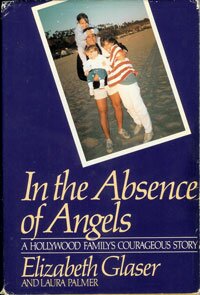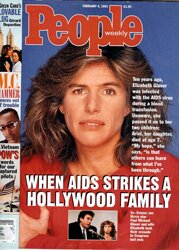 She chronicled her experience, her emotions, in an incredible autobiography in 1991, "In the Absence of Angels". In it she gives a detailed look into her family's struggle with HIV/AIDS, of how she lobbied Washington for money and for them to pay attention to the pandemic of AIDS. She promoted her book on the Oprah Winfrey Show. Please take the time to read it.
Issued on February 4th 1991, "People" magazine did a cover story of Elizabeth Glaser and her family. The feature article was of the family's struggle with HIV/AIDS and how she rose above her own tragedy to create a foundation that would bring, and forever continue to bring, hope to children living with HIV/AIDS. Her issue would go on to sell over million copies and brought the seriousness of the HIV virus to the forefront. Here, Elizabeth says " Like most people with AIDS, I feel aligned with the have-not's. When I meet people in power, it's usually because they think I'm one of them. I look the same, but my goals are not their goals. They want a kinder, gentler America for themselves. My family needs an America that is kinder and gentler to all" and she has provided just that by bringing her faith in the human spirit to the forefront.
With Mother to child transmission (MTCT) a major cause of children acquiring the HIV virus, Elizabeth encouraged physicians and scientists to share their information and to work together. The resulting project, known as the "Ariel Project" would be a five year study in MTCT of the HIV virus. From this study, in the USA, MTCT has come down to less than 2%. "Emergency Assistance Programs" sprang up from a discussion of how family's living with HIV/AIDS were suffering. As the children's needs escalated, the EGPAF reached out providing grants totaling over $3.5 million to date.The grants were distributed to 190 hospitals and clinics. Today, the Call to Action Project (established in September, 1999 to further the prevention of MTCT and continue their outreach program) helps provide resources, establish clinics, and provide support and care for all those infected with HIV in developing countries. Currently, there are over 400 clinics in 20 countries. Through the efforts of the EGPAF, MTCT is on the decline world-wide.
Elizabeth continued her commitment by speaking at the Democratic National Convention in 1992. She radiated courage and strength. I will never forget it. Please read her speech here.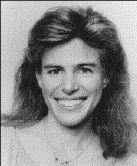 On December 3rd,1994 at the age of 47, Elizabeth Meyer Glaser lost her battle against AIDS, but her mission continues to live on through her spirit. The Elizabeth Glaser Pediatric AIDS Foundation celebrated it's 15th year in 2004.
Paul comments in an interview; "Elizabeth was vital, strong, and passionate, and was a tremendously huge part of my life. She taught me so much about love. I carry that experience of her with me every day."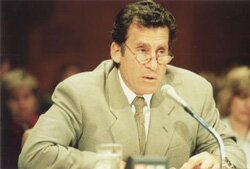 With Elizabeth's leading and fighting the cause for testing drugs for use in children, the continued efforts of the EGPAF and Paul's 2001 testimony, on December 3rd, 2003, President Bush signed into law the "Pediatric Research Equity Act of 2003". Through this act, pharmaceutical companies are required to test their products for use in children. With all the above efforts, children now have access to life prolonging drugs that were once only tested and available for adults.
In February, 2004, the Elizabeth Glaser Pediatric AIDS Foundation received an award from the Center for Disease Control and Prevention to provide care and treatment to children and adults in four countries in Africa.
Today, Health officials credit the foundation's advocacy with:
? Prompting Congress last month to impose the pediatric rule requiring drug firms to test all new medicines in children.
? Prevention efforts that have cut the number of pediatric AIDS cases in the USA by 89% since 1992.
? A global "Call to Action" program to extend that achievement to 20 other countries, including India, South Africa and Russia.
? Direct funding for promising young HIV/AIDS researchers.
? The Glaser Pediatric Research Network, linking researchers at five top pediatric medical centers, to speed research into a range of childhood ailments. including osteoporosis, obesity and cancer.
? A busy social calendar of carnival-like fundraiser's that unite celebrities and donors with kids and families who'll benefit both from the diversion of dunking booths staffed by favorite stars and advances in medical research. The foundation's assets now total about $32 million, with about $13 million earmarked for programs.
February 12, 2003, Boston MA is "Elizabeth Glaser Day"
Mayor Menino Proclaims Boston's First-Ever 'Elizabeth Glaser Day'; Funding in Boston by Glaser Foundation Tops $10 Million
Mayor Thomas Menino proclaimed February 12, as the city's first-ever "Elizabeth Glaser Day," in memory of a founder of the foundation that bears her name and honoring the Elizabeth Glaser Pediatric AIDS Foundation for its longstanding commitment to improving children's health. At a ceremony held at the Four Seasons Hotel, Elizabeth Glaser's mother Edith Meyer and her brother Peter Meyer, and Paul's sister Connie joined the Foundation as it presented two of the most promising HIV/AIDS scientists -- Dr. Paul Bieniasz and Dr. Grace John-Stewart -- with its highest award, the Elizabeth Glaser Scientist Award, recognizing their commitment to innovative and collaborative work in pediatric HIV/AIDS research. In addition, the Foundation bestowed its Commitment to Children Award to Dr. Bruce Walker, Director, Partners AIDS Research Center, Massachusetts General Hospital and Director, Division of AIDS, Harvard Medical School, for his contributions to children's health and the field of HIV research, and to Dr. Robin Weiss, Chairman of the Windeyer Institute of Medical Sciences, London, for his groundbreaking work in helping develop tools to screen blood for HIV and his identification of the major cellular receptor for the virus. Also accepting an award was a little young lady who had raised awareness by conducting her own fundraiser. The evening was filled with wonderful people speaking from their hearts.
Kate Carr, speaking from the podium, stated that "Elizabeth Glaser Day" makes this an even more auspicious occasion to honor four leading scientists who are doing so much to fight pediatric HIV/AIDS, Elizabeth Glaser would have been deeply grateful for their tenacious pursuit of scientific advances and their tireless dedication to improving children's health. We must all maintain a sense of urgency in the fight against this epidemic. Each day, more than 2,000 children around the world are newly infected with HIV. The Foundation's innovative research programs, collaborative training initiatives, advocacy efforts, and rapidly expanding international programs are improving the health and lives of children worldwide. We are confident that today's honorees will continue to advance the course of a healthier and more hopeful future for children living with HIV/AIDS."
It was a wonderful evening ending with Elizabeth's favorite toast... tequila shooters!
Elizabeth Meyer Glaser
Graduate of Boston University..Master's Degree in Early Childhood Education

Teacher.. Center for Early Childhood Education, West Hollywood

Teacher, Volunteer Counselor... Maple Center

Exhibits Director Children's Museum